Unity in diversity: a survey of muscular systems of ctenostome Gymnolaemata (Lophotrochozoa, Bryozoa)
Frontiers in Zoology
2018
15:24
Received: 23 January 2018
Accepted: 17 May 2018
Published: 7 June 2018
Abstract
Background
Myoanatomical studies of adult bryozoans employing fluorescent staining and confocal laser scanning microscopy (CLSM) have been chiefly conducted on freshwater bryozoans. The diversity of muscular systems in the marine bryozoans is currently not well known with only two species being studied in more detail. The aim of this study is to unravel the diversity of muscle systems of 15 ctenostome bryozoans by phalloidin-coupled fluorescence stainings combined with CLSM.
Results
In general, the myoanatomy of the selected ctenostomes shows significant similarities and consists of 1) muscles associated with the body wall, 2) apertural muscles, 3) lophophoral muscles, 4) tentacle sheath muscles, 5) digestive tract muscles and 6) the prominent retractor muscles. Differences are present in the arrangement of the apertural muscles from generally three muscles sets of four bundles, which in some species can be partially reduced or modified into a bilateral arrangement. The cardiac region of the digestive tract shows a distinct sphincter in four of the six studied clades. In some cases the cardiac region forms a prominent proventriculus or gizzard. Tentacle sheath muscles in victorelloideans and walkerioideans are arranged diagonally and differ from the simple longitudinal muscle arrangements common to all other taxa. Lophophoral base muscles consist of four sets that vary in the size of the sets and in the shape of the inner lophophoral ring, which either forms a complete ring or separate, intertentacular muscle bundles. The stolon-forming walkeridiodean ctenostomes show prominent transverse muscles in their stolons. These are always present in the shorter side stolons, but their occurrence in the main stolon seems to depend on the colony form, being present in creeping but absent in erect colony forms.
Conclusions
This study represents the first broad survey of muscular systems in adult ctenostome bryozoans and shows a certain degree of conservation in a series of diverse colony forms belonging to five major clades. However, several myoanatomical features such as the cardiac sphincter, basal (possibly transitory) cystid muscles, tentacle sheath muscles or apertural muscle arrangement vary across taxa and thus show a high potential for the assessment of character evolution within ctenostomes. As such, this study represents an essential contribution towards determining and reconstructing the character states of the bryozoan ground pattern once a reliable phylogenetic tree of the whole phylum becomes available.
Keywords
Muscle evolutionHydrostatic systemCtenostomataPhalloidin stainingConfocal laser scanning microscopyLophophore
Background
Bryozoa is a phylum of colonial invertebrate animals with 6000 recent and 15.000 fossil species described [1]. Most bryozoans are colonial and consist of repetitive modules of individuals, so-called zooids, which constitute the colony. Each zooid consists of a protective body wall called the cystid and a polypide, consisting of the soft body parts. Within the polypide are the ciliated tentacle crown (the lophophore), u-shaped digestive tract as well as associated muscles, associated neuronal elements and gonads where present. Typical for all bryozoans is the retraction process; a defensive response where the polypide is retracted into the cystid for protection [2, 3]. Eversion of the tentacle crown is achieved by an increase in coelomic pressure [3, 4].
Three different taxa of bryozoans are currently recognized: Phylactolaemata, Stenolaemata and Gymnolaemata [3]. Among other features, each of these groups is characterized by its cystid structure and thus a respective protrusion mechanism [4]. The phylactolaemate cystid is unmineralized and flexible which allows contraction of the regular body wall musculature to increase coelomic pressure upon contraction thereby everting the polypide [5, 6]. Stenolaemates have calcified and rigid cystids which are incompressible. Consequently, the coelomic epithelium is detached from the body to form a so-called membranous sac around the polypide which allows contraction by annular ring muscles in its epithelial lining for polypide eversion (see [3, 4, 7]).Gymnolaemata is the most species-rich and diverse taxon of bryozoans, comprising over 5000 species. The gymnolaemate cystid can be either uncalcified and flexible such as those of the paraphyletic "Ctenostomata" [8] or partially or fully calcified such as those of the Cheilostomata [9]. Both these groups possess parietal muscles derived from putative ancestral body-wall musculature, which they use for polypide eversion [3, 9]. Most of these protrusion mechanisms were already described in the 19th century by light-microscopy combined with histological sectioning (e. g. [10–12]). Information on the other muscular systems (e.g., the digestive tract or lophophore) are scarce and mainly consists of a few whole-mount staining analyses [13–15] or ultrastructural studies that focused on specific organ systems (e.g. [16–20]).
The application of confocal laser scanning microscopy in the past decade has yielded new insights into the neuro-muscular system of larval and adult bryozoans (e.g. [6, 21–36]). Adult muscular systems have only been studied in a few phylactolaemate and ctenostome species [6, 28, 30, 35]. These studies demonstrated distinct differences in the digestive tract and lophophore muscle systems between phylactolaemates and ctenostomes. However, knowledge of the broader diversity of bryozoan muscular systems is lacking as only two of the six major clades have been studied [8, 37]. The aim of the current work was to investigate the diversity of ctenostome muscular systems by analyzing five of the six major ctenostome clades. The results presented here will be of substantial importance for the reconstruction of the muscular ground pattern of ctenostome bryozoans.
Methods
Fifteen species representing five ctenostome major clades were collected over a period of a decade from various localities (Sweden, Croatia, Thailand, Orkney Islands, Japan, Maledives, Table
1
). All samples were fixed in 4% paraformaldehyde in 0.1 M PB (pH = 7.4) for 1 h at room temperature followed by three washes in PB. With the exception of
Triticella flava
, all specimens were generally fixed in a retracted condition. The samples were then stored in 0.1 M PB containing 0.1% NaN
3
. Staining of the muscular system was conducted with phalloidin or phallacidin coupled to AlexaFluor 488 or Bodipy FL phallacidin (Invitrogen, Molecular Probes, Eugene, OR, USA) at a concentration of 1:40–1:60 in PB containing 1–4% Triton-X-100, for some samples 2% DMSO was added for enhanced permeabilization. Staining was performed overnight followed by counterstaining of nuclei with DAPI (1:200). Excessive staining solution was eluted with several rinses in PB. The samples were mounted in Fluoromount G (Southern Biotech, Birmingham, AL, USA). Analysis of the samples was performed on a Leica SP2 or a SP5 II confocal laser scanning microscope (Leica Microsystems, Wetzlar, Germany). Depending on the objective, optical z-stacks of the samples were acquired with a thickness of 0.4-1 μm step size. Data analysis was conducted with FIJI (
www.fiji.sc
, [
38
]) or Amira 6.3 (FEI, Hillsboro, Oregon, USA). Several zooids of each species were analysed. However, for
Ascorhiza
cf.
mawatarii
, only a single colony was available for the analysis. Intraspecfic variation of various bryozoans species is very limited or missing (Schwaha, pers. observation of 50 bryozoan species).
Table 1
List of ctenostome bryozoans here studied
| Superfamily | Family | Species |
| --- | --- | --- |
| Alcyonidioidea | Alcyonidiidae | Alyconidium gelatinosum |
| Alcyonidioidea | Alcyonidiidae | Alcyonidium diaphanum |
| Alcyonidioidea | Clavoporidae | Ascorhiza cf. mawatarii |
| Arachnidioidea | Nolellidae | Nolella dilatata |
| Arachnidioidea | Nolellidae | Nolella sp. |
| Arachnidioidea | Nolellidae | Nolella(?) sp. |
| Paludicelloidea | Palludicellidae | Paludicella articulata |
| Vesicularioidea | Vesiculariidae | Amathia semiconvoluta |
| Vesicularioidea | Vesiculariidae | Amathia (Zoobotryon) verticillata |
| Vesicularioidea | Buskiidae | Cryptopolyzoon wilsoni |
| Victorelloidea | Victorellidae | Victorella pavida |
| Walkerioidea | Mimosellidae | Mimosella gracilis |
| Walkerioidea | Mimosellidae | Mimosella sp. erect |
| Walkerioidea | Aeverilliidae | Aeverillia setigera |
| Walkerioidea | Triticellidae | Triticella flava |
Results and discussion
Description and comparison of different ctenostome muscle systems
Ctenostome bryozoans show three main distinct zooidal morphologies: simple (often uniserial) zooids with short or little pronounced peristomial area (e.g. where the lophophore is protruded) on the frontal side (Fig.
1a
), zooids with distinct elongated peristomes (Fig.
1b
) and stolonal forms (Fig.
1c
).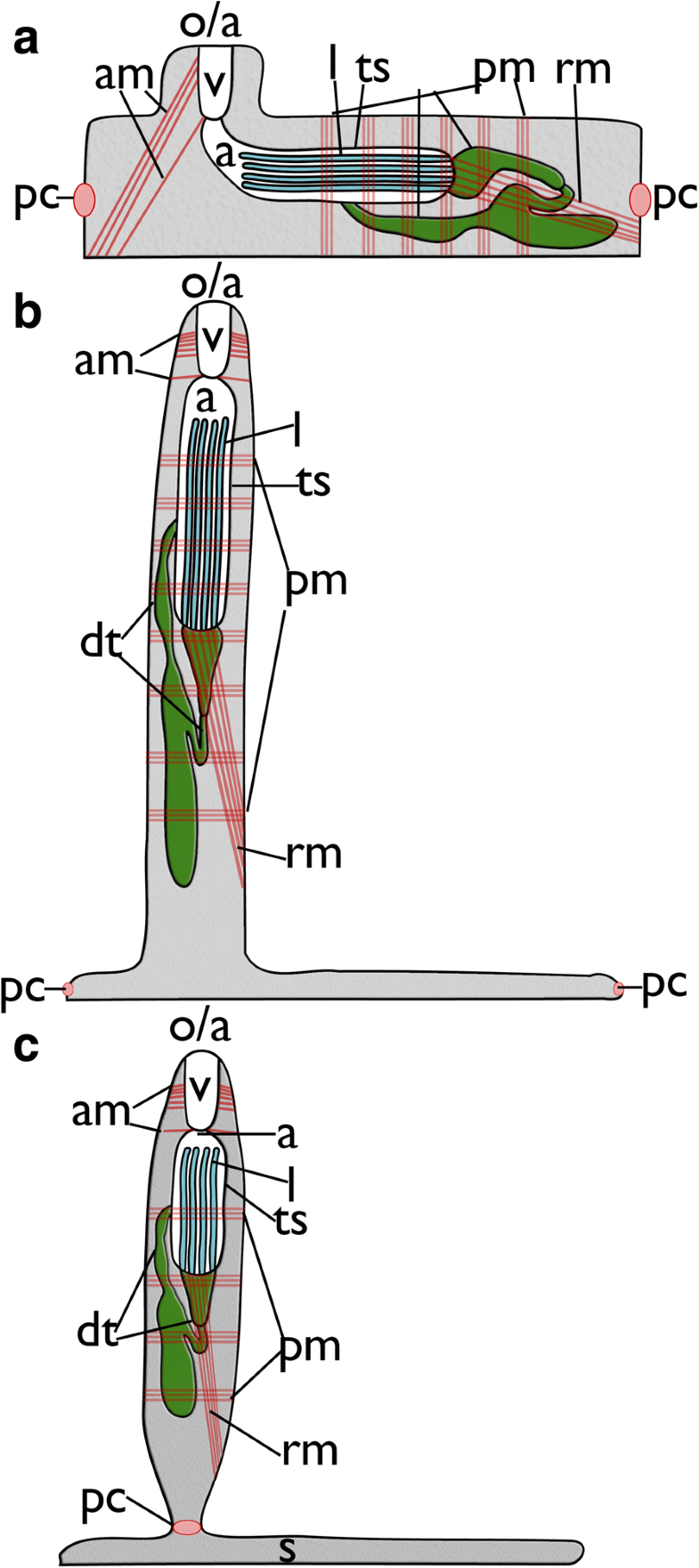 The main muscular systems of bryozoans can be divided into six different categories (see Fig.
2
): 1) the musculature of the body wall and associated musculature, 2) the apertural musculature. The latter are essential for the closing and opening the aperture/orifice, i.e. the region where the polypide retracts into the cystid; 3) the tentacle sheath muscles, 4) the muscles associated with the digestive tract, 5) the musculature of the lophophore, which includes muscles of the tentacles as well as the lophophoral base, 6) the prominent retractors that insert at the lophophoral base. Details on each species are summarized as supplementary table (Additional file
1
).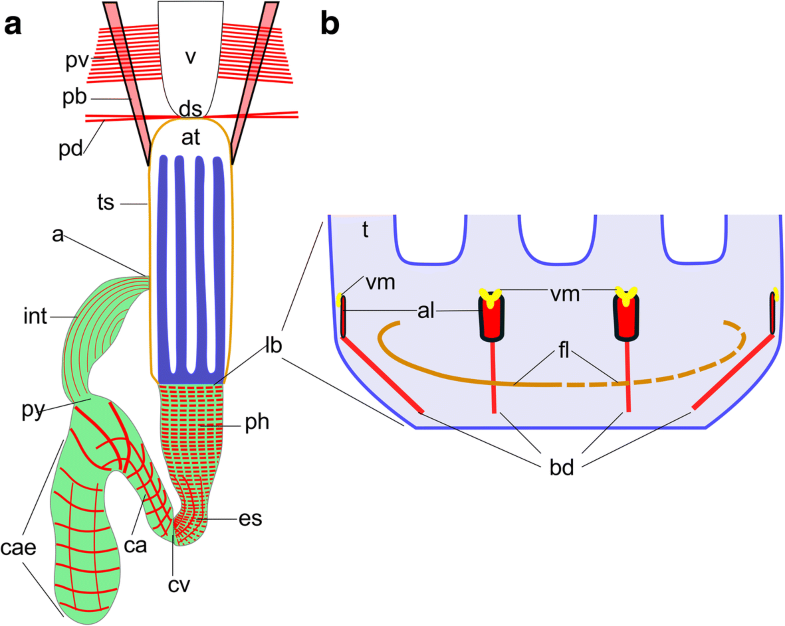 Myoanatomical characters in ctenostome phylogeny
Most previous phylogenetic analyses regarded flat uni- to multiserial encrusters (e.g. Hislopioidea, Alcyonidioidea) as early branching lineages mainly due to the similarity of fossil colony morphologies (see e.g. [8, 9]). The orifical area of these species is frontally located and in these forms is rather simple either being inconspicuously elevated from the remaining cystid wall or in form of an apertural/orificial papilla. These frontal elongations are generally called peristomes. Upright colonies such as those seen in the Paludicelloidea were considered to be a derived state given that the basic colony still retains an encrusting uni-serial colony type [37, 48]. Subsequent colony branches growing upright from the substratum to form erect, bushy colony types. The basic budding mode of one distal and two lateral buds is, however, retained in these colonies.
A second type of colony morphology is characterized by an elongation of the peristome that forms longs tubes. In most cases such as found in the Victorelloidea, the peristomes contain all the contents of the polypide and only the interconnecting proximal, cystidal parts of the zooids are on the basal side. In the Arachnidioidea, the various families and species show a high variation in peristomial length with e.g. some species of Arachnidium with short peristomes, or the family Nolellidae with extremely long peristomes (similar to victorelloideans) [37, 48].
A third group consisting of two ctenostome clades, the Vesicularioidea and Walkerioidea, have independtly formed kenzooids, polymorphs devoid of any polypides, that form interconnecting modules between feeding autozooids ('trophons' according to [37]). The mode of stolon formation, however, differs among these two major clades. The Walkerioidea form stolons by separating the peristomial tube from the proximal part whereas the peristome itself becomes the stolon in the Vesicularioidea. The latter invokes peristomial budding, i.e. buds being produced on the peristome area, a feature restricted to Victorelloidea and Vesicularioidea – hence their frequently assumed close relationship [37, 48].
We plotted our current results on proposed morphological phylogenies from Jebram [48] and Todd [8]. The latest tree of Waeschenbach et al. [59] was not considered, because of lack of representatives of any Victorelloidea, inclusions of derived forms of Walkeroidea (genus Triticella, see [37]), and the sole inclusion of a presumable arachnidioidean, Anguinella palmata (see also [37, 48]).
According to the distribution of myoanatomical characters established by the current study, it remains difficult to determine which characters are plesiomorphic or apomorphic for each. Starting from the first muscle set, body wall and derivates, it is clear that parietal muscles are clearly plesiomorphic, but more interesting are the basal cystidial muscles restricted to the Walkerioidea, Arachnidioidea and Paludicelloidea (even though just transitory in the latter perhaps). According to Jebram's interpretation (Fig.
14a
), these three major clades have a monophyletic origin and are sister-group to a clade consisting of Victorelloidea and Vesicularioidea. According to the phylogenetic reconstruction of Todd (Fig.
14b
), which also reconstructs a close-relationship of these five major clades, the basal cystidial muscles were most likely independently reduced in Victorelloidea and Vesicularioidea.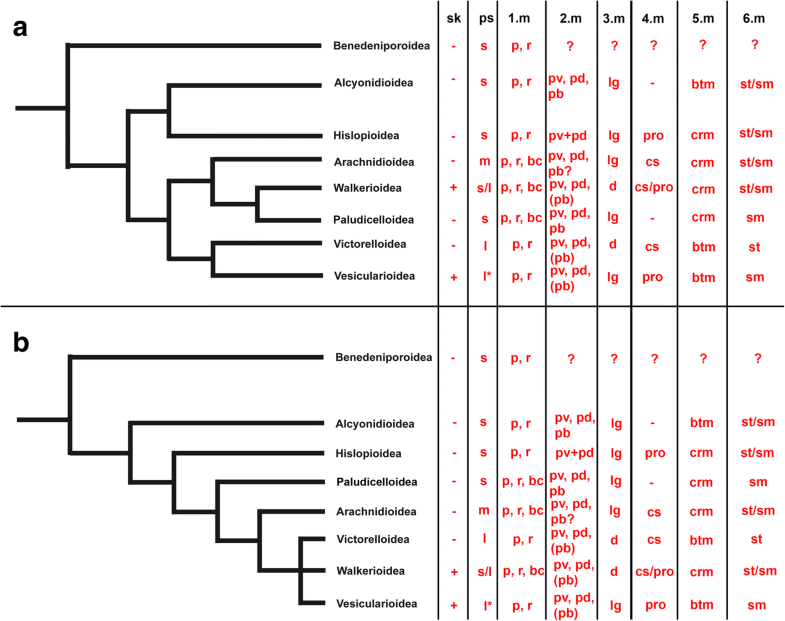 The second set, the apertural muscles, shows some variation among the different major clades, the most common being the reduction of the parieto-vaginal bands in some representatives of the major clades. As previously pointed out [28], stolonate forms appear to have reduced these bands. Comparison among all bryozoans show that these are present in the ground pattern and are plesiomorphic [28], hence calling for independent reduction of these structures in some ctenostomes.
The third set, tentacle sheath musculature is almost ubiquitously longitudinal with the exception of Victorelloidea and Walkerioidea. Depending on the phylogenetic reconstruction, these constitute independent, apomorphic characters according to Jebram's tree (Fig. 14a) or possible synapomorphs according to Todd's reconstruction (Fig. 14b).
Concerning the digestive tract musculature, only the cardiac sphincter/proventriculus shows a potential phylogenetically informative character (Table
2
, Fig.
14
). According to the two phylogenetic reconstructions, it appears likely that the cardiac sphincter was lost independently in both the Alcyonidioidea and Paludicelloidea. Alternatively, this feature may have evolved independently in a sister-group of the Alcyonidioidea comprising six major clades and was subsequently lost in the Paludicelloidea (Fig.
14
). The apparent lack or very rare occurrence of such cardiac sphincters in cyclostome or cheilostome bryozoans [
51
] indicates that the group of ctenostomes closest to the cheilostome ancestor most likely lacked such a structure.
Table 2
List of specific muscular characters showing distinct variation among ctenostome bryozoans
| Superfamily | Parieto-vaginal bands | Tentacle sheath | Cardia | Inner lophophoral base muscle | Retractor muscles |
| --- | --- | --- | --- | --- | --- |
| Alcyonidioidea | present | longitudinal musculature | not distinguished | separate, basal transverse muscle | smooth or striated |
| Arachnidioidea | present | longitudinal musculature | cardiac sphincter | continuous ring | smooth |
| Hislopioidea* | absent | longitudinal musculature | proventriculus | continuous ring | smooth (few striated parts recognized) |
| Paludicelloidea | present | longitudinal musculature | not distinguished | continuous ring | smooth |
| Victorelloidea | mostly absent | diagonal musculature | cardiac sphincter | separate, basal transverse muscle | smooth |
| Vesicularioidea | mostly absent | longitudinal musculature | proventriculus | separate, basal transverse muscle | smooth |
| Walkerioidea | mostly absent | diagonal musculature | cardiac sphincter or proventriculus | continuous ring | smooth or striated |
The lophophoral muscles show high similarity among all ctenostomes. As indicated above, the inner lophophoral base muscles are arranged either as a single continuous ring or as distinct single basal transverse muscles. However, their distribution in the two phylogenetic trees does not seem to show any significant phylogenetic signal. Likewise, the distribution of the encountered retractor muscle fibre type (smooth vs. striated) does not seem to support certain nodes in the trees (Fig. 14).
Conclusions
The present analysis demonstrates both the diversity and the similarities of the muscular systems of ctenostome bryozoans. It enlarges the dataset from two major clades to six. Differences in the main muscle systems are mainly present in the apertural muscle, arrangement of tentacle sheath muscles, presence of special cardiac musculature, the lophophoral base muscle or retractor muscles (Table 2). We have provided new numerous morphological data that will aid in unraveling character evolution of both ctenostome and gymnolaemate bryozoans. Our characters will be especially important for resolving character states among ctenostome bryozoans as this systematic classification represent a paraphyletic group [8]. Consequently, forthcoming analyses of additional morphological character evolution will not only yield insight in the ground pattern of ctenostomes, but also for gymnolaemates in general once a new robust phylogeny is available for ctenostomes.
Declarations
Acknowledgements
Special thanks to all colleagues who aided in specimen collections of the past many years. Thanks to two anonymous reviewers for comments that improved the manuscript and Andrew Calcino (University of Vienna) for checking the text.
Availability of data and materials
The datasets during and/or analysed during the current study available from the corresponding author on reasonable request.
Authors' contributions
TS carried out the experiments and wrote the manuscript. AW supervised the study and contributed to data interpretation and writing of the manuscript. All authors read and approved the final version of the manuscript.
Ethics approval and consent to participate
Ethical approval and consent to participate were not required for this work.
Competing interests
The authors declare that they have no competing interests.
Publisher's Note
Springer Nature remains neutral with regard to jurisdictional claims in published maps and institutional affiliations.
Open AccessThis article is distributed under the terms of the Creative Commons Attribution 4.0 International License (http://creativecommons.org/licenses/by/4.0/), which permits unrestricted use, distribution, and reproduction in any medium, provided you give appropriate credit to the original author(s) and the source, provide a link to the Creative Commons license, and indicate if changes were made. The Creative Commons Public Domain Dedication waiver (http://creativecommons.org/publicdomain/zero/1.0/) applies to the data made available in this article, unless otherwise stated.
Authors' Affiliations
(1)
University of Vienna, Department of Integrative Zoology, Vienna, Austria