Speed dependent phase shifts and gait changes in cockroaches running on substrates of different slipperiness
Frontiers in Zoology
2017
14:54
Received: 11 April 2017
Accepted: 28 September 2017
Published: 6 December 2017
Abstract
Background
Many legged animals change gaits when increasing speed. In insects, only one gait change has been documented so far, from slow walking to fast running, which is characterised by an alternating tripod. Studies on some fast-running insects suggested a further gait change at higher running speeds. Apart from speed, insect gaits and leg co-ordination have been shown to be influenced by substrate properties, but the detailed effects of speed and substrate on gait changes are still unclear. Here we investigate high-speed locomotion and gait changes of the cockroach Nauphoeta cinerea, on two substrates of different slipperiness.
Results
Analyses of leg co-ordination and body oscillations for straight and steady escape runs revealed that at high speeds, blaberid cockroaches changed from an alternating tripod to a rather metachronal gait, which to our knowledge, has not been described before for terrestrial arthropods. Despite low duty factors, this new gait is characterised by low vertical amplitudes of the centre of mass (COM), low vertical accelerations and presumably reduced total vertical peak forces. However, lateral amplitudes and accelerations were higher in the faster gait with reduced leg synchronisation than in the tripod gait with distinct leg synchronisation.
Conclusions
Temporally distributed leg force application as resulting from metachronal leg coordination at high running speeds may be particularly useful in animals with limited capabilities for elastic energy storage within the legs, as energy efficiency can be increased without the need for elasticity in the legs. It may also facilitate locomotion on slippery surfaces, which usually reduce leg force transmission to the ground. Moreover, increased temporal overlap of the stance phases of the legs likely improves locomotion control, which might result in a higher dynamic stability.
Keywords
Leg coordinationBody dynamicsBiomechanicsPoly-pedal locomotionInsectArthropod
Background
Alternating sets of synchronously active diagonally adjacent legs, i.e. tripods in insects and four-leg sets in spiders, are largely regarded as the dominating coordination pattern employed by fast running insects and arachnids [1–3]. The sets either comprise the legs L1, R2, L3 (and R4) or R1, L2, R3 (and L4) with L and R indicating the left and right side legs, respectively, both counted fore to aft. These sets are accounted as the physical basis for spring-mass like dynamics as observed in the locomotion of some species [4–6]. Strictly alternating sets of legs are characterised by anti-cyclic activity of adjacent ipsilateral legs and the contralateral legs of the pairs of legs, i.e. by phase shifts of 0.5 [7–9]. Deviations from the alternating pattern [10–14], however, have rarely been analysed in the context of physical and biomechanical constraints and were mostly attributed to anatomical differences or inherent variability of poly-pedal locomotor systems. Nevertheless, characteristic changes in the speed-dependent increase of stride frequencies and oxygen consumption with simultaneously lacking aerial phases, as found in some studies [2, 15–17], seem to indicate an additional gait transition for high running speeds in insects and spiders.
In bouncing gaits such as running, trotting and multi-legged equivalents, significant proportions of movement energy can be elastically stored in the initial and recovered in the final part of the stance phase with optimised leg properties [18], which helps to economise locomotion. However, the stiffness of energy-storing elastic components such as sclerites, apodemes or other skeletal structures [19–21] must be matched to each other in all legs involved to provide concerted loading and unloading rates. In cockroaches, hind legs are characterised by distal joints with axes in parallel with the main ground force direction, which facilitates passive elastic energy storage in the hip joint [20].
Bouncing gaits, like trot and, with some restrictions, also gallop, are characterised by rhythmic upwards and downwards movements of the COM with in-phase oscillations of kinetic and potential energy [22, 23]. In running and trotting, the initial downwards movement is reversed by a single impulse of one leg or a set of synchronously active legs [4]. In gallop-like footfall patterns of vertebrates, such concerted stance phases decompose in consecutive ground contacts of the single legs [23], which affects locomotion dynamics and energy efficiency.
The majority of insect species seem to have significantly lower maximum running speeds than specialist runners, which are in the focus of many existing studies [24–28]. One of these specialists is the blattid cockroach Periplaneta americana which is characterised by extraordinarily long legs and a linear increase of the stride frequency over a wide range of running speeds [29]. Non-specialist runners, such as the blaberid cockroach species Blaberus discoidalis and Nauphoeta cinerea seem to be limited in their maximum leg cycle frequency but must still be able to attain high running speeds since successful predator avoidance is also crucial in these species. Just like in bipeds [30] and quadrupeds [31–33], the dependencies of stride frequencies to running speed are curvilinear in these blaberid cockroach species (cp. [2, 15]), which seems to indicate a gait change also occurs for these insects. However, the physical basis for the suspected gait transition has not yet been revealed. In a recent study on arachnid locomotion [34] we were able to show that fast moving mites employ temporally distributed footfall patterns at maximum running speeds and that such patterns may increase locomotion efficiency in arthropods. In nature, insects are commonly faced with slippery or unsteady substrates. Such surfaces do not provide secure footholds and can lead to unpredictable perturbations [35–37]. To our knowledge, no studies considering coordinative adaptations to slippery and unsteady substrates exist for fast moving arthropods. Accordingly, we examine here whether or not the saturating stride frequencies found in blaberid cockroaches are accompanied by changed footfall patterns and how they can affect running efficiency and endurance at high speeds on substrates with different grit sizes and slipperiness.
Discussion
In ambulatory locomotor systems, gaits and gait changes have been widely examined in two- and four-legged vertebrates. Arthropods, in turn, are still largely regarded as being restricted to only two different gaits; namely a highly feedback-controlled slow walking gait with metachronal leg coordination and the rather feedforward controlled running gait which is characterised by alternating sets of diagonally adjacent legs [
10
,
15
,
39
,
55
]. Indeed, some species such as wood ants or fruit flies seem to use only these gaits [
11
,
52
]. In these species the tripodal synchrony factors (TSF) are low at very low, increase at intermediate and reach a plateau of high values at high running speeds. However, our results clearly show that
N. cinerea
exhibits two fast running gaits which supplement the typical slow and mostly unsteady metachronal gait. Thus, in
N. cinerea
the TSF values decrease again at running speeds higher than 0.15 ms
−1
(Fig.
7
). Reduced synchronicity, in turn, is caused by phase shifts between the ipsilateral legs that deviate significantly from 0.5. Since phase shifts are relatively constant for each co-ordination pattern, gradually decreasing TSF values are caused by speed-dependent decreasing contact durations (Fig.
5
). The slopes of
t
C
−1
against running speed and those of the contact lengths (
s
C
; Fig.
8
) are similar in all walking legs. Therefore, the different lengths of fore, middle and rear legs [
41
] apparently do not affect stride length and are not the reason for changed phase shifts at high running speeds.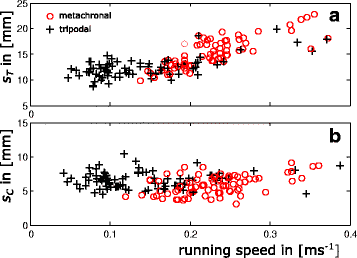 Decreasing phase shifts and resulting consecutive ground contacts of the legs of a tripodal set facilitate permanent body support although swing durations increase relative to single leg contact durations, which enables further increasing stride lengths without the need for ballistic phases of the COM (Fig. 8). This is reflected by a significantly higher temporal overlap between consecutive sets of legs in metachronal runs if compared with tripodal gait patterns.
Constant swing durations limit the contraction speeds of the involved muscles and prevent excessive metabolic costs which would occur when the legs would be swung in decreasingly shorter intervals necessary for running with uniform, short strides and therefore largely increased stride numbers per distance covered [56]. Correspondingly, high speed metachronal leg coordination can limit the metabolic costs necessary for swinging the legs back to touch-down position and reduces the number of strides per distance travelled, which both contribute significantly to total running costs [57–59]. A reduction in stride numbers may be particularly significant in small legged organisms with their increased relative joint stiffnesses. When body size and limb weight decrease, relative cross-section areas of leg muscles and joint membranes increase. Accordingly, damping within these structures increases relative to inertial forces of the legs and several researchers hypothesized that movements of small animals are dominated by passive joint forces rather than inertia [60–62]. Even though, dissipation within the leg joints likely affects leg swing and accompanied metabolic costs, for cockroaches, our results indicate that stance phases seem to be governed by the inertia of the body which enables exploitation of the advantages of synchronized sets of legs such as high static stability and the employment of elastic energy storage at intermediate running speeds.
Since power is the product of force and contraction speed, muscles generate their highest power output at intermediate contraction speeds, which makes them particularly efficient in this range. Eccentric load, as typical for anti-gravity muscles during stance, is limited and quickly leads to overstrain [63, 64]. In spring-mass systems, vertical oscillation amplitudes and maximum vertical ground reaction forces increase with speed [65–67]. Our results in N. cinerea do also show pronounced vertical oscillations during alternating tripodal runs (Fig. 4, Additional file 1: Figures S1-S4, Table 1 in Appendix). Accordingly, at high running speed, the interplay of concordant body pitch, high vertical amplitudes and accompanied low reversal points may lead to unfavourable joint angles in the already bent fore and middle legs [41]. Moreover, excessive vertical amplitudes are prevented by the generally low position of the COM in cockroaches. High amplitudes and ground reaction forces would also lead to high contraction speeds in concentrically acting and high stresses in eccentrically loaded muscles. Therefore, further adherence to spring-mass dynamics at very high running speeds would be disadvantageous in particular as blaberid cockroaches use fast sprints only occasionally (cp. [39]), and seem rarely adapted to prolonged fast leg muscle activity.
Energy efficiency in bouncing gaits such as running, trotting and the alternating tripodal gait of insects such as cockroaches mostly relies on spring-mass dynamics. This requires matched stiffnesses of the energy storing components in all walking legs to enable concerted loading and unloading rates [34], particularly in poly-pedal locomotor systems. In blaberid cockroaches hind leg stiffness is largely determined by the passive mechanical properties of the legs themselves [20, 68]. Except for the coxa, the axes of all involved joints are almost in parallel with the ground force vectors, which makes cockroach hind legs particularly suitable for elastic storage and recovery of movement energy in vertical directions. As a result, the hip joint effectively stores and recycles displacement energy over a wide range of oscillation frequencies [20]. In the front and middle legs, however, the joint axes are perpendicular to the main ground force direction. Accordingly leg stiffness depends strongly on the activity of leg muscles and their contraction properties. Whether or not elastic mechanisms take effect in these legs has not been examined yet. However, to enable efficient use of the hind leg spring, stride frequencies and timing of the anterior legs have to be adjusted to that of the former.
COM accelerations represent causative overall ground forces. The FFT analysis of COM accelerations in N. cinerea revealed peaks at two-times stride frequency for vertical and fore-aft fluctuations and one-time stride frequency for lateral oscillations, which is in agreement with spring-mass running dynamics [16]. However, along with the changes in inter-leg coordination as discussed above the FFT analysis also revealed distinct spectral changes. Thus, in alternating tripodal runs the vertical amplitudes were significantly higher than in metachronal runs while lateral amplitudes were higher in the latter (Fig. 4). Accordingly, the major plane of COM oscillations changed from sagittal to horizontal.
Direct measurements also showed significantly higher vertical peak-to-peak amplitudes of the COM in alternating tripodal gaits (Table 1 in Appendix). Accordingly, the mass specific external mechanical energy was also significantly higher in alternating runs. However, bouncing gaits such as the alternating tripodal pattern of insects enable efficient loading of elastic leg structures and benefit from these structures' elastic recoil. This internal energy storage and transmission system is not externally visible and increases the apparent energy fluctuations and total energetic costs while effective metabolic costs may be considerably lower [15, 40, 69].
In alternating runs the spectrum of lateral acceleration amplitudes was blurred and did not show a clear maximum (Fig. 4a). However, such a clear maximum close to one-time stride frequency is required by the model proposed by Schmitt and Holmes [70] to enable dynamic stability in the horizontal plane. Therefore, the dynamics assumed for their lumped two-legged model do better correspond to those observed for metachronal runs with their pronounced lateral oscillations and a clear spectral maximum. Since static stability is reduced with temporally distributed touch-downs within a set of legs, dynamically stabilizing effects imposed by COM dynamics similar to the lateral leg spring model [6] and distributed mechanical feedback [3] may replace static stability as the major stabilizing mechanism at high running speeds. This change towards passive stabilization and feed forward control can also be related to the reduced ratio between contact duration and the fastest possible reflex response [16, 71]. Thus, in the range of the transitional speed of about 0.15 ms−1 contact durations fall below 40 ms (Fig. 5) whereas the shortest reflex responses in cockroaches are about 20 ms [72]. Accordingly, half the stance duration has passed and the legs' ground forces have reached their maximum before a reflex response could at all affect leg activity.
The mean angles between thorax and abdomen were slightly but significantly lower in metachronal runs (Table 1 in Appendix); the total difference was about 5°. Nevertheless, the positional change led to a smaller distance between the caudal abdomen tip and the substrate surface, which might result in intermittent ground contacts as found in wood ants [27] and may have a stabilizing effect for the vertical position of the COM. However, the bent body posture could also simply be the result of anatomical constraints in external leg muscles [73] that emerge at high running speeds.
Comparative
Blaberus discoidalis is another blaberid cockroach species extensively used for experimental examinations. This species shows a similar saturation of the stride frequency with increasing running speed as N. cinerea while aerial phases are also lacking [2, 15]. In N. cinerea, stride frequency saturation is primarily caused by swing phases with constant and therefore relative to the contact phases increasing durations. Without significant aerial phases, constant swing phases, in turn, are indicative for changed leg coordination. Therefore, B. discoidalis seems to pass through the same gait change as N. cinerea.
For Namibian tenebrionid desert beetles Bartholomew et al. [17] reported constant oxygen consumption rates at running speeds above about 0.13 ms−1, while this rate increased linearly at running speeds below the transitional speed. Moreover, at high running speeds the beetles had very stable COM trajectories without visible height fluctuations [17]. This corresponds well with the reduced COM fluctuations found for N. cinerea when running with metachronal leg coordination, in particular on slippery substrate (see below). However, due to the flattened shape of the beetles' body, lift, which would reduce vertical ground reaction forces, may also contribute to the constant cost of transport at high running speeds [17], while drag should play only a minor role at running speeds significantly below 1 ms−1 and given Reynolds numbers [24].
Apart from insects, gait changes from alternating to metachronal leg coordination also seem to occur in fast running arachnids. Thus, a change from linearly increasing to constant swing rates and a concurrently reduced increase of stride frequencies were also found in the vagrant spiders Ancylometes bogotensis and Cupiennius salei [16, 74]. Recent experiments in tiny mites with body lengths of only about 1 mm also revealed coordinative changes at their highest running speeds [34] which indicate dynamical changes even in some of the smallest terrestrial runners.
However, insects do not always change gaits when attaining high running speeds. The blattid cockroach Periplaneta americana, for example, is specialized in extremely fast escape runs. This species increases its stride frequency nearly linearly over a wide range of running speeds [29]. At their highest speeds they even lift the frontal legs off the ground and use only their hind legs for propulsion [25]. Accordingly, they cannot adopt metachronal leg coordination and seem to exploit other mechanisms to limit metabolic expenses. Interestingly, the mass specific external mechanical energy found for running N. cinerea (1.47 to 1.77 J·kg−1·m−1) is quite similar to values of about 1.5 J·kg−1·m−1 as measured for P. americana [25].
Linearly increasing stride frequencies were also found in wood ants and fruit flies [11, 52] while the fast running North African dessert ant Cataglyphis fortis reduces the increase of the stride frequency at very high running speeds [26]. In C. fortis, however, the synchronisation of the legs within a set is also maintained at high running speeds, and stride frequencies increase slower at high running speeds due to the occurrence of aerial phases.
According to [75] the jumping bristletail Petrobius reacts upon disturbances by jumps or a peculiar high speed jumping gait. Though no detailed data are available, this jumping gait indeed might reproduce mammalian gallop dynamics with three consecutively active symmetric pairs of legs instead of four sequenced legs making up a set which replaces itself after a ballistic phase and causes redirection of the COM from downwards to upwards. Leg coordination patterns similar to that of Petrobius were described recently for the relatively slow locomotion of some South African species of dung beetles [76]. The COM dynamics of these beetles' "gallop" gait, however, rather seems to employ inverted-pendulum dynamics (e.g. [50, 77]) allowing them to travel at relatively low metabolic costs on deformable granular media [78].
Impact of slipperiness
On slippery substrate the onset of metachronal leg coordination occurs at significantly lower running speeds (Table 1 in Appendix) and maximum running speeds were generally lower (Fig. 7) compared with non-slippery conditions. Accordingly, the slippery sand paper seems to prevent the transmission of high horizontal forces as necessary to propel the animals at velocities above 0.25 ms−1.
In insects using the alternating tripodal gait, the front and middle legs generate lateral ground reaction forces and brace against each other [52, 79]. In N. cinerea, desynchronization of the legs within the alternating sets as found in metachronal runs arises primarily from changing phase relations between these legs. Therefore, the early onset of metachronal coordination on slippery substrate may indicate active avoidance of lateral bracing of front and middle legs which might be of significant functional impact on coarse substrates. In principle, due to lateral bracing, elastic structures in the legs can be loaded that recoil in the second half of the contact phases and might contribute to energy recovery during a stride. Moreover, bracing can also be a mechanism to control the lateral dynamics of the COM and therefore dynamic stability (see [54]). However, on slippery and granular substrates lateral forces are difficult to transfer onto the ground which is also reflected by the significantly shorter contact lengths (s C ) found in alternating runs on slippery substrate (Additional file 1: Table S1).
Along with a significant reduction of vertical COM accelerations, metachronal coordination patterns imply more evenly distributed ground forces, reduce required force peaks and can increase energy efficiency if elastic mechanisms are not applicable (cp. [23]). They also prevent lateral bracing between front and middle legs and the risk of outward slipping, which could cause severe disturbance. Accordingly, such patterns seem to be particularly advantageous on slippery substrates.
Additionally, metachronal leg coordination increases the temporal overlap of the consecutive sets of legs. Therefore permanent ground contact of at least some legs is permitted, although stride lengths increase and duty factors decrease significantly (Figs. 4, 5, and 6). A permanent connection between substrate and some walking legs prevents interruption of proprioceptive information about the animal's position with respect to the ground and may increase controllability of basically interference-prone locomotion (cp. [71]).
Conclusion
At high running speeds, when the vertical amplitudes of the body and therefore the use of elasticity are limited, cockroaches avoid the disadvantages of bouncing by temporal dissociation of the alternating sets of legs which might also cause reduced metabolic costs and increased dynamic stability in the horizontal plane. In other words, the change from the alternating tripodal to a metachronal gait pattern at high running speeds can help arthropods to avoid overstraining involved muscles and may facilitate energy efficient high speed locomotion at the same time. Since similar kinematic adaptations were found in a range of unrelated species the high speed metachronal gait is probably widely used by legged terrestrial arthropods and may be a characteristic for fast escape manoeuvres.
Abbreviations
∠TA:

Ventral angle between thorax and abdomen
COM:

Centre of mass
f T :

Stride frequency, i.e. the inverse of the stride duration t T
M COM :

Mass specific external mechanical energy per unit distance
s C :

Distance travelled by the COM during contact
s T :

Distance travelled by the COM during stride
t C −1 :

Contact rate, i.e. the inverse of the contact duration t C
t S −1 :

Swing rate, i.e. the inverse of the swing duration t S
TSF:

Tripod synchrony factor
Declarations
Acknowledgements
We would like to thank Walter Federle who hosted the experiments and subsequent analyses in his lab and Ansgar Büschges who actively supported the work on the present manuscript.
Funding
This work was supported by the German Research Foundation (DFG, We 4664/2–1 and 3–1) to TW.
Availability of data and materials
The datasets used and analysed during the current study are available from the corresponding author on reasonable request.
Authors' contributions
TW conceived, designed and coordinated the study, analysed the data, carried out the statistical analyses and drafted the manuscript; PGB participated in data acquisition and analysis; EP participated in data acquisition and revised the manuscript critically. All authors read and approved the final manuscript.
Ethics approval and consent to participate
n/a.
Consent for publication
n/a.
Competing interests
The authors declare that they have no competing interests.
Publisher's Note
Springer Nature remains neutral with regard to jurisdictional claims in published maps and institutional affiliations.
Open AccessThis article is distributed under the terms of the Creative Commons Attribution 4.0 International License (http://creativecommons.org/licenses/by/4.0/), which permits unrestricted use, distribution, and reproduction in any medium, provided you give appropriate credit to the original author(s) and the source, provide a link to the Creative Commons license, and indicate if changes were made. The Creative Commons Public Domain Dedication waiver (http://creativecommons.org/publicdomain/zero/1.0/) applies to the data made available in this article, unless otherwise stated.
Authors' Affiliations
(1)
Department of Animal Physiology, Institute of Zoology, University of Cologne, Cologne, Germany
(2)
Ecole Normale Supérieure de Lyon Département de Biologie, Lyon, France
(3)
Department of Zoology, University of Cambridge, Cambridge, UK