An integrative systematic framework helps to reconstruct skeletal evolution of glass sponges (Porifera, Hexactinellida)
Frontiers in Zoology
2017
14:18
Received: 19 May 2016
Accepted: 20 January 2017
Published: 21 March 2017
Abstract
Background
Glass sponges (Class Hexactinellida) are important components of deep-sea ecosystems and are of interest from geological and materials science perspectives. The reconstruction of their phylogeny with molecular data has only recently begun and shows a better agreement with morphology-based systematics than is typical for other sponge groups, likely because of a greater number of informative morphological characters. However, inconsistencies remain that have far-reaching implications for hypotheses about the evolution of their major skeletal construction types (body plans). Furthermore, less than half of all described extant genera have been sampled for molecular systematics, and several taxa important for understanding skeletal evolution are still missing. Increased taxon sampling for molecular phylogenetics of this group is therefore urgently needed. However, due to their remote habitat and often poorly preserved museum material, sequencing all 126 currently recognized extant genera will be difficult to achieve. Utilizing morphological data to incorporate unsequenced taxa into an integrative systematics framework therefore holds great promise, but it is unclear which methodological approach best suits this task.
Results
Here, we increase the taxon sampling of four previously established molecular markers (18S, 28S, and 16S ribosomal DNA, as well as cytochrome oxidase subunit I) by 12 genera, for the first time including representatives of the order Aulocalycoida and the type genus of Dactylocalycidae, taxa that are key to understanding hexactinellid body plan evolution. Phylogenetic analyses suggest that Aulocalycoida is diphyletic and provide further support for the paraphyly of order Hexactinosida; hence these orders are abolished from the Linnean classification. We further assembled morphological character matrices to integrate so far unsequenced genera into phylogenetic analyses in maximum parsimony (MP), maximum likelihood (ML), Bayesian, and morphology-based binning frameworks. We find that of these four approaches, total-evidence analysis using MP gave the most plausible results concerning congruence with existing phylogenetic and taxonomic hypotheses, whereas the other methods, especially ML and binning, performed more poorly. We use our total-evidence phylogeny of all extant glass sponge genera for ancestral state reconstruction of morphological characters in MP and ML frameworks, gaining new insights into the evolution of major hexactinellid body plans and other characters such as different spicule types.
Conclusions
Our study demonstrates how a comprehensive, albeit in some parts provisional, phylogeny of a larger taxon can be achieved with an integrative approach utilizing molecular and morphological data, and how this can be used as a basis for understanding phenotypic evolution. The datasets and associated trees presented here are intended as a resource and starting point for future work on glass sponge evolution.
Keywords
Ancestral state reconstructionCharacter evolutionClassificationHexactinellidaIntegrative systematicsPhylogenyPoriferaTotal evidence
Background
Glass sponges (Hexactinellida; Fig.
1
) constitute one of the four classes of Porifera, being distinguished from the other three classes (Demospongiae, Homoscleromorpha, and Calcarea) by having siliceous skeletal elements (spicules) with triaxonic symmetry (i.e., six-rayed spicules [hexactins] and their derivatives with reduced rays; Fig.
2a
) and a largely syncytial soft tissue organization [
1
,
2
]. Within Porifera, they are most closely related to Demospongiae [
3
,
4
] and their monophyly is strongly supported by both morphological and molecular data [
3
]. Although in terms of known extant diversity they represent a relatively minor group (625 valid species as of May 2016 [
5
]), glass sponges are of great importance for the ecology of the deep-sea benthos (the habitat they are mostly restricted to) and are geologically relevant as they contributed to the formation of massive reefs, especially in the Mesozoic, which are still preserved as rock formations throughout Europe (e.g., [
2
,
6
–
9
]). Furthermore, their spicules have remarkable physical properties, which make them highly interesting study objects for materials scientists (e.g., [
10
–
12
]). Glass sponges can be aesthetically appealing in terms of their unusual morphology and astonishing variety of spicule forms [
2
] (Figs.
1
,
2
and
3
). The high diversity and complexity of morphological features of hexactinellids provide ample characters for morphology-based systematics, and as a result there is relatively good agreement between molecular phylogenies and taxonomy in comparison to other sponge groups [
3
,
13
,
14
]. For example, monophyly is supported by molecular data for all except one of the families sampled so far for more than one genus, as well as for almost all genera sampled so far for more than one species [
3
,
15
,
16
] (the only exceptions were Euretidae, a clear "waste-bin" taxon [
17
],
Rossella
, which has subsequently been split into two separate genera [
18
], and
Aphrocallistes
and
Heterochone
, whose reciprocal monophyly might be difficult to reconstruct due to gene-tree species-tree conflicts [
19
]).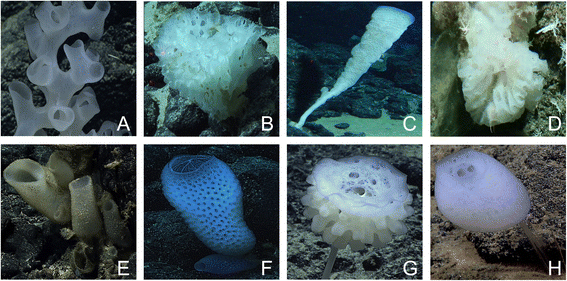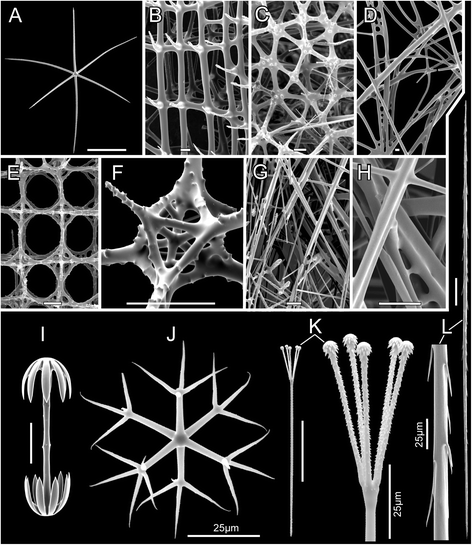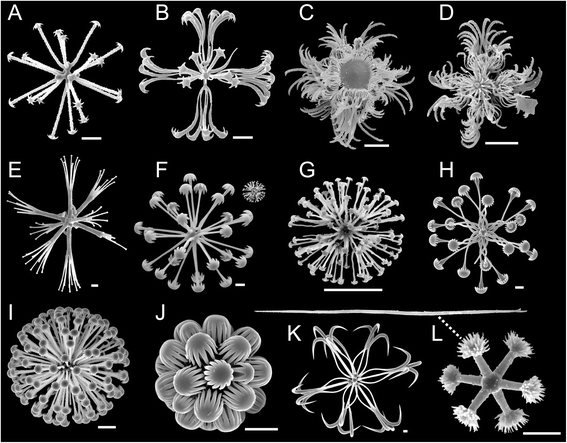 The division of Hexactinellida into the two subclasses Amphidiscophora and Hexasterophora [20, 21] is well supported by the mutually exclusive occurrence of amphidiscs and hexasters in these groups (Fig. 2i, j), and is also highly corroborated by molecular data [3]. Amphidiscophora contains a single extant order, Amphidiscosida (Hyalonematidae, Pheronematidae, Monorhaphididae). Hexasterophora currently comprises four orders: Hexactinosida (Aphrocallistidae, Auloplacidae, Craticulariidae, Cribrospongiidae, Dactylocalycidae, Euretidae, Farreidae, Fieldingiidae, Tretodictyidae), Aulocalycoida (Aulocalycidae, Uncinateridae), Lychniscosida (Aulocystidae, Diapleuridae), and Lyssacinosida (Euplectellidae, Leucopsacidae, Rossellidae). Members of the first three orders have so-called dictyonal frameworks, which are rigid internal skeletons composed of fused hexactins, whereas members of Lyssacinosida have internal skeletons composed of mostly unfused spicules, a condition called lyssacine that is also characteristic of Amphidiscophora (Fig. 2b-h). Molecular phylogenetic analyses based on ribosomal DNA (rDNA) and cytochrome oxidase subunit I (COI) sequences have supported monophyly of Lyssacinosida [15, 16] but have found that Dactylocalycidae is more closely related to that order than to the remaining hexactinosidans (= Sceptrulophora; a clade well-supported by possession of sceptrules and uncinates [Fig. 2k, l]), rendering Hexactinosida paraphyletic [3, 15, 16]. This suggests that dictyonal skeletons could have either evolved independently in Sceptrulophora and Dactylocalycidae, or alternatively that the lyssacine body plan "re-evolved" in Lyssacinosida [15]. However, a more comprehensive phylogeny, especially including Aulocalycoida and Lychniscosida, is necessary to understand the evolution of the dictyonal and lyssacine body plans. Understanding the evolution of other aspects of the glass sponge skeleton, such as the myriad different types of hexasters (see Fig. 3 for a few examples), would also greatly benefit from a phylogeny including as many genera as possible.
Prior to the present study, sequence coverage of genera was only ~36%. Although we here increase this number to ~45%, this is still low, and given the difficulties of obtaining suitable material from targeted taxa of this deep-sea group, is not likely to increase substantially in the near future. Therefore, utilization of morphological character data to integrate unsequenced genera into a phylogenetic analysis framework holds some promise to obtain a, albeit somewhat provisional, comprehensive phylogeny of Hexactinellida. In this study, we have increased molecular taxon sampling of the four markers established by Dohrmann et al. [3, 16] by 12 additional genera, which include representatives of one additional order (Aulocalycoida), and three additional families (Aulocalycidae, Craticulariidae, Uncinateridae). Furthermore, we compiled morphological character matrices from all described extant genera of the two subclasses. Molecular and morphological datasets were first analyzed separately and then combined to incorporate the unsequenced genera into the molecular phylogeny by using "total-evidence" approaches in maximum-parsimony (MP), maximum-likelihood (ML), and Bayesian analysis frameworks, as well as a "morphology-based phylogenetic binning" approach recently developed by Berger and Stamatakis [22]. Comparisons of the results of these four methods revealed that MP yielded trees in better congruence with previous taxonomic and phylogenetic hypotheses than the other methods, at least for Hexasterophora. We then used this comprehensive, total-evidence phylogeny to investigate hexactinellid skeletal evolution by means of ancestral state reconstruction in MP and ML frameworks. Based on our phylogenetic results, we also propose several changes to the current higher-level Linnean classification.
Conclusions
In this study, we have increased the taxon sampling for molecular systematics of Hexactinellida by 15 species, 12 genera, three families, and one order. One major finding was that the order Aulocalycoida is polyphyletic because its two constituent families (Aulocalycidae and Uncinateridae) are resolved as ingroups of Lyssacinosida and Sceptrulophora, respectively. Furthermore, the sceptrule- and uncinate lacking dictyonal genera Heterorete (formerly Euretidae) and Dactylocalyx (Dactylocalycidae) were resolved as more closely related to Lyssacinosida than to Sceptrulophora, which further demonstrates the artificial nature of Hexactinosida. Consequently, we abolish Aulocalycoida and Hexactinosida, elevate Sceptrulophora from suborder to order, and emend diagnosis and scope of Lyssacinosida to include Aulocalycidae. These updates are timely and bring the Linnean classification of glass sponges in closer agreement with their phylogeny, similar to what was recently proposed for Demospongiae [99].
We further compiled morphological character matrices including all extant genera of Amphidiscophora and Hexasterophora and analyzed these alone and in combination with the molecular data. We compared MP, ML, and Bayesian approaches, as well as "morphology-based phylogenetic binning" [22] and found that MP consistently outperformed the other methods in terms of congruence with well-founded taxonomic and phylogenetic hypotheses. Bayesian analyses performed second best, whereas ML and binning gave largely dubious results. Phylogenies based only on morphological data were partly congruent with the molecular tree (e.g., paraphyly of Hexactinosida, monophyly of many families), but also conflicted in many areas (e.g., monophyletic Aulocalycoida nested within Sceptrulophora). The total-evidence trees were largely congruent with the molecular phylogeny and suggest that the major division of Hexasterophora is not between lyssacine and dictyonal taxa, but instead between taxa with and without sceptrules and uncinates, i.e., between Sceptrulophora and a clade we call Anuncinataria. Besides Lyssacinosida (including Aulocalycidae), Dactylocalycidae, and Heterorete, Anuncinataria also includes Myliusia (formerly Euretidae) and Lychniscosida, a species-poor relict group that was highly diverse in the Jurassic and Cretaceous. Inclusion of sequence data from the latter two taxa will be crucial to further test the monophyly of Anuncinataria. In general, placement of the unsequenced genera in our total-evidence phylogeny should not be taken as the last word but as a starting point; these are working hypotheses that need to be further tested by filling the gaps in the molecular dataset. Also, the morphological character matrices should not be viewed as static, but as a resource that is subject to constant revision.
Character mapping and ML ancestral state reconstruction (ASR) on the total-evidence tree allowed us to gain deeper insights into the evolution of skeletal structures in Hexactinellida. Our results suggest that evolution of the dictyonal body plan was more complex than previously thought. Besides from the obvious implication that the dictyonal skeletons of Aulocalycidae evolved convergently from a lyssacine condition and that the peculiar construction types of Uncinateridae and Auloplacidae evolved independently from a more regular type, we found that dictyonal skeletons with parallel ray fusion might have been present in the ground pattern of Hexasterophora and got secondarily lost in the stem lineage of Lyssacinosida. That is, the lyssacine condition in Lyssacinosida might represent a case of evolutionary reversal to an ancestral body plan, the genetic program for which was inherited from the last common ancestor of Hexactinellida. However, this inference was sensitive to ASR model choice and the branching pattern at the base of Anuncinataria, so the possibility that dictyonal frameworks evolved once or multiple times convergently in early-branching anuncinatarians (e.g., Dactylocalycidae) cannot be ruled out until the phylogenetic relationships of these taxa are better resolved.
Concerning loose spiculation, we also found – not unexpectedly – high levels of homoplasy. The degree to which this is due to multiple convergent origins or multiple losses of spicule types depends somewhat on the assumptions of the ASR model used, and has to be evaluated on a case-by-case basis of individual characters. However, it appears that hexactinellids, and sponges in general, are able to retain the genetic instructions to produce certain spicule types over long evolutionary time, even if they are not expressed in the phenotype. For example, discasters (Fig. 3i) and sigmato- or drepanocomes (Fig. 3k) are restricted to Lyssacinosida but within this group are only found in 14 and 12 genera, respectively, scattered across three families. That is, it is the ability to produce these spicules that can be interpreted as an apomorphy of Lyssacinosida, not their actual phenotypic expression. The importance of this phenomenon, which has been called "cryptotypic property" [100], in Hexactinellida was already pointed out by Mehl [93]. Furthermore, Maldonado et al. [101] showed that sponges can be forced to produce spicule types not normally found in a given species just by altering the silica concentration of sea water. Although these phenomena are largely ignored by sponge taxonomists, at least in Hexactinellida the problem of homoplasy seems less severe than in other sponge classes (cf. [99, 102]). Integrating morphology and molecular sequence data has great potential to inform us about the evolution of this fascinating group of animals.
Abbreviations
aMk2:

Asymmetrical Mk 2-parameter model
ASR:

Ancestral state reconstruction
bp:

Base pairs
BS:

Bootstrap support
CI:

Consistency index
COI:

Cytochrome oxidase subunit I
G4:

Four-rate category gamma correction for among-site rate variation
GTR:

General-time-reversible
inc. sed.:

Incertae sedis
LCA:

Last common ancestor
LD clade:

Clade containing Lyssacinosida and Dactylocalycidae
MCMC:

Markov Chain Monte Carlo
Mk:

Markov-k model
Mk1:

1-parameter Mk model
ML:

Maximum likelihood
MP:

Maximum parsimony
MPT:

Most parsimonious tree
MRC:

Majority-rule consensus tree
mt:

Mitochondrial
PCR:

Polymerase chain reaction
pl:

Proportional likelihood
PP:

Posterior probability
RC:

Rescaled consistency index
rDNA:

Ribosomal DNA
RI:

Retention index
s. nov.:

Sensu novo
s.l.:

Sensu lato
s.s.:

Sensu stricto
TL:

Treelength
VFB clade:

Venus-flower-basket clade
Declarations
Acknowledgements
MD and HMR thank the organizers of the August 2011 PorToL Integrative Taxonomy Workshop (Christina Diaz, Bob Thacker, Shirley Pomponi, Malcolm and April Hill, Joe Lopez, Dennis Lavrov, Allen Collins, and Niamh Redmond) for their invitation to participate and funding to attend. We are indebted to Shirley Pomponi and John Reed for access to HBOI specimens, Rob van Soest for providing Cyrtaulon and additional Dactylocalyx specimens, and Philippe Bouchet (MNH Paris) for access to Laocoetis material. We thank Daniela Henkel for the morphological character matrix used in [23], and Dennis Lavrov and Karri Haen for providing mtDNA sequences before public release. Dorte Janussen and an anonymous reviewer are thanked for critical comments on an earlier version of the manuscript. MD acknowledges Gert Wörheide (LMU) for providing work space and computational resources. The Willi Hennig Society is acknowledged for making TNT available free of charge.
Funding
MD was supported by a Smithsonian Institution Postdoctoral Fellowship and by the Deutsche Forschungsgemeinschaft (DFG grants DO 1742/1-1, 2). Additional funding for molecular work was provided by a US National Science Foundation Porifera Tree of Life grant to Allen Collins (Smithsonian Institution). Collection of the Hawaii sponges was funded by a grant from the Papahanaumokuakea Marine National Monument (administered by the National Marine Sanctuaries Program). MK was supported by New Zealand Foundation for Research, Science and Technology (C01X0224, SFAS033), Ministry of Fisheries (ZBD2004-01), NOAA Satellite Operations Facility (NRAM053), CSIRO Wealth from Oceans Flagship, and Coasts and Oceans Research Programme 2 Marine Biological Resources: Discovery and definition of the marine biota of New Zealand (2014/2015 and 2015/2016 SCI). JNAH thanks the Marine Barcoding of Life Initiative (MarBol), funded by the Alfred P. Sloan Foundation and the GeoBio-CenterLMU, for financing the subsampling and extraction of sponge specimens within the custodianship of the Queensland Museum, and the Taxonomic Research Informatics Network (TRIN) and Atlas of Living Australia (ALA) project.
Authors' contributions
MD conceived and designed the study, performed molecular work, compiled morphological data sets, analyzed the data, interpreted results, and wrote the paper. HMR prepared Figs. 2 and 3. CK and MK provided underwater photographs used in Fig. 1. CK, MK, AP, JNAH, and HMR contributed specimens and provided intellectual input and critical comments on the manuscript. All authors read and approved the final manuscript.
Competing interests
The authors declare that they have no competing interests.
Consent for publication
Not applicable.
Ethics approval and consent to participate
Not applicable.
Open AccessThis article is distributed under the terms of the Creative Commons Attribution 4.0 International License (http://creativecommons.org/licenses/by/4.0/), which permits unrestricted use, distribution, and reproduction in any medium, provided you give appropriate credit to the original author(s) and the source, provide a link to the Creative Commons license, and indicate if changes were made. The Creative Commons Public Domain Dedication waiver (http://creativecommons.org/publicdomain/zero/1.0/) applies to the data made available in this article, unless otherwise stated.
Authors' Affiliations
(1)
Department of Earth & Environmental Sciences, Palaeontology & Geobiology, Molecular Geo- & Palaeobiology Lab, Ludwig-Maximilians-University Munich, Munich, Germany
(2)
Hawaii Undersea Research Laboratory, University of Hawaii at Manoa, Honolulu, USA
(3)
Coasts and Oceans National Centre, National Institute of Water and Atmospheric Research (NIWA) Ltd, Auckland, New Zealand
(4)
Institute of Paleobiology, Polish Academy of Sciences, Warszawa, Poland
(5)
Biodiversity & Geosciences Program, Queensland Museum, South Brisbane, Australia
(6)
Eskitis Institute for Drug Discovery, Griffith University, Nathan, Australia
(7)
Natural History Section, Royal British Columbia Museum, Victoria, Canada
(8)
Department of Biology, University of Victoria, Victoria, Canada