The cephalopod arm crown: appendage formation and differentiation in the Hawaiian bobtail squid Euprymna scolopes
Frontiers in Zoology
2016
13:44
Received: 18 May 2016
Accepted: 13 September 2016
Published: 29 September 2016
Abstract
Background
Cephalopods are a highly derived class of molluscs that adapted their body plan to a more active and predatory lifestyle. One intriguing adaptation is the modification of the ventral foot to form a bilaterally symmetric arm crown, which constitutes a true morphological novelty in evolution. In addition, this structure shows many diversifications within the class of cephalopods and therefore offers an interesting opportunity to study the molecular underpinnings of the emergence of phenotypic novelties and their diversification. Here we use the sepiolid Euprymna scolopes as a model to study the formation and differentiation of the decabrachian arm crown, which consists of four pairs of sessile arms and one pair of retractile tentacles. We provide a detailed description of arm crown formation in order to understand the basic morphology and the developmental dynamics of this structure.
Results
We show that the morphological formation of the cephalopod appendages occurs during distinct phases, including outgrowth, elongation, and tissue differentiation. Early outgrowth is characterized by uniform cell proliferation, while the elongation of the appendages initiates tissue differentiation. The latter progresses in a gradient from proximal to distal, whereas cell proliferation becomes restricted to the distal-most end of the arm. Differences in the formation of arms and tentacles exist, with the tentacles showing an expedite growth rate and higher complexity at younger stages.
Conclusion
The early outgrowth and differentiation of the E. scolopes arm crown shows similarities to the related, yet derived cephalopod Octopus vulgaris. Parallels in the growth and differentiation of appendages seem to exist throughout the animal kingdom, raising the question of whether these similarities reflect a recruitment of similar molecular patterning pathways.
Keywords
Cephalopod Euprymna scolopes Bobtail squidLophotrochozoaArm crownAppendageEvolutionDevelopmentTentacle
Background
Cephalopods represent a highly derived and very successful class within the phylum Mollusca, showing adaptations to all marine ecosystems from the deep sea to marine estuaries. They are thought to have evolved from a limpet-like monoplacophoran ancestor during the late Cambrian about 500 million years ago [1]. The eventual transition from a shell-bearing, bottom dwelling organism to a free-swimming, active predator was accompanied by the appearance of a series of features that cannot be found in any other molluscan class and are therefore considered morphological novelties [2]. One of the most intriguing innovations is the evolution of the cephalopod arm crown, which is thought to have either derived in part [3, 4] or entirely [5–7] from the foot of molluscan ancestors. Due to its capacity to enable predatory life styles, it qualifies as a "key innovation" in cephalopod diversification [8].
The arm crown of modern cephalopods (coleoids) is a bilaterally symmetric structure, consisting of four pairs of prehensile arms with an additional pair of retractable cirri in
Vampyroteuthis
and extensible tentacles in the decabrachian cephalopods. The homologies of the arms in the cephalopod orders have not been definitively resolved. In a study examining a more ancestral, shell-bearing cephalopod,
Nautilus pompilius
, Shigeno et al. [
9
] have shown that five distinct pairs of arm fields are formed during embryonic development, which give rise to part of the head complex and a multitude of digital tentacles. Despite the differences in the adult structure of nautiloid and coleoid appendages, it seems therefore likely that five pairs of arm were already present in a common ancestor. Studies based on anatomical and embryological comparisons suggest that the second arm pair was then lost in the octobrachian cephalopods and modified in
Vampyroteuthis
[
7
,
9
–
12
]. In the decabrachian lineage, however, presumably the fourth arm pair was modified into retractile tentacles and optimized for prey capture (Additional file
1
). Individual arms and tentacles of the decabrachian arm crown are composed of a dense three-dimensional array of muscle fibers, connective tissue and a central axial nerve cord. These structures were termed muscular hydrostats by Kier and Smith [
13
] because their musculature serves a dual purpose of providing the appendage with skeletal support and the force for movement. The motor control for the arm's musculature and suckers is provided by the axial nerve cord, which comprises the largest component of the peripheral nervous system [
14
,
15
]. Despite the similarities in the gross anatomy of arms and tentacles, significant differences in form and function exist, which have been comprehensively studied in a number of decabrachian species [
13
,
16
–
19
] (Fig.
1
).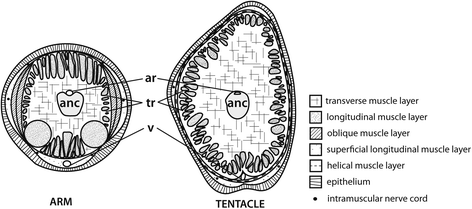 In particular, the tapered, sessile arms are equipped with suckers from the base to their distal tip and are used for a variety of tasks including prey handling, behavioral display, locomotion and reproduction [20]. The arm's central axial nerve cord consists of a series of ganglia, each corresponding to one sucker on the oral side of the arm. A transverse muscle layer surrounds the central nerve cord and is positioned perpendicular to the long axis of the arm. It is located adjacent to the longitudinal muscle layer and interdigitates with bundles thereof, forming so-called trabeculae. Two layers of obliquely oriented musculature enclose the longitudinal muscle layer and are each surrounded by one oral and two lateral layers of superficial longitudinal musculature. The latter incorporate six intramuscular nerve fibers, that are connected to the axial nerve cord by connective fibers and to each other by anastomoses [15]. The arm is covered by a loose connective tissue dermis and is enclosed by a simple cuboidal epithelium. This combination of musculature is specifically adapted to the bending movement and torsion of the manipulative and inextensible arm [17].
In contrast, the decabrachian cylindrical tentacles are specialized structures, which are mostly optimized for prey capture. Contrary to the arms, tentacle suckers are only present on their distal club, and associated ganglionic structures as well as most neuronal cell bodies are restricted to this area. Similar to the arms, a large transverse muscle layer surrounds the tentacle's axial nerve cord. However, an additional layer of circular musculature outlines the adjacent longitudinal muscle fibers. Next to the circular musculature, two thin layers of helical muscle tissue border a superficial longitudinal muscle layer, which incorporates the intramuscular nerve cords. As with the arm, the tentacle's musculature is covered in a loose connective tissue dermis and is surrounded by a simple cuboidal epithelium [17–19, 21].
As an evolutionary novelty with such diversity the cephalopod arm crown offers an interesting opportunity to address the molecular underpinnings of a number of fundamental evolutionary problems. These include (i) which key changes in gene regulation are associated with the emergence of morphological novelties and (ii) to the diversification of serially homologous structures respectively, as well as (iii) whether shared molecular mechanisms in appendage patterning exist throughout the animal kingdom. The latter has recently been addressed on a morphological level from the standpoint of a more derived cephalopod, the octopus. Nödl et al. [22] have shown surprising similarities in the mechanisms by which appendages are formed in octopus and known model organisms. These similarities include uniform cell proliferation during early arm outgrowth, an elongation along the proximal-distal (PD) axis driven by cell shape changes, and a switch to a progressive, distal growth pattern during tissue differentiation. Considering the presumed evolutionary origin of the arm crown these results are specifically intriguing and raise the question whether the re-organization of the molluskan foot into the cephalopod arm crown has been accompanied by the recruitment of genes known to be involved in appendage formation in vertebrates and insects.
In the past years the Hawaiian bobtail squid Euprymna scolopes has become an important model for cephalopod body plan evolution in general and appendage formation in particular [23, 24]. The groundwork for molecular and developmental laboratory experiments has been set and successfully applied [23–29]. Despite increased interest in E. scolopes as a developmental model for the cephalopod arm crown innovation, no morphological description of the embryonic formation of this structure exists. However, for the interpretation of gene expression data it is absolutely crucial to understand the basic morphology and the developmental dynamics of the structure under study. In addition, the comparison of the formation of a decabrachian arm crown to that of an octobrachian may shed light onto the evolutionary origin of this structure and its diversification.
In this study we provide a detailed description of the embryonic development and differentiation of the E. scolopes arm crown. We investigate the different phases of its development and the similarities with the dynamics observed in octopus. This detailed description of arm and tentacle morphology and development intends to provide a basis for further studies on E. scolopes appendage development.
Discussion
The embryonic development of the E. scolopes arm crown is a dynamic process during which an adult-like structure is established. With the exception of the hectocotylus, which is modified during sexual maturation of the juvenile male squid [35], the arms and tentacles are fully functional at hatching stage [36]. This stands in contrast to other decabrachian species, that produce small eggs and immature, paralarval hatchlings, in which the tentacles and associated adult-like prey capture behaviors mature during post-hatching stages (e.g., Sepioteuthis lessoniana, Loligo vulgaris) [37, 38].
Conclusion
The formation of the E. scolopes arm crown is a dynamic process divided into distinct phases. These include (i) the appearance of the armcrown, (ii) separation into arm fields, (iii) arm outgrowth, (iv) elongation along the PD axis and initiation of differentiation, and (v) tissue (end-) differentiation. The early outgrowth and elongation of the arms is characterized by an isotropic cell proliferation and the onset of tissue differentiation. While early outgrowth is similar in all arms, subsequent differentiation of the appendages shows differences at most tissue levels. Generally, arm IV shows higher complexity at younger stages and different muscular and nervous tissue composition. However, tissues differentiate in a gradient from proximal to distal, whereas cell proliferation becomes restricted to the distal-most end of both arms. Similarities to appendage formation of other well-studied model organisms seem to exist and raise the question whether these similarities reflect the parallel recruitment of similar molecular patterning modes.
Methods
Animals
Adult Euprymna scolopes specimens were collected at nighttime along the shores of Hawaii Kai and Kaneohe bay, Oahu, Hawaii. Males and females were kept separately in 140 × 100 × 90 cm fiberglass tanks with a flow through system and fed with live shrimp (Palaemon debilis). Each female was allowed to mate for three consecutive days every other week and was provided with PVC half pipes for spawning. Egg clutches were carefully removed from the substrate, transferred into glass bowls of 20 μm filtered seawater (FSW) and incubated at 24 °C with daily seawater changes. Squid embryos were manually removed from the outer capsule and jelly coat using watchmaker's forceps and staged according to Lee et al. [25].
Fixation
Embryos contained within the chorion were relaxed for 30 min in a 1:1 dilution of 0.37 M MgCl2:FSW and prefixed for one hour in a 4 % formaldehyde solution, made freshly by dilution of paraformaldehyde (Electron Microscopy Sciences, Hatfield, PA, USA) in 0.2 μm FSW at room temperature. After five FSW rinses, embryos were manually dechorionated and post-fixed according to one of following fixation methods: Embryos to be used for histological sectioning were fixed in Bouin's fluid for two days at room temperature, washed 5 times for 5 min in marine PBS (mPBS; 50 mM sodium phosphate buffer with 0.45 M NaCl; pH 7.4) and stored in 70 % ethanol in mPBS at 4 °C until analysis. For antibody labeling of early stages (stages 17 – 20) embryos were fixed over night at 4 °C in 4.2 % paraformaldehyde in PBS containing 0.1 M HEPES (4-(2-hydroxyethyl)-1-piperazineethanesulfonic acid, pH 6.9), 50 μM EGTA (Ethylene glycol-bis (2-aminoethylether)-N,N,N′,N′-tetraacetic acid, pH 8–9), 5 μM MgSO4, 0.4 M Dextrose, and 4 % Triton X-100. Animals were rinsed several times in mPBT (mPBS + 1 % Triton X-100) and immediately processed.
Histology
Samples were dehydrated in a graded series of ethanol (80, 90, 95, 100 %), embedded in paraffin and cut with a Reichert-Jung rotational microtome in 7 μm sections. The sections were stained with azocarmine-anilin blue (AZAN) according to the Heidenhain staining protocol [73]. For semi-thin sections embryos were embedded in Araldite (Sigma-Aldrich, St. Louis, MO, USA) after dehydration and sectioned using a Reichert-Jung Ultracut E rotational microtome and a HistoJumbo diamond knife into consecutive series of 1 μm sections. Samples were stained with toluidine blue in 1 % Borax [74] and sealed with Araldite.
Immunolabeling
Embryos were permeabilized with mPBT at 4 °C overnight. Non-specific binding sites were blocked with blocking solution consisting of mPBT + 10 % normal heat-inactivated goat serum (Sigma-Aldrich, St. Louis, MO, USA) for 2 h at room temperature. Subsequently, embryos were incubated in primary antibody in blocking solution over two nights at 4 °C. After extensive washes with mPBS for at least 4 h at room temperature animals were incubated in secondary antibody, 1:1000 TO-PRO-3 (Life technologies, Carlsbad, CA, USA), and 1:200 BODIPY FL-phallacidin (Life technologies, Carlsbad, CA, USA) or Alexa Fluor 488-phalloidin (Life technologies, Carlsbad, CA, USA) in mPBS + 10 % normal heat-inactivated goat serum for 2 – 3 days at 4 °C. Following several mPBS washes animals were cleared in 70 % glycerol over night at 4 °C and mounted for analysis. Early stage embryos (stage 17–20) were incubated with mouse-anti-histone H1 (F152.C25.WJJ, Millipore) (1:500) and later stage embryos (stage 21–30) with mouse-anti-acetylated tubulin (6-11B-1; Sigma-Aldrich, St. Louis, MO, USA) (1:1000) as primary antibody. Secondary antibodies used were either donkey-anti-mouse Alexa Fluor 546 (Life technologies, Carlsbad, CA, USA) (1:400), or goat-anti-mouse Alexa Fluor 568 (Life technologies, Carlsbad, CA, USA) (1:500).
EdU labeling
DNA synthesis in proliferating cells was detected using the Click-It EdU Alexa Fluor 488 imaging kit (Life technologies, Carlsbad, CA, USA). Embryos stage 18–30 were incubated in 0.3 μM EdU for 1 h, and relaxed and fixed as described above. After a few rinses in mPBS animals were incubated in mPBT for 2 h at room temperature or overnight at 4 °C. Subsequently, embryos were washed 5 times for 5 min in mPBS + 3 % BSA (Bovine Serum Albumin, pH 7.4) and incubated in the reaction cocktail (mixed according to the manufacturer's protocol) for 30 min at room temperature. Animals were washed 5 times for 5 min in mPBS, cleared in 70 % glycerol over night at 4 °C and mounted for analysis.
Microscopy
Immunolabeled overview preparations as well as histological preparations were viewed, analyzed and documented using either an Axioskop 2 compound light microscope (Zeiss) with a stem-mounted SpotFlex digital camera (Diagnostic Instruments) or an Axio Imager.A1 compound light microscope (Zeiss) with a ProgRes C14 plus digital camera (Jenoptik, Germany). In order to improve the depth of field, selectively focused images were stacked and combined using Helicon focus 4.2.7 software (Helicon Soft Ltd.) in some instances. Confocal imaging was performed using either a LSM 710 (Zeiss) or a CLSM 2 (Leica) confocal microscope, and 3D images were created using ImageJ (NIH).
Abbreviations
ac:

Acetabulum
an:

Acetabular nerve
anc:

Axial nerve cord
ar:

Artery
c:

Cilia
cc:

Cuboidal cell
ch:

Chromatophore
cm:

Circular muscle
cn:

Connective nerve
cy:

Cylinder
d:

Dermis
e:

Extrinsic muscle
e:

Eye
ec:

Extrinsic circular muscle
ep:

Epithelium
fi:

Fin
fml:

Future muscle layer
fu:

Funnel
h:

Helical muscle
ic:

Interstitial cell
icm:

Inner cell mass
inf:

Infundibulum
inmc:

Intramuscular nerve cord
lm:

Longitudinal muscle
m:

Mantle
me:

Meridional muscle
ml:

Muscle layer
mu:

Musculature
o:

Oblique muscle
oc:

Ovate cell
pnc:

Putative neuronal cells
s:

Stalk
slm:

Superficial longitudinal muscle
sph:

Sphincter muscle
su:

Sucker
tm:

Transverse muscle
tr:

Trabeculae
v:

Vein
Declarations
Acknowledgements
We thank Dr. Mark Martindale for providing aquarium facilities and laboratory bench space at the Kewalo Marine Laboratory in Honolulu during a part of this study and Elaine Seaver and Aldine Amiel for insightful comments on the experimental set-up and discussion of the results. Furthermore, we thank Jake Goldsmith for helping with the illustrations of this manuscript and anonymous reviewers for their comments. Page charges were defrayed by a National Science Foundation award to HGdC.
Funding
This research was supported by funding of the Hawaiian Malacological Society to MTN.
Availability of data and materials
Not applicable.
Authors' contributions
MTN designed the study, carried out the experiments, analyzed the data and drafted the manuscript. HGC helped designing the study and writing the manuscript. AK and MW performed the histological sectioning. GBM helped finalizing the manuscript. All authors read and approved the final version of the manuscript.
Competing interests
The authors declare that they have no competing interests.
Consent for publication
Not applicable.
Ethics approval and consent to participate
All experiments involving live embryos were performed in Hawaii (USA), where no ethics approval is required for the maintenance and handling of invertebrate species. However, our research conformed to the ethical principles of replacement, reduction, refinement and minimization of animal suffering following the guidelines reported in the European Directive 86/609/EEC. Particular attention was given to the method of housing, animal care and health monitoring as well as to identifying signs of pain or distress in the animals.
Open AccessThis article is distributed under the terms of the Creative Commons Attribution 4.0 International License (http://creativecommons.org/licenses/by/4.0/), which permits unrestricted use, distribution, and reproduction in any medium, provided you give appropriate credit to the original author(s) and the source, provide a link to the Creative Commons license, and indicate if changes were made. The Creative Commons Public Domain Dedication waiver (http://creativecommons.org/publicdomain/zero/1.0/) applies to the data made available in this article, unless otherwise stated.
Authors' Affiliations
(1)
Department of Theoretical Biology, University of Vienna, Vienna, Austria
(2)
Marine Biology Section - Department of Biology, University of Copenhagen, Copenhagen, Denmark
(3)
Department of Integrative Zoology, University of Vienna, Vienna, Austria
(4)
Department of Biology, University of Hawaii at Manoa, Honolulu, USA