Positional RNA-Seq identifies candidate genes for phenotypic engineering of sexual traits
Frontiers in Zoology
2015
12:14
Received: 5 February 2015
Accepted: 15 May 2015
Published: 3 July 2015
Abstract
Introduction
RNA interference (RNAi) of trait-specific genes permits the manipulation of specific phenotypic traits ("phenotypic engineering") and thus represents a powerful tool to test trait function in evolutionary studies. The identification of suitable candidate genes, however, often relies on existing functional gene annotation, which is usually limited in emerging model organisms, especially when they are only distantly related to traditional genetic model organisms. A case in point is the free-living flatworm Macrostomum lignano (Lophotrochozoa: Platyhelminthes: Rhabditophora), an increasingly powerful model organism for evolutionary studies of sex in simultaneous hermaphrodites. To overcome the limitation of sparse functional annotation, we have performed a positional RNA-Seq analysis on different body fragments in order to identify organ-specific candidate transcripts. We then performed gene expression (in situ hybridization) and gene function (RNAi) analyses on 23 candidate transcripts, both to evaluate the predictive potential of this approach and to obtain preliminary functional characterizations of these candidate genes.
Results
We identified over 4000 transcripts that could be expected to show specific expression in different reproductive organs (including testis, ovary and the male and female genital systems). The predictive potential of the method could then be verified by confirming organ-specific expression for several candidate transcripts, some of which yielded interesting trait-specific knock-down phenotypes that can now be followed up in future phenotypic engineering studies.
Conclusions
Our positional RNA-Seq analysis represents a highly useful resource for the identification of candidate transcripts for functional and phenotypic engineering studies in M. lignano, and it has already been used successfully in several studies. Moreover, this approach can overcome some inherent limitations of homology-based candidate selection and thus should be applicable to a broad range of emerging model organisms.
Keywords
Phenotypic engineering
RNA-Seq
RNA interference
simultaneous hermaphrodite
Macrostomum lignano
Introduction
Methods to experimentally generate phenotypic variation in evolutionary studies traditionally include experimental evolution, environmental manipulation, and direct trait manipulation [1, 2]. Among these methods, the last one-often referred to as phenotypic engineering-offers the greatest potential to manipulate the phenotypic value of a trait towards extreme values, often above and below the natural range, thus enhancing the statistical power to detect how selection acts on specific traits. Moreover, phenotypic engineering has the advantage of specifically targeting the trait of interest, thereby minimizing confounding effects of experimentally induced variation in other traits. Examples include the mechanical modification of morphological and functional traits (e.g. [3–6]), as well as physiological and behavioural modification using hormones (e.g. [7]) or different dietary treatments (e.g. [8]). More recently, genetic engineering has opened up the possibility of manipulating the molecular basis of traits [9]. While the scope for transgenesis was previously restricted to model organisms with established genetic and genomic tools, recent genome editing technologies, such as TALEN and CRISPR/Cas-based methods, are currently being established in many emerging model organisms (e.g. [10–12]).
Alternative tools to alter molecular functions are gene expression knock-down methods [13], the gold standard of which is RNA interference (RNAi; e.g. [14–16]). The combination of its cost effectiveness, scalability and broad applicability makes this method accessible for evolutionary studies in a growing range of species [17]. RNAi enables the modification of normal gene expression to produce phenotypes that mirror the effect of reduced- or even loss-of-function mutations, allowing functional and genetic studies of specific genes. In the context of phenotypic engineering, the great potential of RNAi is based on its ability to target (i) internal structures (organs or cells) that are inaccessible to mechanical modification and (ii) phenotypes that are influenced by the function of single genes, thus reducing the risk of manipulating several traits at once. The application of this method for evolutionary and ecological studies is still largely restricted to traditional model organisms (e.g. [18, 19]) with some exceptions in non-model organisms (e.g. [20, 21]). An interesting recent example in a non-model organism is the study of Khila et al. [22], who reported a reduction in the reproductive success of water strider males with reduced antennal elaborations, which result from RNAi knock-down of the highly conserved gene distal-less (Dll). The study demonstrated the adaptive role of male antennal elaborations in grasping the female during pre-mating struggles and suggested that sexual conflict drove the evolution of a novel male-specific function of Dll, which is involved in the development of this sexually antagonistic trait. But despite this highly encouraging recent example, RNAi based phenotypic engineering to experimentally test evolutionary predictions in emerging model organisms has yet to reach its full potential.
One reason for this slow progress is that-while protocols for RNAi are becoming available for an increasing number of species (e.g. Hydra [23, 24]; Tribolium, [25]; Daphnia [26]; sponges [27]; and Platynereis [28])-the selection of candidate genes for knock-down still poses a significant challenge in most emerging model organisms. Candidates might be selected based on a priori knowledge of their function, which is often missing since direct experimental gene annotation is necessarily limited in emerging model organisms [29]. A commonly adopted alternative approach for candidate gene selection is therefore comparative functional genomics, where putative functionally conserved genes associated with a given phenotype are identified in related model species (as in the water strider study above). However, the usefulness of this approach greatly depends on the phylogenetic distance between the respective study species [30]. Moreover, this approach is particularly problematic for reproduction-specific genes (and especially genes with male-biased expression), because these tend to evolve rapidly and often diverge to a point where their homology to other genes cannot anymore be recognized. For example, genes with male-biased expression show a substantially lower fraction of identifiable orthologs between Drosophila species than genes with female-biased or unbiased expression [31, 32]. Finally, comparative candidate gene selection also suffers from severe biases in species coverage of well-annotated genomes [30]: traditional genetic model organisms belong predominantly to the superphyla Ecdysozoa (e.g. Drosophila and Caenorhabditis) and Deuterostomia (e.g. Danio rerio and Mus musculus). Despite the recent emergence of a few molecular model organisms among the Lophothrochozoa [28, 33–36], extensive functionally-annotated sequence data is still missing in this clade, reducing the power of candidate gene approaches based on sequence homology to identify RNAi targets in species belonging to this superphylum.
These problems apply in our evolutionary research on the reproductive biology of the free-living flatworm Macrostomum lignano (Lophotrochozoa: Platyhelminthes: Rhabditophora) [37]. While the emphasis of our own work has been on empirical tests of predictions from sexual selection (e.g. [38–40]), sexual conflict (e.g. [41, 42]) and sex allocation theory (e.g. [43, 44]) the research in the Macrostomum community as a whole also encompasses stem cell biology (e.g. [45–48]), regeneration (e.g. [49, 50]), aging [51], and germ cell biology and gametogenesis (e.g. [52, 53]). This has led to the establishment over the last several years of gene expression and function analysis tools such as in situ hybridization (ISH) [47] and efficient RNAi by soaking [54]. The availability of these powerful experimental techniques and the growing understanding of its reproductive biology thus make M. lignano a highly amenable system in which to use RNAi-based phenotypic engineering to address evolutionary questions.
Recently, Sekii et al. [55] adopted a dose-dependent RNAi method to quantitatively manipulate sperm production rate and-probably as a consequence-copulation frequency, observing significant positive correlations between these traits and paternity success, as predicted by sperm competition theory. The candidate gene for that study resulted from a classical homology-based candidate gene approach, which identified macbol1 as a highly conserved member of the boule gene family [52]. However, the same screen also revealed that many other transcripts that showed reproduction specific annotations in classical models where not reproduction-specific in M. lignano (K. Sekii, personal observation), thus severely limiting the number of suitable candidate genes and highlighting the limitations of this approach.
In this study, we therefore decided to apply a 'positional' RNA-Seq strategy directly in M. lignano, with the aim of identifying candidate transcripts for phenotypic engineering independently of any prior sequence annotation. To this end, we sequenced the transcriptomes of four samples obtained by cutting worms at different levels along the anterior-posterior body axis, broadly corresponding to the boundaries between the head, testis, ovary and tail regions of the worm. By comparing levels of expression of transcripts in these samples, we obtained a prediction of their site of expression, and thus a list of candidate transcripts likely to be enriched for genes that function specifically in different reproductive organs. An ISH screen of 23 selected candidate transcripts successfully identified many organ-specific transcripts, thus confirming the predictive potential of the positional RNA-Seq data. Finally, an RNAi screen identified five evident knock-down phenotypes, some of which represent valuable candidates for future phenotypic engineering studies in M. lignano.
Results
Positional transcriptome
We defined four regions along the anterior-posterior body axis of
M. lignano
(Fig.
1
). The head region contains the rostrum, eyes, brain and pharynx with associated glands. The pharynx opens into the gut that stretches along almost the entire animal. In the testis and ovary regions the space on both sides of the gut is primarily occupied by paired testes and ovaries, respectively. Finally, the tail region usually contains developing eggs, the female and male genitalia, and the tail plate with its adhesive organs. The female genitalia consist of the female antrum, which stores the received sperm after copulation and serves as an egg laying organ, surrounded by shell and cement glands. The male genitalia are located posterior to the antrum and consist of the false seminal vesicle and the muscular true seminal vesicle (both containing sperm ready for donation), the prostate gland cells (producing seminal fluid), and the stylet (male copulatory organ).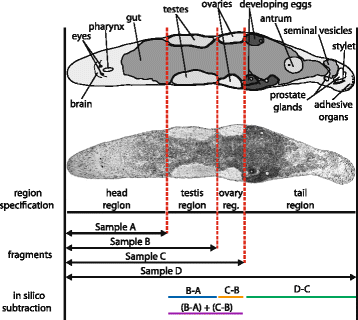 By cutting many animals at one of the three levels delineating the borders between the four body regions (Fig.
1
, for details see Methods), we collected four samples for RNA-Seq differing in their tissue composition. Specifically, the different samples contained either (A) the head region, (B) the head and testis regions, (C) the head, testis and ovary regions or (D) the head, testis, ovary and tail regions (i.e. entire worms). The rationale behind this sampling strategy was that cut fragments that missed the chosen cutting level were discarded and cutting twice would have greatly increased such losses. Between 56 % and 69 % of the generated Illumina reads from the four different libraries could be mapped to 74708 transcripts, corresponding to 97.7 % of the whole reference transcriptome (version MLRNA110815; [
56
,
57
]). We then compared the expression level of each transcript between adjacent samples in order to identify transcripts with expression profiles that suggest specific expression in the different body regions (Table
1
; Fig.
2
; Additional file
1
; Additional file
2
; log2-expression level differences higher than 2 were considered indicative of differential expression). 93.7 % of the transcripts showed no differential expression between samples. The remaining 6.3 % showed differential expression between two or more adjacent samples. To classify the transcripts we used a three-digit code referring to the comparison between pairs of adjacent samples (i.e. [B vs. A, C vs. B, D vs. C]; the symbols "+" and "0" define differential expression and no differential expression respectively; see Table
1
and Methods). The majority of the differentially expressed transcripts grouped into four classes representing transcripts putatively specific for the testis (class [+,0,0]), ovary (classes [+,+,0] and [0,+,0]), and tail (class [0,0,+]) regions (Table
1
). Note that we include the [+,+,0] class in the putatively ovary-specific transcripts because the close spatial proximity of the testes and ovaries may have led to some contamination of ovarian tissue in the testis-fragment (see also Discussion).
Table 1
Positional classification of the transcriptome of Macrostomum lignano and details on the candidate transcripts selected for validation
| Class | n | % | Mean B-A | Mean C-B | Mean D-C | Candidates | B-A | C-B | D-C | ISH | RNAi |
| --- | --- | --- | --- | --- | --- | --- | --- | --- | --- | --- | --- |
| [0,0,0] | 70064 | 93.7 | −0.14 | −0.09 | 0.09 | RNA815_92.1 | 1.15 | 0.55 | 0.24 | X | - |
| Non-diff. | | | | | | RNA815_40.1 | 0.82 | 0.27 | 0.51 | X | - |
| expressed | | | | | | RNA815_2403.2 | −1.08 | −0.23 | −0.32 | X | X |
| | | | | | | RNA815_2224.1 | 0.52 | −0.02 | 0.24 | - | - |
| [+,0,0] | 3360 | 4.4 | 4.00 | −0.18 | −0.41 | RNA815_7008 | 5.17 | −0.03 | −0.39 | X | X |
| Testis region | | | | | | RNA815_9973.1 | 5.02 | −0.03 | −0.41 | X | X |
| | | | | | | RNA815_6628.2 | 4.13 | −0.27 | −0.46 | X | - |
| | | | | | | RNA815_3228 | 4.50 | −0.25 | −0.67 | X | - |
| | | | | | | RNA815_10311.2 | 2.89 | 0.61 | −0.14 | X | - |
| | | | | | | RNA815_9262 | 2.55 | 0.12 | −0.24 | X | - |
| [+,+,0] | 127 | <0.1 | 3.18 | 4.14 | 0.52 | RNA815_16738 | 2.77 | 4.75 | 0.77 | X | - |
| Ovary region | | | | | | RNA815_1618.1 | 5.46 | 4.35 | 0.47 | X | - |
| | | | | | | RNA815_2640 | 3.62 | 4.40 | 0.67 | X | X |
| | | | | | | RNA815_7725.2 | 2.91 | 4.15 | −0.01 | X | - |
| | | | | | | RNA815_7498 | 2.28 | 4.92 | 0.61 | X | - |
| | | | | | | RNA815_12337.1 | 2.32 | 6.04 | −0.14 | - | - |
| [0,+,0] | 323 | 0.4 | 0.57 | 3.41 | 0.36 | RNA815_4558 | 0.39 | 4.09 | 0.64 | X | - |
| Ovary region | | | | | | RNA815_6266 | 2.00 | 5.35 | 0.88 | - | - |
| [0,0,+] | 366 | 0.4 | −0.02 | −0.03 | 4.23 | RNA815_22046 | 0 | 1.00 | 7.69 | X | - |
| Tail region | | | | | | RNA815_80.4 | 0 | 0 | 8.30 | X | X |
| | | | | | | RNA815_9549.4 | 0 | 0 | 8.93 | X | - |
| Others | 468 | 0.6 | | | | RNA815_5404.2 | 3.58 | −0.18 | 3.97 | X | - |
| | | | | | | RNA815_13 | 0 | 4.85 | 4.87 | X | - |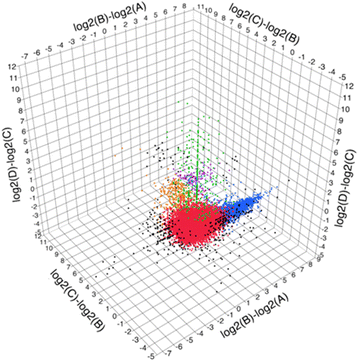 In situ hybridization screening
We performed an ISH screen to test whether our positional transcriptome could successfully predict the site of expression of the transcripts. 23 candidates were chosen, independently of any previous sequence annotation, spread over different classes (Table 1, Additional file 3, see Additional file 4 for gene annotation), namely non-differentially expressed transcripts (class [0,0,0], n = 4), testis-region specific transcripts (class [+,0,0], n = 6), ovary-region specific transcripts (class [+,+,0], n = 6; class [0,+,0], n = 2), tail-region specific transcripts (class [0,0,+], n = 3), and two other classes (class [+,0,+], n = 1 and class [0,+,+]), n = 1).
Finally, the candidate belonging to class [+,0,+] provided only a weak ISH signal in the prostate glands (data not shown) and the candidate of class [0,+,+] was expressed in the shell and cement glands that surround the female antrum in the tail region (Fig. 3s).
RNAi screening
In order to obtain preliminary functional characterizations of the different candidate transcripts, we determined their RNAi knock-down phenotypes by soaking the worms with transcript-specific dsRNA from the first day post-hatching until the control animals had reached sexual maturity. During the screen, phenotypic effects were documented in vivo by interference contrast microscopy and, for some transcripts, immunocytochemistry (for details see Methods). We detected phenotypic effects of the RNAi treatment for five candidates (RNA815_2403.2, RNA815_7008, RNA815_9973.1, RNA815_2640 and RNA815_80.4; see Table 1). The observed RNAi phenotypes were consistent among replicates (Additional file 5) as previously reported for M. lignano (e.g. 53, 54). No ISH signal could be detected after the RNAi treatment for RNA815_7008, RNA815_9973.1, RNA815_2640 and RNA815_80.4 (Additional file 5, Additional file 6). Although functional or ultrastructural effects of the RNAi treatment for other candidates cannot of course be excluded, we here focus on the description of these five evident knock-down phenotypes and briefly mention functional studies of orthologous genes in other species, where available.
Discussion
The RNA-Seq dataset presented here allows us to identify genes exerting their function in single body regions that largely correspond to specific reproductive organs (i.e. the testes, ovaries and genital organs of the tail) in a non-model organism, the free-living flatworm, M. lignano. In combination with the simple RNAi protocol available in this species, these transcripts are promising targets for phenotypic engineering in order to manipulate sex-specific traits in evolutionary studies. Here we first discuss the features and predictive potential of our transcriptomic data. We then outline possible applications of the knock-down phenotypes identified in this study, which touch on a range of interesting aspects of the reproductive and evolutionary biology of M. lignano.
Positional transcriptome
The primary goal of our study was to identify candidate genes for phenotypic engineering by generating a region-specific transcriptome. Given that we did not produce replicate samples of the different body fragments in our transcriptomic analysis, the positional classification of the transcriptome has to be considered with some care, because the lack of (biological or technical) replication does not allow for strict statistical comparisons to be made. However, our approach clearly permits an informed selection of candidates of interest within the transcriptome, provided that the expression specificity is further confirmed by ISH. Indeed, we found a very good agreement between the differential expression data and the ISH patterns for all candidates investigated here, thus clearly confirming that the dataset has a considerable predictive potential.
Some features of our positional transcriptome are probably attributable to technical issues related to our sampling strategy. Due to their small size, the worms were cut only once and every sample (other than the head-only fragment A) contained tissues common to other samples. Therefore, any apparent differential expression based on a pattern of declining expression level with increasing fragment size probably does not reflect real biological differences between samples, but can rather be attributed to a dilution effect due to the consecutive addition of novel transcript species in the adjacent fragments. Moreover, slight cutting errors and resulting contamination with small amounts of the 'wrong' tissues between samples were probably inevitable. For example, the egg shell/cement gland-specific transcript RNA815_13 is expressed in the very proximity of the third cutting level (between the ovaries and the tail, Fig. 1) and shows a quite large difference in expression between samples C and B (Table 1). A contamination of some tail-specific tissues into sample C would likely cause this pattern. Conversely, the three tail-specific candidates were expressed in the prostate glands, and thus far away from that cutting site; their expression level was therefore low or absent in samples A, B and C, meaning they could unambiguously be identified as tail-specific from the RNA-Seq data (Table 1). Finally, given the spatial proximity of the testes and the ovaries (Fig. 1), cutting errors at this level probably resulted in some contamination of sample B with ovarian tissues. As a consequence, transcripts specifically expressed in the ovaries, beside showing differential expression between samples C and B, might also show sufficiently high expression in sample B to reach our 2-fold threshold between sample B and A. The identification of five ovary specific transcripts in the [+,+,0] class suggests that many ovary-specific transcripts might fall into this class. Arguably, transcripts expressed in both gonads might be identified by setting a less stringent differential expression threshold between samples C and B.
Among the differentially expressed transcripts, the great majority had a testis-region specific expression (class [+,0,0]: 72.4 %), thus exceeding by almost an order of magnitude the transcripts with ovary region-specific expression. This pattern is consistent with the observation that testis transcriptomes show high levels of complexity in a range of organisms, including D. melanogaster [64], as well as in birds and mammals [65]. In mammals, the testes express more protein-coding and non-coding RNAs, splicing isoforms, and duplicated genes than other organs [65]. Such a phenomenon has been ascribed to the particularly open chromatin state of spermatogenic cells, resulting in high transcription activity [66, 67]. These features of testis gene expression are thought to reflect the selective pressure of post-copulatory sexual selection and sexual conflict on testicular function [68, 69]. Given that M. lignano is a simultaneous hermaphrodite, our results seem to suggest that this phenomenon is not restricted to species with separate sexes. It is possible that the large number of testis-specific transcripts identified in M. lignano reflects the functional complexity of the testes and is required for producing the highly elaborate sperm, which probably represent an adaptation to sperm competition and post-copulatory female choice (see below).
The positional classification of the transcriptome of M. lignano represents a highly useful resource for the rapidly growing Macrostomum research community. For example, it will permit the identification of conserved and non-conserved reproductive genes in related species, such as in Macrostomum hystrix, a species with hypodermic insemination, much simpler sperm and facultative self-fertilization [70, 71] and whose draft genome is currently also being sequenced (E. Berezikov, S. Ramm and L. Schärer, unpublished data). In the planarian S. mediterranea, very few ovary-specific markers have been identified, possibly due to the paucity and restricted distribution of ovarian tissues relative to testes [61, 72]. In M. lignano, this has previously limited the number of ovary-specific candidates for phenotypic engineering identifiable by homology. Our approach overcame this limitation by directly sequencing mRNAs from ovarian tissues and provided several novel ovary-specific candidates. Our transcriptomic data therefore represent a valuable comparative resource for studies of flatworm evolution, reproduction and development.
The capability to distinguish between organ-specific transcripts also is a powerful resource to investigate the physiology and behaviour of M. lignano. For example, recent progress in bio-adhesion research in M. lignano has resulted from a large-scale ISH screen of most of the tail-specific candidates identified in our study [73]. These screens have revealed a large number of genes with tail specific expression (>150) with a variety of expression patterns, some of which display adhesive-organ specific expression. Intriguingly, a strikingly large proportion of transcripts in these screens showed prostate-gland specific expression – as observed for RNA815_80.4 in this study-and these are currently being studied in the context of sexual selection and sexual conflict (S. Ramm, personal communication; see also below).
Moreover, an RNA-Seq analysis in worms raised in different group sizes-a condition that has previously been shown to induce a phenotypically plastic response in many sex-related traits [39, 43, 74, 75]-has recently been conducted (Ramm et al. in prep). This work revealed which parts of the transcriptome are particularly responsive to changes in the social environment. In combination with our positional RNA-Seq data, these data can be partitioned to identify which features of gene expression in the different reproductive functions underlie socially-induced plasticity.
In the present work we examined the potential of our approach to identify candidate transcripts in order to generate knock-down phenotypes for further experimental applications. To this end we identified several organ-specific RNAi phenotypes. Although we cannot unambiguously ascribe a direct causal link between the observed phenotypes and the candidate knock-down (as this would require reproducing the same phenotypes with non-overlapping dsRNA probes), a more detailed description of gene function was beyond the scope of the present study. In the next section we discuss the opportunities offered by the phenotypes identified here for the study of different aspects of the reproductive and evolutionary biology of M. lignano.
Applications for phenotypic engineering in M. lignano
Conclusions
Many emerging model organisms are specifically chosen (i) as representatives of currently poorly investigated taxa and/or (ii) due to some unique aspects of their biology, both of which will often mean that functional approaches are restricted due to a lack of suitable candidate genes. Here we have shown how-in the emerging flatworm model species M. lignano-a combination of sequencing resources (i.e. a transcriptome and positional RNA-Seq) and functional analysis tools (i.e. ISH and RNAi) can provide an efficient approach for identifying candidate genes for phenotypic engineering studies. By directly sequencing tissues likely to generate phenotypes of interest (i.e. traits related to specific reproductive functions), we could identify several promising candidate genes, therefore overcoming the current lack of exhaustive functional sequence annotation in our model organism. Given the opportunity offered by progress in sequencing technologies and the advances in RNAi knock-down and genome editing tools, we expect that our approach will help to bring phenotypic engineering to many emerging model organisms.
Declarations
Acknowledgements
The authors would like to thank all members of the Schärer research group, and in particular Dita Vizoso, for help in the laboratory, and Jürgen Hottinger, Viktor Mislin, Urs Stiefel and Lukas Zimmermann for technical support. We also thank Dieter Ebert and Walter Salzburger for helpful discussions during the conception of this study, Piero Cervella for technical advice, and Steve Ramm and two anonymous reviewers for valuable comments on earlier versions of the manuscript. P.L. is supported by FWF 25404. This work was funded by grants of the Swiss National Science Foundation to LS (SNF grants 3100A0-127503 and 31003A-143732).
Authors' Affiliations
(1)
Evolutionary Biology, Zoological Institute, University of Basel, Basel, Switzerland
(2)
D-BSSE, ETH Zürich, Basel, Switzerland
(3)
Institute of Zoology and CMBI, University of Innsbruck, Innsbruck, Austria
(4)
ERIBA, University of Groningen, University Medical Center Groningen, Groningen, The Netherlands
Copyright
© Arbore et al. 2015
This is an Open Access article distributed under the terms of the Creative Commons Attribution License (http://creativecommons.org/licenses/by/4.0), which permits unrestricted use, distribution, and reproduction in any medium, provided the original work is properly credited. The Creative Commons Public Domain Dedication waiver (http://creativecommons.org/publicdomain/zero/1.0/) applies to the data made available in this article, unless otherwise stated.