Molluscan mega-hemocyanin: an ancient oxygen carrier tuned by a ~550 kDa polypeptide
Frontiers in Zoology
2010
7:14
Received: 18 January 2010
Accepted: 13 May 2010
Published: 13 May 2010
Abstract
Background
The allosteric respiratory protein hemocyanin occurs in gastropods as tubular di-, tri- and multimers of a 35 × 18 nm, ring-like decamer with a collar complex at one opening. The decamer comprises five subunit dimers. The subunit, a 400 kDa polypeptide, is a concatenation of eight paralogous functional units. Their exact topology within the quaternary structure has recently been solved by 3D electron microscopy, providing a molecular model of an entire didecamer (two conjoined decamers). Here we study keyhole limpet hemocyanin (KLH2) tridecamers to unravel the exact association mode of the third decamer. Moreover, we introduce and describe a more complex type of hemocyanin tridecamer discovered in fresh/brackish-water cerithioid snails (Leptoxis, Melanoides, Terebralia).
Results
The "typical" KLH2 tridecamer is partially hollow, whereas the cerithioid tridecamer is almost completely filled with material; it was therefore termed "mega-hemocyanin". In both types, the staggering angle between adjoining decamers is 36°. The cerithioid tridecamer comprises two typical decamers based on the canonical 400 kDa subunit, flanking a central "mega-decamer" composed of ten unique ~550 kDa subunits. The additional ~150 kDa per subunit substantially enlarge the internal collar complex. Preliminary oxygen binding measurements indicate a moderate hemocyanin oxygen affinity in Leptoxis (p50 ~9 mmHg), and a very high affinity in Melanoides (~3 mmHg) and Terebralia (~2 mmHg). Species-specific and individual variation in the proportions of the two subunit types was also observed, leading to differences in the oligomeric states found in the hemolymph.
Conclusions
In cerithioid hemocyanin tridecamers ("mega-hemocyanin") the collar complex of the central decamer is substantially enlarged and modified. The preliminary O2 binding curves indicate that there are species-specific functional differences in the cerithioid mega-hemocyanins which might reflect different physiological tolerances of these gill-breathing animals. The observed differential expression of the two subunit types of mega-hemocyanin might allow individual respiratory acclimatization. We hypothesize that mega-hemocyanin is a key character supporting the adaptive radiation and invasive capacity of cerithioid snails.
Keywords
Keyhole Limpet HemocyaninOxygen AffinityStaggering AngleSubunit TypeHigh Oxygen Affinity
Background
The most urgent physiological need of animals is a constant supply of oxygen, usually provided by allosteric respiratory proteins such as the red, iron-based protein hemoglobin. In most molluscs, this crucial role is played by the blue, copper-containing protein hemocyanin. Its basic hemocyanin oligomer, the decamer, is composed of five identical subunit dimers forming a cylinder with a collar complex at one end [
1
,
2
] (Figure
1
). Gastropods express a didecamer assembled from two conjoined decamers, with the collar complexes facing outward at the ends. The subunit, a ~400 kDa polypeptide, is a concatenation of eight paralogous functional units termed FU-a to FU-h, each with a single copper active site for reversible oxygen binding [
3
]. The exact topology of the functional units within the didecamer has only recently been established through 3D electron microscopy of keyhole limpet hemocyanin isoform 1 [
2
]. Keyhole limpet hemocyanin (KLH) is an established immune response modifier and hapten carrier [
4
,
5
]. The two KLH isoforms (termed KLH1 and KLH2) are homo-oligomers, each assembled from a single subunit type of ~400 kDa. KLH1 forms didecamers and didecamer clusters, whereas KLH2 forms didecamers and multidecamers. The two subunit types differ substantially in primary structure and most probably furcated by a gene duplication event some 340 million years ago (for literature, see [
2
–
5
]).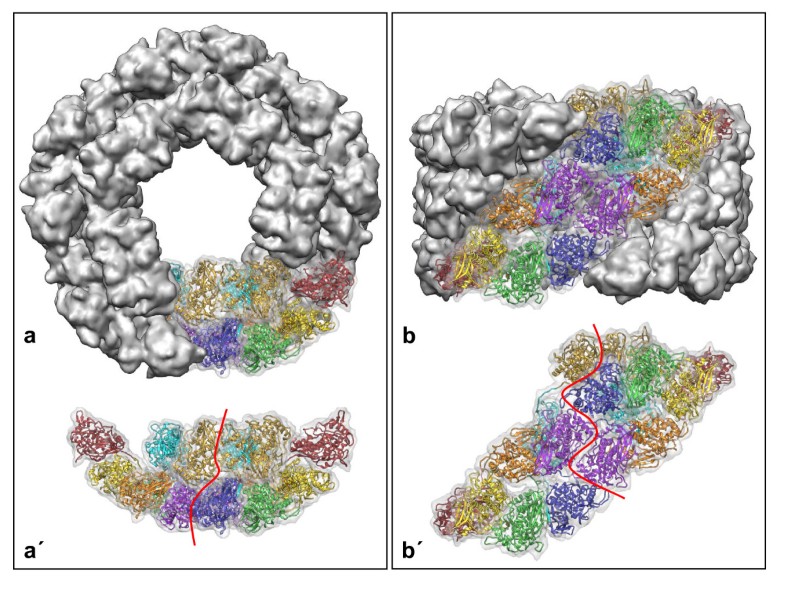 The function of gastropod hemocyanins is characterized by moderate cooperativity, Bohr effect and oxygen affinity; high oxygen affinities as required under hypoxic conditions are not observed [
6
]. In warm hypoxic ponds this might limit the diving time of lung breathers such as
Lymnea
[
7
]. The lung breathing planorbid snails (e.g.
Biomphalaria
) evolved an intriguing respiratory alternative for prolonged diving, namely a multimeric hemoglobin with high oxygen affinity [
7
,
8
]. The convergent occurrence of hemoglobins in some bivalves that thrive under hypoxic conditions [see references in [
8
]] also suggests that molluscan hemocyanin has been unable to evolve into high affinity forms, needed especially by gill breathers for survival under hypoxic conditions. We have now found in the Cerithioidea a unique complex "mega-hemocyanin" tridecamer which is probably capable of adapting to a much broader range of oxygen affinities than typical hemocyanin. Cerithioid snails (Figure
2
) span a broad range of aquatic habitats, where they are often important components of the respective communities [
9
,
10
]. The present study provides the first structural and a preliminary functional analysis of this newly detected hemocyanin type.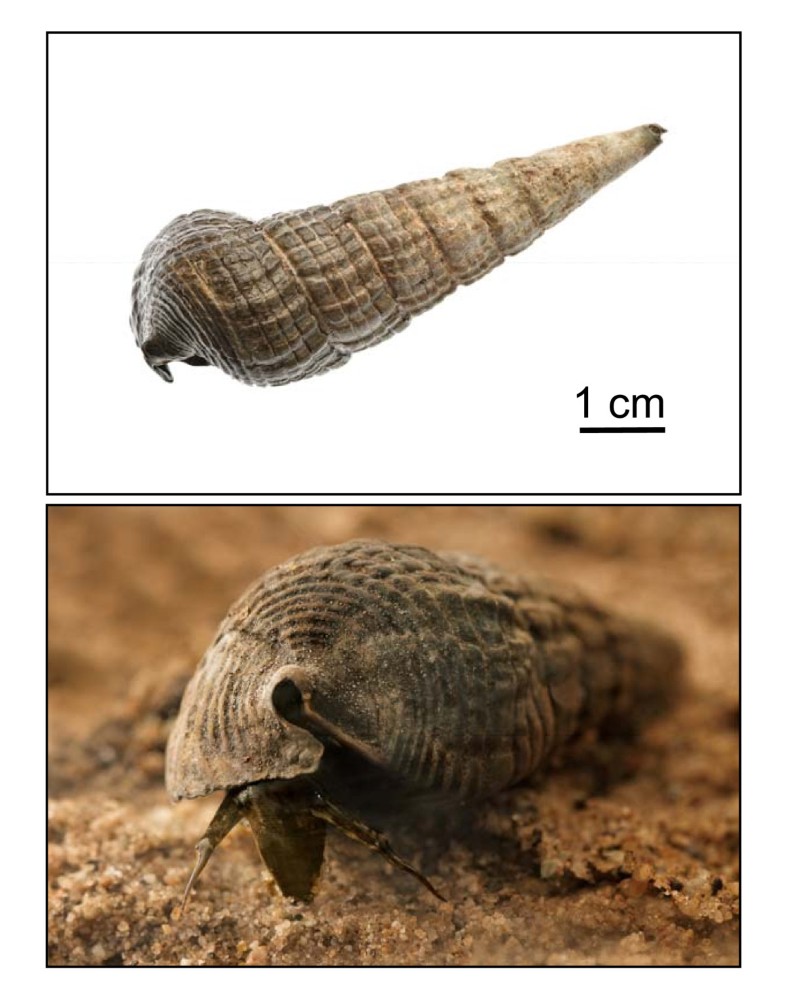 Typical gastropod hemocyanin didecamers tend to bind additional decamers at one or both ends, thereby forming tubular tridecamers and larger multidecamers; a well-studied example is KLH2 [4]. However, the exact association mode of the additional decamers remained unknown and therefore was elucidated in the present context, in order to better understand the unique structure of the novel mega-hemocyanin tridecamer.
Conclusions
Our previous 9-Å structure of the KLH1 didecamer essentially solved the overall architecture, intricate subunit pathway and near-atomic structure of a gastropod hemocyanin decamer and didecamer [2]. The present 3D model of the KLH2 tridecamer (see Figure 4) and its extrapolation to larger KLH2 multidecamers (see Figure 5) shows that within all types of KLH molecule, the constituent decamers are rotated 36° with respect to their adjoining decamers, thereby yielding a steady continuation of the right-handed helical grooves characteristic of the cylinder outer wall. As deduced from multiple sequence alignments and biochemical analyses [21, 29, 30], the different association forms of KLH can serve as structural models for gastropod (and bivalve) typical hemocyanin in general.
The newly detected mega-hemocyanin, apparently a synapomorphy of the Cerithioidea, can be interpreted on the basis of its present 13-Å cryoEM structure and our detailed knowledge on KLH. We provide strong evidence that the mega-tridecamer is assembled from two peripheral typical decamers (each with ten copies of the 400 kDa subunit), and a central mega-decamer made up from ten 550 kDa subunits. The wall of the mega-decamer is apparently constructed according to the typical scheme, which means that the six wall functional units FU-a to FU-f that exist in the 400 kDa subunit are also present in the 550 kDa subunit.
In contrast, the collar complex of the mega-decamer remains unresolved (shown in red in Figures 7 and 8). It is formed by ten copies of the remaining segment of the 550 kDa subunit, encompassing ca. 250 kDa, respectively ca. 2000 amino acids. This might correspond to four or five functional units, instead of only two (FU-g and FU-h) in the collar complex of typical hemocyanin. In total, this newly defined collar complex has a molecular mass of 2.5 Megadalton. Whether or not it shows a true D5 symmetry and how the 250 kDa segment is folded requires its full-length sequence and a higher resolution 3D reconstruction.
In view of the wealth of comparative data available on molluscan hemocyanins (for literature, see [6]), the discovery of a substantially modified type such as mega-hemocyanin, and moreover in some of the most abundant snails, was completely unexpected. The 400 kDa subunit has existed for ~740 million years [31] and is wide-spread among the Mollusca [30, 32]. The 550 kDa subunit with its isolated occurrence, probably only in the superfamily Cerithioidea [9] which appeared in the Paleozoic, is a more recent evolutionary specialization. The unique 550 kDa hemocyanin subunit is one of the largest polypeptides ever reported, second only to the myoelastic titin family [33].
Cerithioideans are important members of many freshwater communities spanning a broad range of habitats [9], and might be highly suitable for providing fundamental insights into the mechanisms that generate biodiversity, pattern in historical biogeography, and the underlying processes of speciation and radiation [34, 35]. We hypothesize that mega-hemocyanin may have been a key character in their success. From our preliminary O2-binding data it appears that Terebralia and Melanoides hemocyanin have unusually high oxygen affinities. If this holds true in future more detailed analyses, mega-hemocyanin might allow Terebralia to populate hypoxic mangrove muds, and presumably has contributed to the invasive capacity of Melanoides which thrives in disturbed habitats and has been introduced worldwide through the aquarium trade.
Abbreviations
CTF:

contrast transfer function
FSC:

Fourier shell correlation
FU:

functional unit
KLH:

keyhole limpet hemocyanin (from Megathura crenulata)
LcH:

Leptoxis carinata hemocyanin
MtH:

Melanoides tuberculata hemocyanin
PAGE:

polyacrylamide gel electrophoresis
TpH:

Terebralia palustris hemocyanin
Declarations
Acknowledgements
We thank Dr Jeffrey T. Garner (Alabama Fish & Game Division) for the samples of Leptoxis praerosa, Dr J. Robin Harris for critical reading of the manuscript, Christoph Kühne for the Terebralia images, Prof. Dr Werner Kühlbrandt and Deryck Mills (MPI Biophysics, Frankfurt, Germany) for kindly providing access to the FEI Polara microscope and the Deutsche Forschungsgemeinschaft (DFG-GK 1043 grant to JM) for financial support.
Authors' Affiliations
(1)
Institute of Zoology, zohannes Gutenberg University, Mainz, Germany
(2)
Institute of Molecular Biophysics, Johannes Gutenberg University, Mainz, Germany
(3)
Department of Invertebrate Zoology, Smithsonian Institution, National Museum of Natural History, MRC, 163, Washington, USA
Copyright
© Lieb et al; licensee BioMed Central Ltd. 2010
This article is published under license to BioMed Central Ltd. This is an Open Access article distributed under the terms of the Creative Commons Attribution License (http://creativecommons.org/licenses/by/2.0), which permits unrestricted use, distribution, and reproduction in any medium, provided the original work is properly cited.