Genome sequencing of Rhinorhipus Lawrence exposes an early branch of the Coleoptera
Frontiers in Zoology
2018
15:21
Received: 2 February 2018
Accepted: 2 April 2018
Published: 2 May 2018
Abstract
Background
Rhinorhipidae Lawrence, 1988 is an enigmatic beetle family represented by a single species, Rhinorhipus tamborinensis Lawrence, 1988, from Australia, with poorly established affinities near the superfamily Elateroidea (click beetles, soldier beetles and fireflies) or the more inclusive series (infraorder) Elateriformia. Its evolutionary position may inform the basal relationships of the suborder Polyphaga, the largest clade of Coleoptera.
Results
We analyzed four densely sampled DNA datasets of major coleopteran lineages for mitogenomes, rRNA genes and single copy nuclear genes. Additionally, genome sequencing was used for incorporation of R. tamborinensis into a set of 4220 orthologs for 24 terminals representing 12 polyphagan superfamilies. Topologies differed to various degrees, but all consistently refute the proposed placement of Rhinorhipidae in Elateroidea and instead indicate either sister relationships with other Elateriformia, frequently together with Nosodendridae, another divergent small family hitherto placed in Derodontoidea, or in an isolated position among the deepest lineages of Polyphaga. The phylogenomic analyses recovered Rhinorhipus in a sister position to all other Elateriformia composed of five superfamilies. Therefore, we erect the new superfamily Rhinorhipoidea Lawrence, 1988, stat. Nov., with the type-family Rhinorhipidae. The origins of the Rhinorhipidae were dated to the Upper Triassic/Lower Jurassic at the very early phase of polyphagan diversification.
Conclusions
Thus, Rhinorhipidae adds another example to several recently recognized ancient relict lineages which are interspersed within contemporaneous hugely species-rich lineages of Coleoptera.
Keywords
Molecular phylogenyPhylotranscriptomicsElateriformiaRhinorhipidaeTriassicNew superfamily
Background
The Coleoptera are the epitome of high species diversity on Earth, but it has long been recognized that richness differs greatly among lineages, e.g. among the four suborders, which range in species numbers from about a combined 120 in Archostemata and Myxophaga, to well over 340,000 species in Polyphaga [
1
]. With improving molecular and paleontological data, these differences in clade size can be placed in an explicitly temporal context [
2
–
4
] and have already contributed to a better understanding of the evolution of Coleoptera. For example, several 'small' families (Scirtidae, Clambidae, Eucinetidae, Decliniidae and Derodontidae) previously linked to the series (infraorders) Elateriformia and Derodontoidea were found to be the sister groups to all other 'core' Polyphaga. These 'ancestral five' [
2
] families include the family Decliniidae created for a single species that was discovered only in the second half of the last century [
5
,
6
]. Other recent discoveries also represent new families, such as the Iberobaeniidae, Meruidae and Aspidytidae [
7
–
9
] known to include only a single or a few closely related species within an isolated lineage. In other cases, species poor lineages such as Derodontidae, Nosodendridae and Jacobsoniidae are well known taxonomically, but there has been great uncertainty over their position that is only gradually resolved with molecular data [
3
,
4
]. Equally, the phylogenetic placement is highly problematic for a single species,
Rhinorhipus tamborinensis
Lawrence, 1988 from Queensland, Australia, which has been discovered some 50 years ago and assigned to the monospecific family Rhinorhipidae [
10
].
Rhinorhipus
exhibits various aberrant morphological characters producing ambiguous phylogenetic signal and widely different positions depending on the study, albeit always showing affinities to Elateriformia [
6
,
10
] (Fig.
1a
–
h
). In the most recent classifications
Rhinorhipus
is placed in Elateriformia
incertae sedis
[
11
] or in Elateroidea [
3
,
12
–
15
], while an accurate placement is difficult given the uncertainty about the basal relationships of Elateriformia and its closest relatives generally.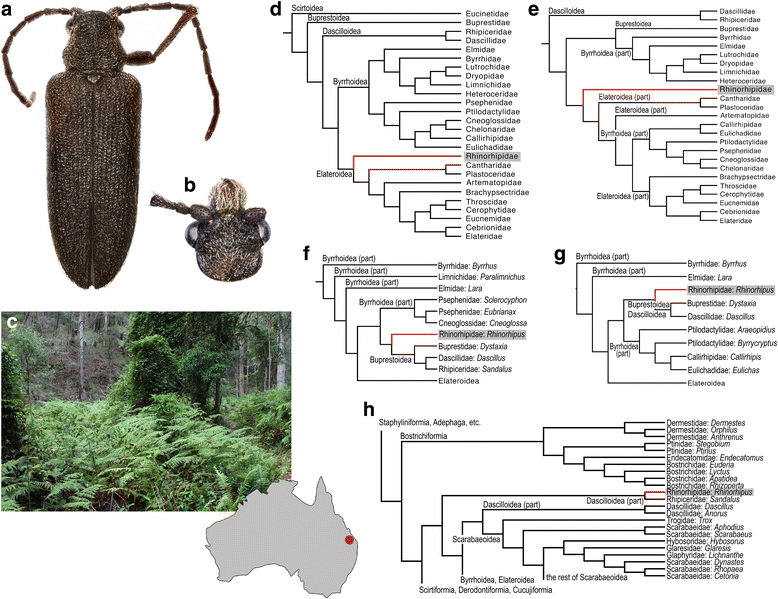 Rhinorhipidae is among only eleven out of nearly 200 beetle families for which molecular data have been unavailable in previous studies [1–4]. Rhinorhipus has been found in several localities in Queensland in the 1970′s, even in high numbers in some places, but since then the species has not been seen again despite intensive search efforts (G. Monteith and H. Escalona, pers. comm.). Recently, our expedition to Queensland yielded a fresh specimen suitable for DNA isolation and integration with existing molecular phylogenetic analyses. Extensive DNA datasets have been produced in the last decade for the phylogenetic analysis of the Coleoptera [2–4, 16, 17] and Elateriformia [18–20], and we here incorporate Rhinorhipus sequences into rRNA, mitogenomic and nuclear protein coding genes (PCGs) datasets. Additionally, we obtained shotgun genome data of Rhinorhipus tamborinensis for a phylogenomic analysis using several thousand orthologs available for a growing number of coleopteran lineages [21–29].
The classification of polyphagan beetles employs a hierarchy of series (infraorders) and superfamilies, into which most families can be firmly placed [12–15]. The taxonomic limits of these higher-level groups are increasingly well defined by large-scale molecular studies [1–4]. However, the backbone of the phylogeny specifying the relationships among these lineages emerging in various morphological and molecular analyses still differs in substantive ways, while support is generally low and the presented trees in some cases were constrained to illustrate the most meaningful relationships [1–4, 13, 17]. Equally there is disagreement about the dating of the Coleoptera tree, due to uncertainty about the placement of age-calibrated fossils [2–4, 30]. Resolution of basal relationships in Coleoptera will be improved with the greater completeness of taxon sampling of deep lineages, but this is hampered if DNA-grade specimens are difficult to obtain, which particularly affects the inclusion of species-poor, rare relict lineages. The resulting poor taxon sampling may also be responsible for discrepancies with morphological studies that are less constrained by the availability of specimens [14]. Placement of these lineages is particularly important for studies of diversification which frequently are based on comparisons of species numbers between sister lineages or rate shifts within a tree [31, 32]. Therefore, the aim of this study is to determine the phylogenetic position and taxonomic status of the enigmatic Rhinorhipus, as part of the effort to establish the deep divergences of Coleoptera and an increasingly complete sampling of the major lineages constituting the earliest branches. Additionally, by dating the origin of this unique lineage relative to other lineages representing the early beetle evolution, we obtain a clearer picture of the arrangement of species rich and poor lineages making up the great diversity of Coleoptera.
Results
Phylogenetic relationships
The relationships of
Rhinorhipus
were first investigated using the extensive 4-gene 564-taxa rRNA and mtDNA dataset of Elateriformia. The ML analysis recovered
Rhinorhipus
as the next lineage after the origin of Scirtidae, Derodontidae and Clambidae, i.e., among the deepest splits of Polyphaga and external to Elateriformia (bootstrap values, BS 99%; Fig.
2a
, Additional file
1
: Figure S1). If
Rhinorhipus
belongs to Elateroidea, the closest relatives should have been identified by the analysis of such densely sampled dataset.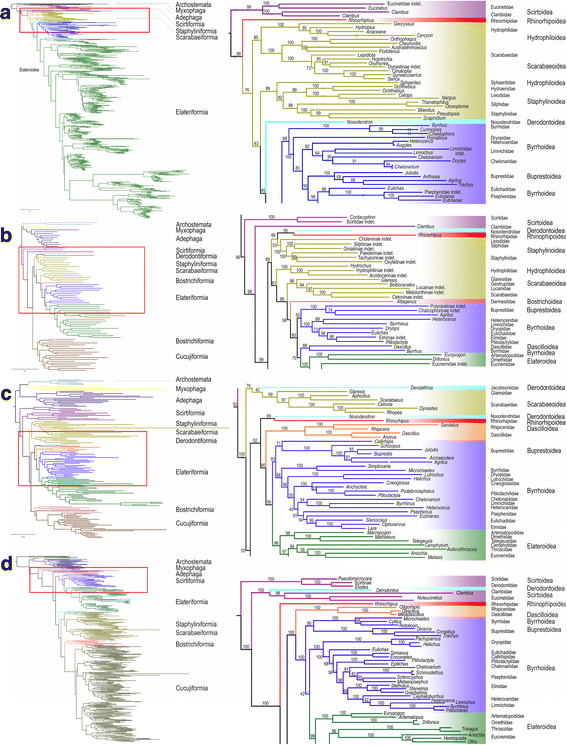 Further datasets covered all major beetle lineages to investigate the relationships of Rhinorhipus and the polyphagan series. Using the mitogenome 15-gene 83-taxa dataset of broad representation of Coleoptera, the ML analyses of deep relationships within Polyphaga recovered Rhinorhipus as a sister to Nosodendron (BS 95%) and both of them combined as a sister to the superfamily Staphylinoidea (BS 89%, Fig. 2b, Additional file 1: Figure S2) or to a grade of paraphyletic Staphyliniformia of the arrangement (Staphylinoidea (Hydrophiloidea (Scarabaeoidea (Elateriformia)))). The poor recovery of the Staphyliniformia is typical for mitogenome data [17]. The analysis was included to show that the mitogenomic phylogeny does not support the placement of Rhinorhipidae in Elateroidea.
Deep relationships within Polyphaga according to the eight-gene 139-taxa nuclear dataset [3] recovered Rhinorhipus as a sister to Nosodendron in the ML analysis (BS 99%), but here the clade was in the sister position to Elateriformia (BS 92%; Fig. 2c). The BI analysis recovered Rhinorhipus as a separate deeply branching lineage, as sister to Polyphaga minus Scirtiformia and Derodontiformia (i.e., the core Polyphaga) with high support (BS 100%), although the core Polyphaga clade was supported only with BS 53% (Additional file 1: Figure S4). Nosodendron was recovered as sister to Bostrichiformia + Cucujiformia (BS 53%, Additional file 1: Figure S4).
When included in the 66-gene 376-taxa dataset [4], both ML analyses of the amino acids (using iQ-TREE and RAxML) recovered Rhinorhipus as an independent deeply rooted lineage in the sister position to core Polyphaga (Fig. 2d, BS 100%) and Nosodendron was recovered as a sister to Bostrichiformia + Cucujiformia (Additional file 1: Figure S5), in agreement with the position obtained by Zhang et al. [4]. Rhinorhipus was recovered as a sister to Nosodendron in the ML analysis of the nucleotide dataset using RAxML (BS 100%) and they combined were the sister to Elateriformia (BS 94%; Additional file 1: Figure S7). High BS values were recovered for alternative relationships in the 66-gene analyses (Additional file 1: Figures S5–S7).
Newly generated shotgun genomic sequencing data provided high coverage of protein-coding regions at a sequencing depth of approximately 60×, which was used to create an ortholog set of 4220 genes from 23 publicly available transcriptome and genome data of Coleoptera. The ortholog representation for
Rhinorhipus
was among the most complete of the taxa included in the matrix, exceeding most of the transcriptome data and just short of the few fully assembled genome sequences, as visualized in Fig.
3a
and
b
. The ML analyses of nucleotide and amino acid data produced very similar topologies (Fig.
3c
and
d
), including supermatrix 1 that represented data without any alignment filtering, and supermatrix 4 that contained only 943 mostly highly conservative orthologs present in all taxa.
Rhinorhipus
was regularly recovered in a sister relationship with all other Elateriformia (BS 100%, 89% and 92% in the analyses of the supermatrices 2, 3 and 4, respectively, Fig.
3c
and
d
). A network was constructed from 4203 trees which also showed the monophyly of
Rhinorhipus
+ Elateriformia, although not unequivocally, as was evident from some net-like structure indicating a minority of contradicting topologies (Fig.
4
).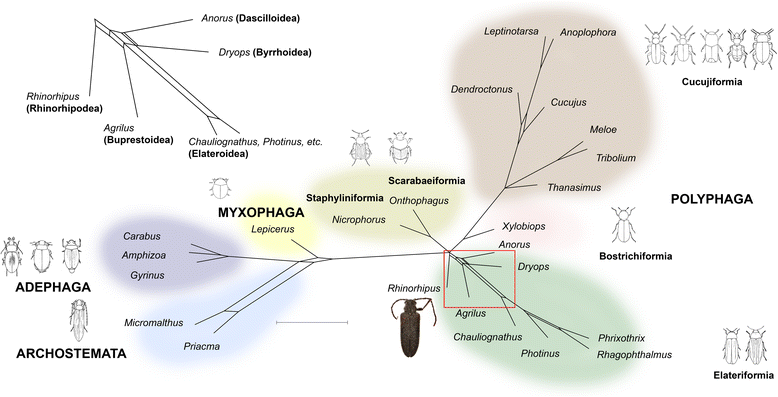 Dating the tree
The origin of
Rhinorhipus
was dated on the 8-gene dataset, using topologies obtained with the BI (Fig.
5
) and ML (Additional file
1
: Figure S11) topologies which reflected two alternative placements of
Rhinorhipus
, either as sister to Elateriformia (in conjunction with the Nosodendridae in this case) or as a sister to the core Polyphaga, respectively. Dating was conducted on these fixed topologies with selected fossil ages using BEAST (see Material and Methods). The analysis using the ML topology placed the origin of the
Rhinorhipus
+
Nosodendron
clade to 235.0 mya (95% CI = 210.9–259.7) and the split between these two families at 199.2 million years ago (mya; 95% CI = 158.7–237.6) (Additional file
1
: Figure S11). The alternative analysis using the BI topology sets the origin of
Rhinorhipus
to the Lower Triassic to 243.0 mya (95% CI = 220.2–268.8; Additional file
1
: Figure S5). The dating analyses with the mitochondrial dataset using ML and BI topologies resulted in an earlier origin of the deepest beetle lineages (Additional file
1
: Figures S9 and S10), but in contrast with such deep estimates, the splits between
Rhinorhipus
+
Nosodendron
are inferred either younger (154 mya, 95% CI =121.0–201.0) or similar to the analyses using the 8-gene dataset (215.0 mya, 95% CI = 150.1–274.0).
Discussion
The study draws on existing datasets that differ in taxon breadth and gene coverage. A summary of the position of
Rhinorhipus
in the various analyses is provided in Table
1
. The most extensive taxon coverage for Elateriformia (Fig.
2a
), to which
Rhinorhipus
is affiliated in the current classification, clearly demonstrated its position outside of this group, and neither did we find a close affinity to other infraorders based on the three datasets covering all Polyphaga. We regularly observe two alternative positions, either as sister to all core Polyphaga or as sister to Elateriformia (Table
1
, Figs.
2
,
3
,
4
and
5
, Additional file
1
: Table S1–S11). These placements are complicated by the affinity with Nosodendridae, representing another orphan lineage of the Coleoptera, which was placed in equally deeply branching positions either as sister to Elateriformia (with
Rhinorhipus
) or as sister to Bostrichiformia + Cucujiformia (without
Rhinorhipus
). The presence of two highly morphologically and genetically divergent taxa in an otherwise densely sampled tree likely leads to long-branch attraction of such isolated taxa. Phylogenomic analyses of variously assembled transcriptomic datasets regularly recovered
Rhinorhipus
as sister to all currently defined elateriform superfamilies (Fig.
3c
,
d
and Fig.
4
), which represents the preferred hypothesis and which is broadly supported by all of the other datasets (Table
1
). These genomic topologies had high support at every node regardless of applied filtering and coding, and apparently profited from the greater information content of a large gene set, but the analyses were limited in taxon sampling (Table
1
, Fig.
3c
,
d
and Fig.
4
).
Rhinorhipus
(possibly together with
Nosodendron
) thus represents a morphologically and genetically highly disparate beetle lineage that pre-dates most of the large beetle lineages such as Staphyliniformia, Bostrichiformia and Cucujiformia. (Fig.
5
, Additional file
1
: Figures S9–S11). Thus,
Rhinorhipus
cannot be placed in Elateroidea [
10
,
15
]. Given morphology-based affinities of
Rhinorhipus
with Elateriformia ([
6
,
10
,
12
] Additional file
1
: Text), morphological divergence compared with Nosodendridae [
10
,
14
] and the results of transcriptome analysis (Figs.
3
and
4
), we retain Rhinorhipidae in Elateriformia and erect a monotypic superfamily Rhinorhipoidea Lawrence, 1988,
stat. Nov.
in this series (type-family monotypic Rhinorhipidae Lawrence, 1988).
Table 1
The overview of current phylogenetic analyses (PCG – nuclear protein coding genes; AA – amino acid dataset; nucl. – nucleotide dataset; ML – maximum likelihood; BI – Bayesian Inference; iQ – iQ-TREE; StaphF, ScarF, ElatF – the series Staphyliniformia, Scarabaeiformia, Elateriformia; core Polyphaga – all polyphagan series except Scirtiformia and Derodontidae)
| Dataset | # of taxa | # of genes | Figs. | Analyses | Topology |
| --- | --- | --- | --- | --- | --- |
| rRNA, mtDNA | 563 | 4 | 2A, S1 | ML (RaxML) | Rhinorhipus(core Polyphaga) |
| mitogenomes | 82 | 15 | 2B, S2 | ML (RaxML) | (Rhin. + Nosod.)(StaphF(ScarF(ElatF))) |
| mitogenomes | 82 | 15 | S9 | BI (PhyloBayes) | ((Rhin. + Nosod.)StaphF)(ScarF(ElatF)) |
| rRNA+PCG nucl. | 139 | 8 | 2C, S3 | ML (iQ) | (Rhinorhipus + Nosodendron)(ElatF) |
| rRNA+PCG nucl. | 139 | 8 | S4 | BI (PhyloBayes) | Rhinorhipus(core Polyphaga) |
| PCG AA | 372 | 66 | 2D, S5 | ML (RAxML) | Rhinorhipus(core Polyphaga) |
| PCG AA | 372 | 66 | S6 | ML (iQ) | Rhinorhipus(core Polyphaga) |
| PCG nucl. | 372 | 66 | S7 | ML (RAxML) | Rhinorhipus + Nosodendron(ElatF) |
| PCG AA (#1) | 24 | 4220 | – | ML (iQ, no filtering) | Rhinorhipus(Elateriformia) |
| PCG nucl. (#2) | 24 | 4220 | 3C | ML (iQ,1st + 2nd) | Rhinorhipus(Elateriformia) |
| PCG AA (#3) | 24 | 4220 | 3D | ML (iQ, Aliscore) | Rhinorhipus(Elateriformia) |
| PCG AA (#4) | 24 | 943 | – | ML (iQ, Aliscore) | Rhinorhipus(Elateriformia) |
The relationships with Nosodendron needs further data to be robustly supported. Nosodendron was unavailable for transcriptomic analysis and only some analyses indicate its sister relationships with Rhinorhipus (Fig. 2b, c but not Fig. 2a–d). Nosodendridae was placed in Bostrichiformia [11] or Derodontiformia [14] and its relationships to Elateriformia has never been inferred from morphology. Even if further analyses support the relationships of these taxa, their morphological disparity and inferred ancient origins fully support the superfamily rank for each of these unique lineages [14, 15]. Lawrence [10] listed the following characters of Rhinorhipus which falsify the relationships with Bostrichoidea including Nosodendron: procoxae conical with fully exposed but immovable trochantins; prosternal process fitting into cavity on mesosternum; metendosternite with well developed ventro-lateral processes; wing with elongate radial cell and serricorn folding type; first three ventrites connate; Malphigian tubules free (cited from [10]). The relationships of Rhinorhipus and Sandalus as a representative of Dascilloidea which are another ancient lineage of Elateriformia (Fig. 3c, d and Fig. 4) is supported by: the relatively long occipital region, distinctly raised antennal sockets, strongly and abruptly declined fronto-clypeal region without a sharp carina, long mandible, strongly projecting mesocoxae, setose metatrochantin, long anterior process of metendosternite, well developed empodium with three or more setae. However, many of these characters occur commonly in numerous distantly related beetle lineages and cannot be considered as synapomorphies of Sandalus and Rhinorhipus.
The morphological distinctiveness of Rhinorhipus, respectively Rhinorhipoidea, is demonstrated by the combination of the following characters: the head is hypognathous, with long temporal regions, without transverse occipital ridge or epicranial suture; the cranium has a short, median occipital endocarina and raised antennal insertions; the fronto-clypeal region is strongly declined and does not have a fronto-clypeal suture; the clypeus is long and narrow; the corporotentorium is very broad; the oral cavity is blocked by hairs; labrum is membranous, highly reduced, mandibles are long and have a setose dorsal cavity at the base; maxillae are highly reduced, membranous, and setose. The prothorax has a pronotum without lateral carinae, is anteriorly constricted and has a pair of elongate, vertical cavities; procoxae are a slender and conical, trochantins are completely visible, the promeso-thoracic interlocking mechanism is weakly developed. The mesothorax has a moderately developed mesosternal cavity reaching to the middle of the sternum and a pair of well developed procoxal housings on the mesepisterna; metasternum has only a moderately short median suture. The metendosternite has very long, curved lateral arms, an anterior process with a foramen at its base and a pair of expanded, ear-like, ventro-lateral processes. Each elytron has 12 more or less complete rows of deep punctures. The legs have the enlarged and mesally produced metatrochanters, apically expanded hind tibiae, the simple tarsal segments, without any pads, brushes, or membranous lobes, the well developed empodium with two or three setae, and the pectinate tarsal claws. Rhinorhipus has six Malphigian tubes. The detailed information on morphological characters supporting further contradicting morphology-based relationships is given in the Additional file 1: Text.
We consider the age estimates of the Rhinorhipidae reliable and consistent with previous dating studies of beetles (Fig.
6
), even if the exact phylogenetic position remains to be confirmed. Several age estimates of the Coleoptera have been presented recently, and the current analysis arrives at intermediate values mostly in line with the latest estimate of Zhang et al. [
4
], which is also in good agreement with Hunt et al.'s [
2
] estimate from three markers. Our age estimates are supported by fossil studies across the wider arthropods, e.g. the crown Coleoptera + Strepsiptera fossil
Adiphlebia
dated at 306.9 Mya, which then becomes the maximum (stem) age of Coleoptera [
33
], and also fits well with the beetle fossil record [
30
,
34
,
35
]. We verified the major branching events by mapping 19 fossils used as calibration points by Touissant et al. [
30
] (Fig.
5
, Additional file
1
: Figure S11) and found that fossil ages were in almost all cases within or younger than the 95% CI age intervals obtained for the representative nodes (Fig.
5
, except
Omma
). Our estimations used the same eight-gene dataset of McKenna et al. [
3
] that produced the youngest estimate, but used differences in calibration points (see Methods). In addition, the principal differences are that we only used a subset of terminals from the original studies and did not mask alignment variable regions, which added some 3000 positions compared to the filtered dataset [
3
,
30
]. We also used slightly different algorithms and did not implement any constraints to the tree searches that were implemented in McKenna et al. [
3
], and thus obtained slightly different topologies (Additional file
1
: Figures S3 and S4). A robust estimate of deepest diversification events in the Coleoptera remains elusive due to the uncertainty in identity and age of some fossils [
3
,
30
], conflicting topologies (Fig.
2
, Additional file
1
: Figures S1–S11) [
3
,
4
] and poorly understood effects of filtering of datasets applied in some studies. Nevertheless, most studies find the origins of the oldest extant, dominantly non-phytophagous beetle families in the latest Permian to Triassic, with further diversification after the Triassic/Jurassic extinction event (Fig.
5
, Additional file
1
: S11). Rhinorhipidae belongs among these oldest families along with Scirtidae, Eucinetidae, Clambidae, Decliniidae, Derodontidae, and Nosodendridae and the ancestors of the hyperdiverse clades such as Staphyliniformia, Scarabaeiformia, and Cucujiformia.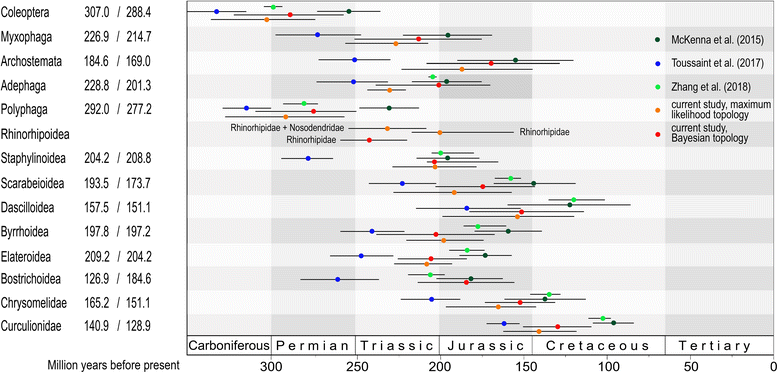 Multi-gene rRNA and mtDNA phylogenies have become dominant in Coleoptera phylogenetics in the last two decades [e.g., 1, 2, 19, 20], and only the recent datasets of McKenna et al. [3] and Zhang et al. [4] analyzed multiple protein coding nuclear markers. All of these datasets, including the most recent of nearly 100 genes, produced topologies sensitive to the data treatment and choice of phylogenetic algorithm, which affected especially the placement of ancient lineages represented by species poor orphan lineages such as Nosodendron and Rhinorhipus (Table 1, Figs. 2 and 5, Additional file 1: Figures S1–S11) [1–4]. These data also run the risk of using non-homologous regions; e.g. at least a quarter of all genes used by Zhang et al. [4] which originally consisted of 95 loci were affected by apparent paralogy as judged against the existing reference genomes of Coleoptera (see Additional file 1: Table S5) for excluded loci, and even the loci in McKenna et al. [3] are affected by this problem, which required to make choices about which locus to select as an ortholog. In contrast, the use of shotgun Illumina sequencing produced several thousand one-to-one orthologs that can be recovered consistently from all available Coleoptera genomes and transcriptomes. Shotgun sequencing produced a nearly complete set of these orthologs for Rhinorhipus at an approximately 60× coverage. Bioinformatics pipelines [36, 37] that assemble these short reads against reference sequences can readily create thousands of gene sequences from genomic DNA, without the need for isolating mRNA, which is usually more difficult to obtain. Thus, greater taxon sampling is possible with relatively little effort and we can expect a stabilization of the remaining critical relationships among basal branches of the Coleoptera once more data area available.
The monotypic Rhinorhipus now identified as sister lineage to Elateriformia, or possibly even to the core Polyphaga, represents another example of a species-poor relict beetle lineage, such as Jurodidae and Crowsoniellidae in Archostemata, Aspidytidae and Meruidae in Adephaga, and Decliniidae in Polyphaga. It is perplexing why these lineages persist among others that are extremely species rich. Given its origin at the time where the continents were interconnected, and the habitat and presumed life style of Rhinorhipus, there is no obvious ecological or morphological trait that diminishes their chance of dispersal, diversification and species survival. Nevertheless, Rhinorhipus has a limited distributional range in Australia which harbors many relict lineages and is apparently rare in nature.
With the long-standing mystery about the great variation in species richness of Coleoptera in mind [38], these lineages are important for establishing the basal relationships and reconstruction of the dominant ecological role of earliest lineages in the Late Permian and Triassic ecosystems. Already, the realization of the 'ancestral five' in the earliest full tree of Coleoptera and the recognition of the core Polyphaga [2] had a major impact on the understanding of beetle relationships and dating. Placing the remaining small groups, including the enigmatic Rhinorhipidae, will be of equal importance for accurate evolutionary relationships and ecological characterization of the oldest beetle lineages. The growing phylogenetic evidence repeatedly indicates the presence of a much higher number of independent ancient beetle lineages than expected just two decades ago [2–4]. These families frequently live in soil, where they depend on organic moist detritus and the presence of molds and fungi and importantly, all these lineages apparently missed opportunities exploited by other lineages, such as the diversification of the angiosperms. They survived harsh conditions following the Permian extinction event [39], but were not able to diversify at the same pace as competing lineages in the changing world of the late Jurassic and Cretaceous. Thus, Rhinorhipidae stands out as a unique Australian witness of the early phase of beetle diversification in the early Mesozoic when the first extant beetles families evolved.
Declarations
Acknowledgements
The authors are obliged to G. Monteith and C. Lambkin (Queensland Museum, Brisbane), S. L. Cameron (Queensland University of Technology, Brisbane), A. Keto (Australia Rainforest Conservation Society, Springbrook), A. Slipinski and H. Escalona (CSIRO, Canberra) for their support during our trip to Queensland and to R. Bilkova for technical assistance. The Department of Environment and Heritage Protection, Queensland Government and the Wildlife Trade and Biosecurity Branch of the Department of Environment, Australia are acknowledged for export and research permits.
Funding
The study was funded by the IGA and GACR projects (PrF2018, 18-14942S to L.B., D.K., M.Mo. and Ma.B.), Leverhulme Trust (F/00696/P to A.P.V. and L.B.) and the NHM Biodiversity Initiative.
Availability of data and materials
The DNA sequences reported in this article can be accessed in GenBank under accessions AB123456–9, KT82514 and AB123456.
Authors' contributions
LB, APV and MB participated in the study design, DK, MMo, CA, Ma.B and FK carried out data analyses, MMa, KS and LB collected material in the field, all authors contributed to the draft of the manuscript and discussed results. All authors gave final approval for publication.
Competing interests
The authors declare that they have no competing interests.
Publisher's Note
Springer Nature remains neutral with regard to jurisdictional claims in published maps and institutional affiliations.
Open AccessThis article is distributed under the terms of the Creative Commons Attribution 4.0 International License (http://creativecommons.org/licenses/by/4.0/), which permits unrestricted use, distribution, and reproduction in any medium, provided you give appropriate credit to the original author(s) and the source, provide a link to the Creative Commons license, and indicate if changes were made. The Creative Commons Public Domain Dedication waiver (http://creativecommons.org/publicdomain/zero/1.0/) applies to the data made available in this article, unless otherwise stated.
Authors' Affiliations
(1)
Laboratory of Molecular Systematics, Department of Zoology, Faculty of Science, Palacky University, Olomouc, Czech Republic
(2)
Grupo de Ecología y Evolución en Islas, Instituto de Productos Naturales y Agrobiología (IPNA-CSIC), San Cristóbal de la Laguna, Spain
(3)
CRH – Department of Molecular Biology, Faculty of Science, Palacky University, Olomouc-Holice, Czech Republic
(4)
Department of Life Science, Natural History Museum, London, UK
(5)
Department of Life Science, Silwood Park Campus, Imperial College London Ascot, London, UK