Comparison of neuromuscular development in two dinophilid species (Annelida) suggests progenetic origin of Dinophilus gyrociliatus
Frontiers in Zoology
2016
13:49
Received: 19 June 2016
Accepted: 20 October 2016
Published: 8 November 2016
Abstract
Background
Several independent meiofaunal lineages are suggested to have originated through progenesis, however, morphological support for this heterochronous process is still lacking. Progenesis is defined as an arrest of somatic development (synchronously in various organ systems) due to early maturation, resulting in adults resembling larvae or juveniles of the ancestors. Accordingly, we established a detailed neuromuscular developmental atlas of two closely related Dinophilidae using immunohistochemistry and CLSM. This allows us to test for progenesis, questioning whether i) the adult smaller, dimorphic Dinophilus gyrociliatus resembles a younger developmental stage of the larger, monomorphic D. taeniatus and whether ii) dwarf males of D. gyrociliatus resemble an early developmental stage of D. gyrociliatus females.
Results
Both species form longitudinal muscle bundles first, followed by circular muscles, creating a grid of body wall musculature, which is the densest in adult D. taeniatus, while the architecture in adult female D. gyrociliatus resembles that of prehatching D. taeniatus. Both species display a subepidermal ganglionated nervous system with an anterior dorsal brain and five longitudinal ventral nerve bundles with six sets of segmental commissures (associated with paired ganglia). Neural differentiation of D. taeniatus and female D. gyrociliatus commissures occurs before hatching: both species start out forming one transverse neurite bundle per segment, which are thereafter joined by additional thin bundles. Whereas D. gyrociliatus arrests its development at this stage, adult D. taeniatus condenses the thin commissures again into one thick commissural bundle per segment. Generally, D. taeniatus adults demonstrate a seemingly more organized (= segmental) pattern of serotonin-like and FMRFamide-like immunoreactive elements. The dwarf male of D. gyrociliatus displays a highly aberrant neuromuscular system, showing no close resemblance to any early developmental stage of female Dinophilus, although the onset of muscular development mirrors the early myogenesis in females.
Conclusion
The apparent synchronous arrest of nervous and muscular development in adult female D. gyrociliatus, resembling the prehatching stage of D. taeniatus, suggests that D. gyrociliatus have originated through progenesis. The synchrony in arrest of three organ systems, which show opposing reduction and addition of elements, presents one of the morphologically best-argued cases of progenesis within Spiralia.
Keywords
Meiofauna evolution
Paedomorphosis
Sexual dimorphism
Sister species
Nervous system
Musculature
Ciliation
Interstitial
Background
Meiofaunal life forms (specimens passing through a sieve with a mesh-size of 1 mm, while being retained on a sieve with 42 μm mesh-size, [1]) are represented in most extant macrofaunal bilaterian lineages as well as constituting numerous independent lineages (e.g., Acoela, Kinorhyncha, Gastrotricha, Gnathostomulida, etc. [2–4]). The meiofaunal lineages Gnathifera and Rouphozoa (with macroscopic forms of platyhelminths nested within) were recently shown to branch off first within Spiralia [3, 5]). As a consequence hereof, the ancestral spiralian condition might have been an acoelomate to pseudocoelomate, microscopic bodyplan with direct development (possibly inhabiting the interstitial realm) [3]. In Annelida, however, the most basally branching groups are macroscopic, therefore suggesting that meiofaunal groups such as the interstitial family Dinophilidae evolved by either gradual miniaturization or underdevelopment (paedomorphosis) [5, 6]. Paedomorphosis is caused by a change in developmental timing due to early offset (progenesis), late onset (post displacement) or slower developmental rate (neoteny). All these changes can be either local or global processes and result in the underdevelopment of either individual characters or sets of characters [7–21]. Global progenesis is considered a common pathway of the evolution of microscopic annelids from macroscopic juveniles, which grow up in the same interstitial environment between the sand grains. Progenesis hereby offers the possibility to become permanently small and colonize the favorable interstitial habitat through an inherited arrest of somatic growth in a larval or juvenile ancestor by a single speciation event, possibly initiated by an early maturation [5, 7–12, 14, 17, 22–29].
Dinophilidae has been discussed in early studies to represent ancestral features within Annelida, when it was considered an archiannelid lineage alongside other interstitial annelids, due to its' members microscopic size and simple morphology [30–34]. It was later argued from morphological studies to have developed via progenesis from a primarily large ancestor because of its simple morphology and similarity to juveniles of macrofaunal families such as Dorvilleidae [10, 11, 14, 17, 22, 35–37]. The relationship of Dinophilidae to other annelids is still debated with a recent phylogenomic study [5], which is suggesting it to be part of the clade Orbiniida (with low support) together with the macrofaunal family Orbiniidae as well as the meiofaunal families Nerillidae, Parergodrilidae, Diurodrilidae and Apharyngtus. However, another study did not consider its position sufficiently supported [25], and none of the studies could determine the closest relative.
Dinophilids are 1 to 3 mm long, with all species counting 6 segments and lacking appendages, parapodia, and chaetae. They have externally indistinct segmentation, recognized only by the arrangement of transverse ciliary bands [32, 38, 39] and internal features such as lateral nerves, commissures, and nephridia [11, 40, 41]. The family Dinophilidae contains Trilobodrilus with six described species [30, 42–46] and Dinophilus, which is represented by approximately ten species [32, 38, 47–52], since the validity of several additional taxa is questioned due to ambiguous or insufficiently detailed morphological descriptions. Very few species have been barcoded, so further molecular sampling may reveal a higher cryptic diversity (Worsaae et al. unpublished). Two different morphotypes can be distinguished within Dinophilus: 1) monomorphic dinophilids with a long life cycle including an encystment stage for up to eight months [31, 53], 2) strongly dimorphic dinophilids with a rapid life cycle of only three weeks for adult females and less than a week for dwarf males [54, 55]. The dimorphic type has "normal-sized" females and miniature dwarf males [56–59], while in the monomorphic species the sexes cannot be distinguished from each other by outer morphological characters [56, 57]. Development in both morphotypes is direct, as found in most meiofaunal species, but different to the indirect life cycle of the annelid species used for developmental studies so far (e.g. Capitella teleta [60–62], Platynereis sp. [63, 64]). While the five to seven species of the monomorphic, bigger, orange type are limited to shallow colder waters of the arctic, subarctic and boreal coasts of e.g. Newfoundland, Greenland, Sweden, Denmark, Great Britain, and Russia [33, 38, 39, 48, 53], the hyaline, smaller, dimorphic type can be found in both boreal and temperate waters such as in Denmark [55, 58], France (pers. obs.), the Mediterranean [40], Brazil [65], North Carolina [66] and China [67]. Both monomorphic and dimorphic species of Dinophilus are found in the intertidal and subtidal region, where they are grazing on biofilm and small algae overgrowing macroalgae or in the interstices among sand grains in shallow waters [30, 34, 54, 68].
Despite several anatomical studies [11, 32, 40, 41, 56, 57, 69–72], little is known about the neuromuscular development in Dinophilus, which is thoroughly assessed in this study. However, previous studies did already assess the adult stages, stating that the musculature consists mainly of the pharyngeal [73] and body wall musculature, which is specified as layers of circular, diagonal, and longitudinal musculature [39]. The nervous system has likewise been investigated in mainly adults, assessing the relatively simple brain and a ventral nervous system consisting of five to seven longitudinal nerve cords [11, 40, 41, 71]. These are connected by one (in monomorphic) or three commissures (in dimorphic species) per segment, respectively. The neuromuscular system in D. gyrociliatus dwarf males is altered significantly from the pattern seen in females and also in other dinophilid males [56, 57]. Based on their diminutive size and ciliary pattern, they have been proposed to resemble a trochophore larva [56, 57], the resemblances however seem to be superficial.
Due to the size and morphological differences between the two morphotypes, it is proposed in this study that the smaller and simpler built D. gyrociliatus Schmidt, 1857 as representative of the dimorphic, fast developing morphotype has originated through a second progenetic process from the possibly already paedomorphic ancestor of Dinophilidae, which was most likely resembling the more complex and larger forms found in D. taeniatus. The evolutionary unravelling of D. gyrociliatus is further complicated by their possession of dwarf males, since males of D. gyrociliatus-ancestors probably have undergone a separate or 'third' progenesis relative to the females [58, 74], while D. taeniatus Harmer 1889 as representative of the monomorphic group with prolonged life cycle as well as the related dinophilid taxon, Trilobodrilus, have "normal-sized" males [31, 53, 75].
We hereby aim to establish a reference model for direct developing meiofaunal annelids by examining the neuromuscular system and its development in both sexes of D. gyrociliatus and D. taeniatus with immunohistochemistry and confocal laser scanning microscopy (CLSM), thereby also facilitating comparison across species and sexes. We will further examine whether the seemingly simpler morphology in female D. gyrociliatus reflects earlier developmental stages of D. taeniatus and whether the dwarf males resembles even earlier developmental stages of females, hereby seeking support for the hypotheses on a progenetic origin of the male and female D. gyrociliatus.
Methods
Specimens
Two different populations of Dinophilus gyrociliatus (originally from Xiamen, China and Naples, Italy) and two different populations of D. taeniatus (collected at the White Sea, Russia and in Quequertarsuaq, Disko Island, Greenland) were examined in the present study. No significant morphological intraspecific variations were detected between the populations. The presented illustrations are mainly based on D. gyrociliatus from lab cultures originally from China and D. taeniatus collected at the White Sea, Russia.
Dinophilus gyrociliatus
One culture of D. gyrociliatus was established by Bertil Åkesson at University of Gothenburg in the 1980's from specimens sampled in Xiamen, China. A subsample of this culture is now kept at the Marine Biological Section, University of Copenhagen, Denmark, where the animals are maintained in seawater (salinity 28‰) at 18 °C and fed spinach twice a month after exchanging the water. Another culture of D. gyrociliatus (originally sampled in Naples, Italy) is kept in the institute of Developmental Biology RAS, Moscow, Russia. The worms are cultured in artificial seawater with 33‰ salinity at 20 °C and fed nettle once a week after exchanging the water.
For establishing the life cycle and stage-specific sampling, some females were separated from the main culture and checked on a daily basis. Newly laid cocoons were transferred to dishes, tracked and fixed after two days and subsequently every 12 h until hatching (after six days) for the establishment of the developmental series.
Dinophilus taeniatus
The Greenlandic specimens of Dinophilus taeniatus were obtained during a field trip to Disko Island, Southwest Greenland, from the shallow waters in the intertidal region in Quequertarsuaq harbour. The Russian specimens of D. taeniatus were obtained at the Pertsov White Sea Biological Station (White Sea, Russia). The worms were collected during low tide at the upper sublittoral zone. The culture of D. taeniatus was reared in the laboratory in natural filtered seawater at 10 °C and was checked twice a day for the presence of cocoons.
The cocoons were transferred to separate Petri dishes and kept in filtered seawater until fixation after four days and then every 24 h until hatching (approximately after 21 days). Juvenile and adult stages were also fixed similar to D. gyrociliatus.
Embryonic development is characterized by different duration of respective stages. We therefore use morphological markers (internal and external ciliary structures such as ciliary bands and ventral ciliary field, musculature and nervous system) and the sequence of their formation to compare the stages of the neuromuscular system in both morphotypes.
Staging of dinophilid development
We categorized Dinophilus development into 5 stages: early embryo (2.5–3 days after cocoon deposition in D. gyrociliatus and 5–6 days after cocoon deposition in D. taeniatus), late embryo (several ciliary bands and the ventral ciliary field developed, 4.5 days in D. gyrociliatus and 10–14 days in D. taeniatus,), prehatching/hatching (just before hatching from the fertilization envelope and – later on – the cocoon, 5.5–6 days in D. gyrociliatus and 14–21 days in D. taeniatus), juvenile (6.5–12 days in D. gyrociliatus and 21–40 days in D. taeniatus) and adult (12 and more days in D. gyrociliatus and 40 and more days in D. taeniatus,). The morphology is described in detail for D. gyrociliatus females and description of D. taeniatus is mainly focused on differences and similarities.
Immunohistochemistry and confocal laser scanning microscopy (CLSM)
Specimens (at least ten specimens per stage and used antibody) were anesthetized with isotonic MgCl2 prior to fixation with 3.7 % paraformaldehyde in phosphate buffered saline (PBS, pH 7.4) at room temperature (RT); embryos were manually extracted from the cocoon and the fertilization envelope prior to fixation. Double as well as quadruple stainings were applied to investigate characters in the muscular, nervous, and ciliary system. These stainings included F-actin staining (Alexa Fluor 488-labelled phalloidin, A12379, INVITROGEN, Carlsbad, USA), DNA-staining (405 nm fluorescent DAPI, included in the embedding medium Vectashield) and immunostaining (monoclonal mouse anti-acetylated α-tubulin (T6793, SIGMA, St. Louis, USA), polyclonal anti-mouse anti-tyrosinated tubulin (T9028, SIGMA), polyclonal rabbit anti-serotonin (5-HT, S5545, SIGMA) and anti-FMRFamide (20091, IMMUNOSTAR, Hudson, USA)). Prior to adding the primary antibody-mix, the samples were preincubated with 1 % PBT (PBS + 1 % Triton-X, 0.05 % NaN3, 0.25 % BSA, and 5 % sucrose). Afterwards, samples were incubated for up to 24 h at RT in the primary antibodies mixed 1:1 (in a final concentration of 1:400). Subsequently, following several rinses in PBS and 0.1 % PBT, specimens were incubated with the appropriate secondary antibodies conjugated with fluorophores (also mixed 1:1, in a final concentration of 1:400, goat anti-mouse labelled with CY5 (115-175-062, JACKSON IMMUNO-RESEARCH, West Grove, USA), goat anti-rabbit labelled with TRITC (T5268, SIGMA)) for up to 48 h at RT. This step was followed by incubation for 60 min in Alexa Fluor 488-labeled phalloidin solution (0.33 M phalloidin in 0.1 % PBT) after and prior to several rinses in PBS. Thereafter, specimens were mounted in Vectashield (including DAPI, VECTOR LABORATORIES, Burlingame, USA). The prepared slides were examined using an OLYMPUS IX 81 inverted microscope with a Fluoview FV-1000 confocal unit at the Marine Biology Section of the University of Copenhagen (property of K. Worsaae) and a Nikon A1 CLSM at the White Sea Biological Station. Acquired z-stacks were exported to the IMARIS 7.0 (BITPLANE SCIENTIFIC SOFTWARE, Zürich, Switzerland) software package to conduct further three-dimensional investigations and prepare representative images.
Image processing
Brightness, saturation, and contrast were adjusted in Adobe Photoshop CC 2015 (ADOBE Systems Inc., San Jose, USA) prior to assembling figure plates in Adobe Illustrator CC 2015, where also schematic drawings were created.
Discussion
Progenetic origin of female D. gyrociliatus from a juvenile D. taeniatus-like ancestor
Patterns in musculature, external ciliation and nervous system of adult female D. gyrociliatus all match the patterns found congruently in the late embryonic/early juvenile life stage of D. taeniatus.
The onset of myogenesis, the addition of circular muscles, and the ramification that gives rise to the prostomial musculature are highly similar in the two investigated species (Figs.
2
,
3
,
5
,
13
). However, adult
D. taeniatus
possess four times the number of longitudinal body wall muscles than adult female
D. gyrociliatus
(Figs.
2h
,
5e, g
, h,
13
)
,
whereas the prehatching stage of
D. taeniatus
presents a similar number to those of adult female
D. gyrociliatus
(three pairs of longitudinal muscles, Figs.
2f-h
,
5d
,
13
).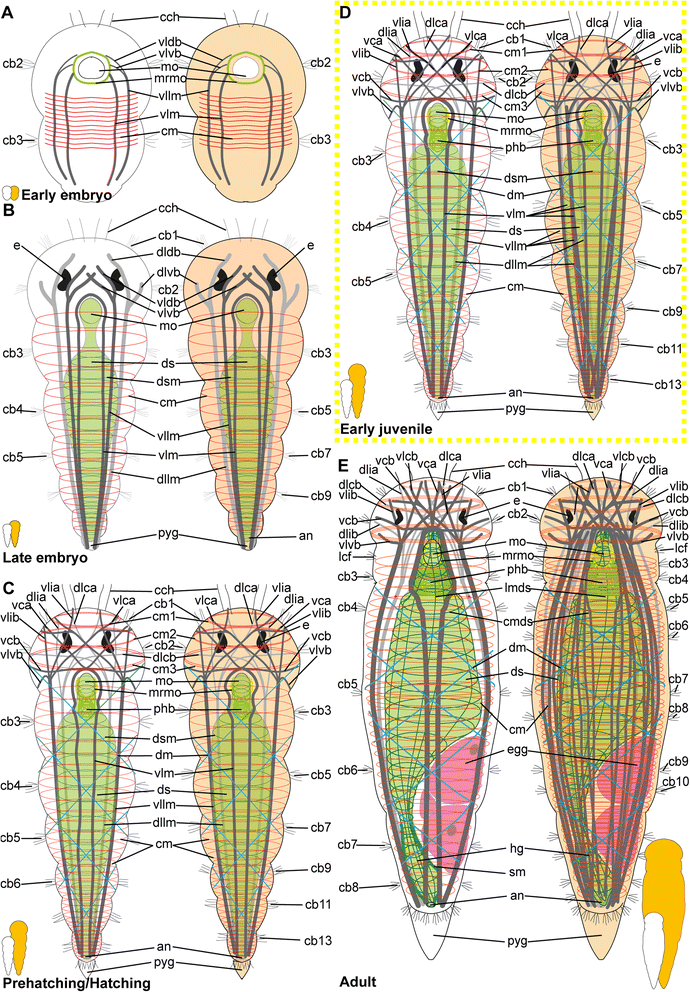 The developmental patterns of external ciliation differ in the two investigated species. During embryogenesis, transverse ciliary bands and the ventral ciliary field emerge successively in
D. taeniatus
(ciliary band 2 (cb2) → ventral ciliary field (vcf) → cb1, cb3, 5, 7 → 9, 11, 13; Figs.
6
,
9
,
14
), starting with the formation of one ciliary band per segment (cb1, cb3, 5, 7, 9, 11, 13) and during maturation adding an additional transverse ciliary band per body segment (cb4, 6, 8, 10, 12, 14) to create a total number of 14 ciliary bands. This differs from the developmental sequence observed in
D. gyrociliatus
, where the ciliary bands 1 and 3–7 originate simultaneous with the formation of the ventral ciliary field (cb2 → vcf, cb1, cb3-7, Figs.
6
,
14
) and an adult female
D. gyrociliatus
totally possesses eight ciliary bands (Figs.
6h
,
14
), equal to the number of ciliary bands observed in prehatching and juvenile
D. taeniatus
(Figs.
9e
,
14
).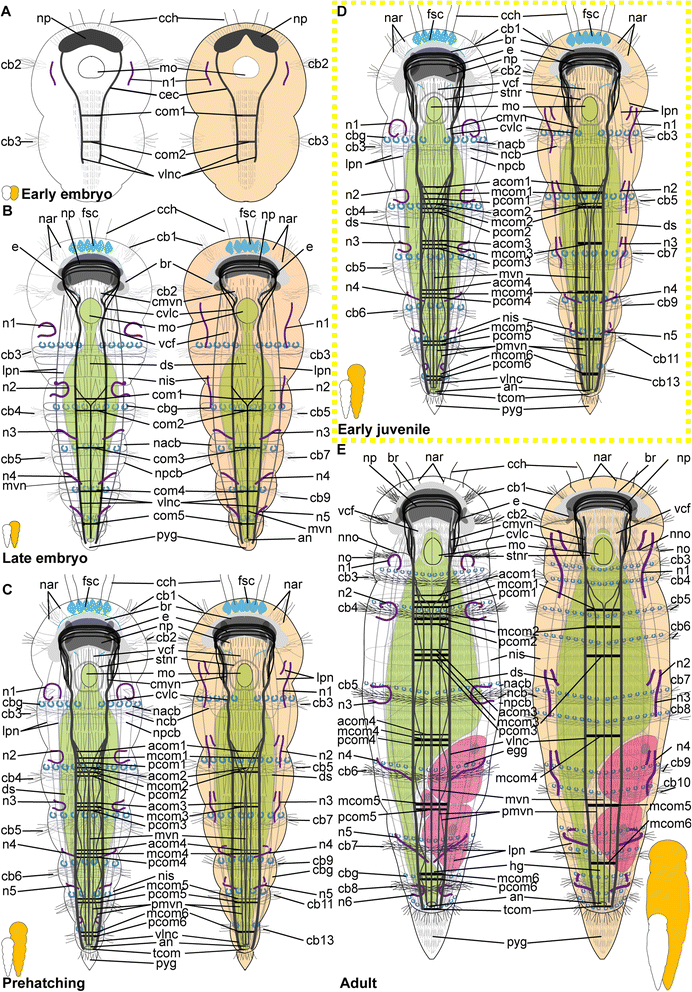 Finally, during neurogenesis, one commissure is added per segment along the ventral nervous system in both species. Before hatching and in juveniles, this individual main commissure is supplemented by thinner, additional transverse neurite bundles in both species (Figs.
6d, g
,
10c-e
,
14
,
15
and
16
). After maturation these transverse bundles are condensed into one prominent, distinct commissural bundle in
D. taeniatus
(Figs.
11l
,
12j
,
14
,
15
and
16
), while female
D. gyrociliatus
retain a multi-commissural pattern into adulthood (three commissures in the anterior region of the ventral nervous system and two in the posterior area, also reported by Müller & Westheide [
11
]) (Figs.
6h
,
11e
,
12e
,
14
,
15
and
16
). This addition (and in
D. taeniatus
later condensation) of nervous elements was observed with both pan-neural immunoreactivity (antibodies against acetylated α-tubulin) as well as with neurotransmitter markers (antibodies against serotonin and FMRFamide). Moreover, the adults of
D. taeniatus
demonstrate a more condensed configuration of nerve fibres and perikarya with serotonin-LIR and FMRF-amide-LIR than what is found in adult females of
D. gyrociliatus
(Figs.
11
,
12
,
15
,
16
); the latter hereby showing more resemblance to prehatching/juvenile
D. taeniatus
.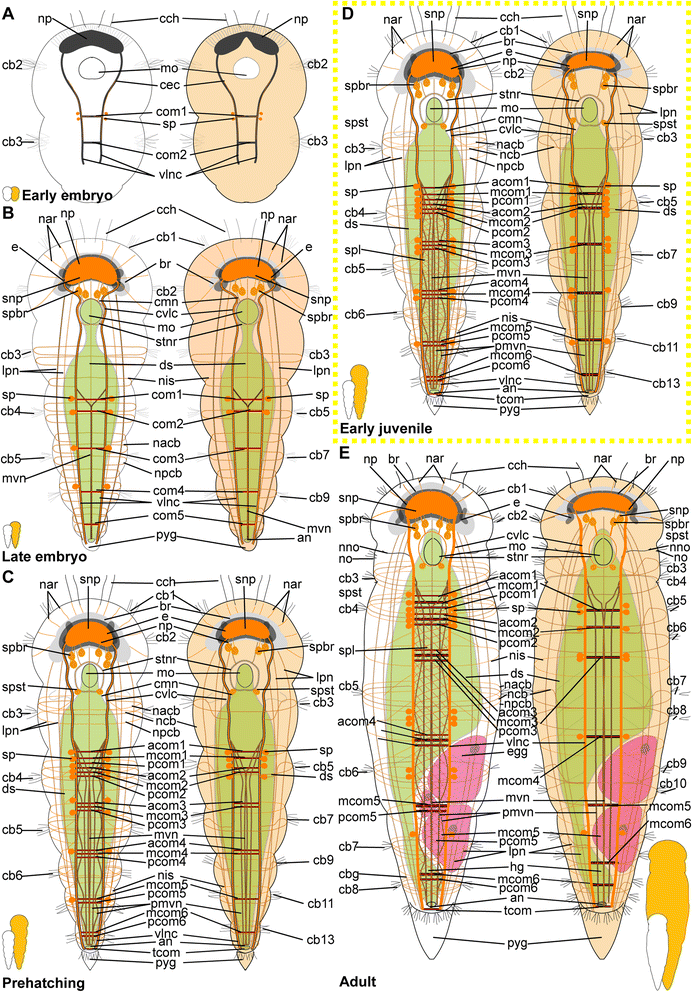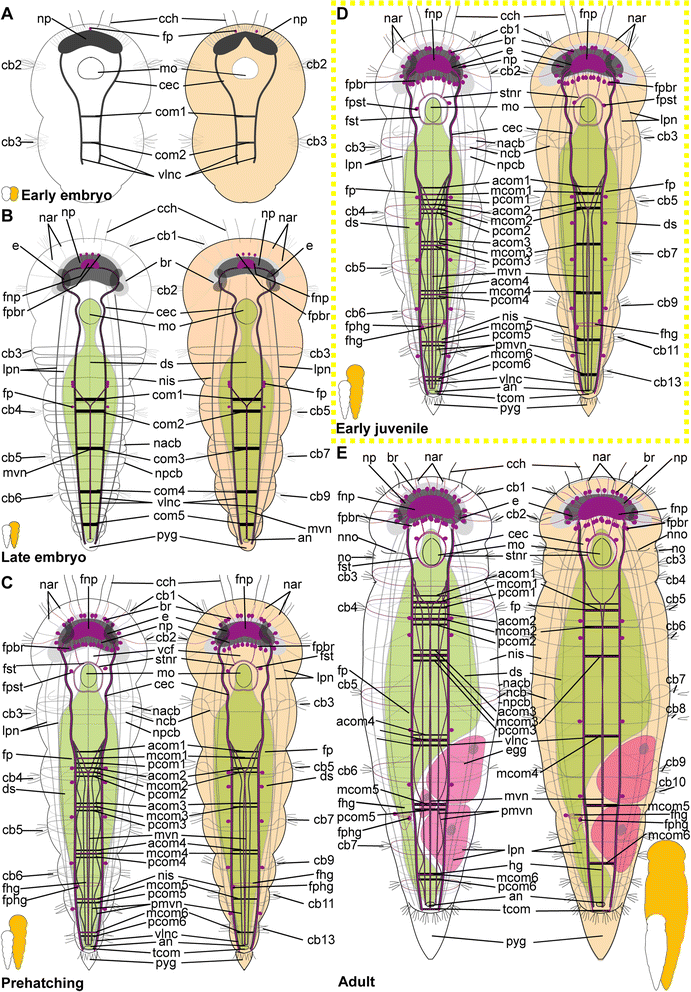 Heterochrony can be attested to each of these investigated organ systems, since in all patterns (musculature, nervous system, and ciliation) adult female D. gyrociliatus closely resembles the prehatching/early juvenile stage of D. taeniatus. This apparent congruence in change of timing leading to a simultanous arrest of development in three organ systems of the ancestor, renders strong support for a progenetic (as understood by [23]) origin of D. gyrociliatus from an ancestor with similar development as D. taeniatus.
As far as the organ systems investigated in this study are concerned, specific adult traits present in D. taeniatus were not found in adult D. gyrociliatus. This further supports that the latter evolved by a single speciation event rather than gradual miniaturization.
Without a reliable phylogeny of the family Dinophilidae it cannot be entirely ruled out that adult D. taeniatus could instead have originated by the respective overdevelopmental heterochronous process called hypermorphosis [19, 29]. However, this would demand that a late offset of somatic growth in three different organ systems of D. taeniatus resulted in both additions (as in the musculature and external ciliation) and condensations of elements (as in the nervous system) - which seems to be less likely. Additionally, the presence of dwarf males in D. gyrociliatus is likely a secondary specialization within Dinophilidae (with other dinophilids as well as most annelids having monomorphic sexes [83]), which supports a derived status of this species (through progenesis) rather than of D. taeniatus. Moreover, the prevalence of species within Dinophilidae resembling the morphology and often also the long life cycle of D. taeniatus [15, 32, 48–50, 53] does suggest a progenetic origin of D. gyrociliatus females from a D. taeniatus-like ancestor to be more likely than the alternative.
Non-progenetic origin of dwarf male D. gyrociliatus
Whereas the overall dwarf male morphology did not resemble a specific life stage of the female D. gyrociliatus, some traits and developmental sequences are similar. The early developmental sequence of myogenesis in the dwarf males shows an onset of longitudinal muscles prior to development of circular muscle fibres in an anterior-to-posterior pattern and later addition of specialized muscular systems (Fig. 4), which resembles the pattern found in females of D. gyrociliatus as well as both sexes of D. taeniatus. In the adult dwarf males, comparatively few, and widely separated, longitudinal and circular muscles form the body wall musculature, whereas a dense grid of musculature surrounds the copulatory organ (Fig. 4 d). Interestingly, this musculature of the penile cone and its sheath show a similar layout to the much larger males of D. taeniatus (compare Figs. 4d-i, 5k). On the other hand, the presence of one pair of nephridia in the dwarf males possibly resembles the one pair found in early female embryos. The nervous system as well as ciliary system of the dwarf males is very limited and unique compared to the females. Their external ciliary structures are mainly found on the ventral side of the body, hence, not showing transverse ciliary rings (trochs), such as seen already during the early development in female Dinophilus or in the trochophore larvae of other annelids ([53], Fig. 8a, b). The similarity in dwarf male copulatory musculature to adult D. taeniatus copulatory musculature, co-occurring with 'larval' nephridia, as well as unique ciliation and somatic form, all in all contradicts that the dwarf males should have originated through a progenetic evolutionary process involving a somatic arrest in an early life stage of an ancestor. In the latter case the overall dwarf male morphology should instead in total resemble a specific early life stage of D. gyrociliatus or D. taeniatus- like ancestor, and not a mix of juvenile-, adult male- and unique characters. The current scenario instead suggests that more complex mechanisms underlie the evolution of dwarf males, possibly involving both various heterochronous events as well unique adaptations.
Conclusions
The layout of musculature, nervous system and ciliation in adult female D. gyrociliatus was shown in this morphological study to closely resemble the prehatching/early juvenile rather than the adult layout in D. taeniatus. This global similarity to a younger life stage indicates a paedomorphic origin of female D. gyrociliatus from a D. taeniatus-like ancestor. Of the various heterochronous processes resulting in underdevelopment, progenesis is defined as an early offset (=arrest) of somatic development due to early maturation [10, 14, 23], which would have caused a simultaneous (global) change in development of several organ systems. We therefore suggest that a single speciation event (in the form of progenesis) rather than unrelated evolutionary changes took place in the formation of D. gyrociliatus.
The mechanisms underlying the development of the dwarf male could not be clarified yet, since its adult body plan shows reductions (in e.g. complexity of organ systems, cell number and external features) that does not congruently reflect a specific developmental life stage of the female D. gyrociliatus.
These evolutionary conclusions are based on the detailed atlas of the development of ciliary structures, musculature and nervous system in a group of direct developing meiofaunal annelids. This detailed morphological atlas therefore is one of the first done for direct developing meiofauna and may serve as a comparative basis for broader evolutionary studies, as well as a map onto which genetic patterning of one of these organ systems is allowed for.
Declarations
Acknowledgements
A. Martinez, M. DiDomenico, N. Bekkouche, B. Gonzalez and RM. Kristensen are thanked for their help collecting specimens of D. taeniatus in Disko Island, Greenland and in Lysekil, Sweden. Furthermore, K. Kvindebjerg is thanked for her help with unravelling myogenesis in the dwarf male of D. gyrociliatus. We are furthermore grateful to the staff of the Pertsov White Sea Biological Station, Russia as well as the people of the Arctic Station, Disko Island, West Greenland for their generous assistance. The authors thank the Optical Research Group of IDB RAS for technical assistance. We are very grateful for the detailed comments provided by E. Seaver, G. Purschke and two anonymous reviewers, which significantly improved the manuscript. This work was partially supported by the Russian Foundation for Basic Research (grants № 15-04-04298 to TDM and № 15-29-02650 to EEV) and by the Villum Foundation (grant № 1025442 to K. Worsaae).
Authors' contribution
AK, TM and KW drafted the manuscript and provided all data needed for the assembly of the plates. AK acquired data on the development of D. gyrociliatus from China and the Greenlandic population of D. taeniatus. EF, TM and EV acquired data on the development of the Mediterranean population of D. gyrociliatus and the White Sea population of D. taeniatus. All authors contributed to the discussion of the acquired data and approved the final version of the manuscript.
Competing interests
The authors declare that they have no competing interests.
Open AccessThis article is distributed under the terms of the Creative Commons Attribution 4.0 International License (http://creativecommons.org/licenses/by/4.0/), which permits unrestricted use, distribution, and reproduction in any medium, provided you give appropriate credit to the original author(s) and the source, provide a link to the Creative Commons license, and indicate if changes were made. The Creative Commons Public Domain Dedication waiver (http://creativecommons.org/publicdomain/zero/1.0/) applies to the data made available in this article, unless otherwise stated.
Authors' Affiliations
(1)
Marine Biological Section – Department of Biology, University of Copenhagen, Copenhagen, Denmark
(2)
Laboratory of Developmental Neurobiology, Koltzov Institute of Developmental Biology RAS, Moscow, Russia
(3)
Laboratory of Neurobiology, National Institute of Neurological Disorders and Stroke, NIH, Bethesda, USA