Sea shell diversity and rapidly evolving secretomes: insights into the evolution of biomineralization
Frontiers in Zoology
2016
13:23
Received: 11 April 2016
Accepted: 27 May 2016
Published: 7 June 2016
Abstract
An external skeleton is an essential part of the body plan of many animals and is thought to be one of the key factors that enabled the great expansion in animal diversity and disparity during the Cambrian explosion. Molluscs are considered ideal to study the evolution of biomineralization because of their diversity of highly complex, robust and patterned shells. The molluscan shell forms externally at the interface of animal and environment, and involves controlled deposition of calcium carbonate within a framework of macromolecules that are secreted from the dorsal mantle epithelium. Despite its deep conservation within Mollusca, the mantle is capable of producing an incredible diversity of shell patterns, and macro- and micro-architectures. Here we review recent developments within the field of molluscan biomineralization, focusing on the genes expressed in the mantle that encode secreted proteins. The so-called mantle secretome appears to regulate shell deposition and patterning and in some cases becomes part of the shell matrix. Recent transcriptomic and proteomic studies have revealed marked differences in the mantle secretomes of even closely-related molluscs; these typically exceed expected differences based on characteristics of the external shell. All mantle secretomes surveyed to date include novel genes encoding lineage-restricted proteins and unique combinations of co-opted ancient genes. A surprisingly large proportion of both ancient and novel secreted proteins containing simple repetitive motifs or domains that are often modular in construction. These repetitive low complexity domains (RLCDs) appear to further promote the evolvability of the mantle secretome, resulting in domain shuffling, expansion and loss. RLCD families further evolve via slippage and other mechanisms associated with repetitive sequences. As analogous types of secreted proteins are expressed in biomineralizing tissues in other animals, insights into the evolution of the genes underlying molluscan shell formation may be applied more broadly to understanding the evolution of metazoan biomineralization.
Keywords
Biomineralization
Mollusc
Mantle
Shell
Shell matrix proteins
Co-option
Lineage-specific novelties
Repetitive low complexity domain
Background
According to the fossil record many animal phyla diversified during the Late Precambrian to Early Cambrian, roughly 515–541 million years ago (mya; [1, 2]). Various biotic and abiotic factors are hypothesized to have contributed to the rapid diversification of animal taxa at this time, including a three-fold increase in the concentration of calcium in seawater [1–7]. The dramatic increase in biomineralized skeletal structures over this period in multiple animal lineages is consistent with the convergent or parallel evolution of skeletogenesis in early animals.
Mollusca (snails, slugs, clams, squid, chitons and their allies) is one of the most morphologically and ecologically diverse metazoan phyla, with an estimated 200,000 extant species and an evolutionary history tracing back to at least to the Early Cambrian [
5
]. The great success of Mollusca can be attributed, at least in part, to their exoskeleton [
5
,
6
], which provides defence and support. There are two major clades of Mollusca (Fig.
1
; [
7
–
9
]): (i) Conchifera (Gastropoda, Bivalvia, Cephalopoda, Scaphopoda, and Monoplacophora), which includes all shell-bearing molluscs except chitons (Polyplacophora); and (ii) Aculifera, which includes Polyplacophora and the shell-less Aplacophora, a clade of molluscs that bear calcareous scales, spicules, or spines (collectively called sclerites) instead of one or more shells [
10
]. Although chitons have shells, their unique organization has prompted the hypothesis that chiton shells are not homologous to conchiferan shells ([
10
–
13
]; reviewed by [
14
]).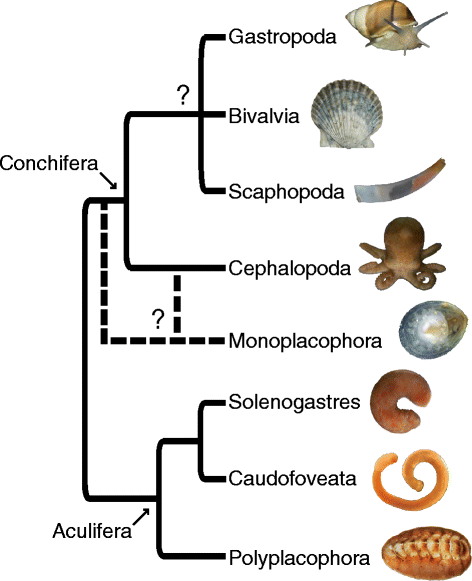 The adult molluscan shell is a remarkably stable organo-mineral biocomposite, in which the calcium carbonate mineral makes up 95–99 % [15]. In most molluscs, the outermost shell layer, known as the periostracum, is composed of organic components and is not calcified (but see [16]). The underlying shell layers primarily consist of aragonite and/or calcite polymorphs (rarely vaterite), and exhibit prismatic, nacreous, foliate, cross-lamellar or homogenous microstructures [13, 17, 18]. Little is known about the composition or microstructure of aculiferan sclerites.
Conclusions
The integration of the fields of genomics and proteomics into the study of molluscan biomineralization has revealed that shell formation is controlled by the highly coordinated expression of hundreds of genes, and the regulated secretion of proteins and other macromolecules. Although the dissection of the mantle gene regulatory network controlling shell fabrication is in its infancy, there is evidence, at least in early developmental stages, for a deep conservation of expression patterns of regulatory genes. Despite this apparent deep homology, the diverse array of molluscan shell architectures and patterns indicate that there exist underlying molecular differences that manifest later in the morphogenetic program. One source of this variation is the rapidly-evolving mantle secretome that shows high levels of uniqueness, even in closely related taxa. We propose that as terminal nodes in the mantle GRN, genes encoding the mantle secretome are less constrained and more evolvable, allowing for the intra- and inter-specific variation that underpins the spectacular diversity of molluscan shells.
Common principles that govern the molecular basis of skeleton formation are emerging from the analysis of molluscan SMP-encoding genes. These appear to apply broadly across the animal kingdom, and include (i) continuous influx and efflux of conserved secreted gene products, (ii) the evolution and expansion of lineage-specific secreted protein families, and (iii) the presence of highly-evolvable repetitive low complexity domains in both evolutionarily young and old secreted gene products. As in molluscs, these gene classes are likely to sit at the termini of late biomineralization GRNs in other animals. Further insight into how these ancient and novel gene families contribute to the building and patterning of the diversity of molluscan shells is likely to provide guiding principles into the evolution and formation of metazoan skeletons.
Abbreviations
CA, carbonic anhydrase; GRN, gene regulatory network; KRMP, lysine (K)-rich mantle protein; RLCD, repetitive low-complexity domain; SMP, shell matrix protein
Declarations
Acknowledgements
KMK was supported by a U.S. National Science Foundation International Postdoctoral Research Fellowship (DBI-1306538). FA was supported by a Becas Chile scholarship from CONICYT. DJJ is supported by the DFG. Associated research is supported by Australian Research Council grants to BMD.
Authors' contributions
All authors contributed to the writing of the manuscript and approved the final submitted version of the manuscript.
Competing interests
The authors declare that they have no competing interests.
Open AccessThis article is distributed under the terms of the Creative Commons Attribution 4.0 International License (http://creativecommons.org/licenses/by/4.0/), which permits unrestricted use, distribution, and reproduction in any medium, provided you give appropriate credit to the original author(s) and the source, provide a link to the Creative Commons license, and indicate if changes were made. The Creative Commons Public Domain Dedication waiver (http://creativecommons.org/publicdomain/zero/1.0/) applies to the data made available in this article, unless otherwise stated.
Authors' Affiliations
(1)
School of Biological Sciences, University of Queensland, Brisbane, Australia
(2)
Current address: Department of Biological Sciences and Alabama Museum of Natural History, The University of Alabama, Tuscaloosa, USA
(3)
Current address: Sars International Centre for Marine Molecular Biology, University of Bergen, Bergen, Norway
(4)
Department of Geobiology, Goldschmidtstr.3, Georg-August University of Göttingen, Göttingen, Germany