Spatial compartmentalization of free radical formation and mitochondrial heterogeneity in bivalve gills revealed by live-imaging techniques
Frontiers in Zoology
2016
13:4
Received: 14 December 2015
Accepted: 25 January 2016
Published: 3 February 2016
Abstract
Background
Reactive oxygen (ROS) and nitrogen (RNS) species are produced during normal unstressed metabolic activity in aerobic tissues. Most analytical work uses tissue homogenates, and lacks spatial information on the tissue specific sites of actual ROS formation. Live-imaging techniques (LIT) utilize target-specific fluorescent dyes to visualize biochemical processes at cellular level.
Results
Together with oxidative stress measurements, here we report application of LIT to bivalve gills for ex-vivo analysis of gill physiology and mapping of ROS and RNS formation in the living tissue. Our results indicate that a) mitochondria located in the basal parts of the epithelial cells close to the blood vessels are hyperpolarized with high Δψm, whereas b) the peripheral mitochondria close to the cilia have low (depolarized) Δψm. These mitochondria are densely packed (mitotracker Deep Red 633 staining), have acidic pH (Ageladine-A) and collocate with high formation of nitric oxide (DAF-2DA staining). NO formation is also observed in the endothelial cells surrounding the filament blood sinus. ROS (namely H2O2, HOO• and ONOO− radicals, assessed through C-H2DFFDA staining) are mainly formed within the blood sinus of the filaments and are likely to be produced by hemocytes as defense against invading pathogens. On the ventral bend of the gills, subepithelial mucus glands contain large mucous vacuoles showing higher fluorescence intensities for O2 •- than the rest of the tissue. Whether this O2 •- production is instrumental to mucus formation or serves antimicrobial protection of the gill surface is unknown. Cells of the ventral bends contain the superoxide forming mucocytes and show significantly higher protein carbonyl formation than the rest of the gill tissue.
Conclusions
In summary, ROS and RNS formation is highly compartmentalized in bivalve gills under unstressed conditions. The main mechanisms are the differentiation of mitochondria membrane potential and basal ROS formation in inner and outer filament layers, as well as potentially antimicrobial ROS formation in the central blood vessel. Our results provide new insight into this subject and highlight the fact that studying ROS formation in tissue homogenates may not be adequate to understand the underlying mechanism in complex tissues.
Keywords
BivalveGillLive-imagingFluorescenceMitochondriaROSRNS
Background
Reactive oxygen and nitrogen species (ROS: H2O2, O2˙−, OH˙, HO2˙; RNS: NO˙, ONOO−) are by-products of cellular respiration in the mitochondria and of cellular detoxification mechanisms in the ER system. Both, ROS and RNS are strong redox agents, known to produce secondary radicals and oxidize cellular macromolecules such as membrane lipids, proteins, as well as nucleic acids (RNA and DNA). Both types of radicals are therefore considered as being cytotoxic and major drivers of cellular death and damage. The same radical species are also involved in cellular signaling including apoptotic death signals and further play an active role in processes such as muscle contraction [1], host-defense reactions (reviewed by [2–5]), and induction of mucus production via initiation of transcription factor cascades [6].
Under unstressed conditions ROS and RNS are produced in very low quantities, and bulk formation of ROS is usually measured in mitochondrial isolates [7, 8], cell preparations [9, 10], or even in tissue homogenates (e.g. [11, 12]). In vitro analysis of mitochondrial preparations or submitochondrial particles yields information on ROS forming mechanisms, albeit under non-physiological conditions, i.e. using artificial media, too high pO2, and too high respiratory substrate concentrations. On the other hand, using tissue homogenates or cell preparations, the ROS forming mechanisms and the subcellular structures of the ROS forming organelles (mitochondria, ER, vacuoles) remain unknown. The high reactivity of ROS and RNS implicates, however, that species specific lifetime and diffusion pathways inside cells and tissues are short. Thus, in living tissues steady state ROS concentrations are highly compartmentalized, and the distribution patterns of different ROS and RNS across sub-cellular structures can be the clue to their biochemical role and function. This compartmentalization can now be visualized using ROS/RNS sensitive probes, molecules which emit fluorescence upon reaction with the active species and after excitation at a distinct wavelength. Fluorescent probes enable minimal invasive detection of very small ROS/RNS quantities in living cells and tissues and facilitate the understanding of the dynamics and function of ROS production. For example, this type of studies may also help by providing input on the amount of ROS/RNS (in a qualitative manner) and thus setting the bases for further studies aiming to distinguish signaling or biosynthetic functions from toxic overproduction of ROS/RNS during an acute stress response.
In the past decades, live-imaging techniques have emerged as key tools for non-invasive studies of a wide variety of physiological parameters in- and ex-vivo in tissues and organs. In the field of oxidative stress, live-imaging techniques have been used to detect transient states of high ROS formation, and their use has enormously contributed to the understanding of small scale and high resolution spatial ROS dynamics in mammalian tissues (e.g. [13, 14]), while far less is known about marine invertebrate tissues.
Gills of marine and freshwater bivalves are multifunctional organs. They are the main respiratory tissues but, at the same time, filtering organs which collect food particles from the water column and transport them towards the mouth. Gill morphology and ultrastructure have been extensively studied, including the mechanisms underlying ciliary motility and beat frequency (e.g. [15–17]). The gills are also sensory organs for oxygen and salinity changes [18] and the first barrier against natural impacts (pathogens and natural toxins) or anthropogenic pollution. Most of the environmental stressors acting on marine animals produce oxidative stress and damage signals in the gills so that these organs are often targeted in environmental impact studies.
The family Mytilidae has homorhabdic filibranch gills [
19
], one of the structurally most simple gill types, and has become a model organism for particle capture and transport (e.g. [
20
–
23
]). Briefly, homorhabdic (i.e. all filaments are of the same size) filibranch gills consist of long filaments, folded in a W-shape. Each gill (or holobranch) consists of two demibranchs (Fig.
1a
) which join at a central axis. Each demibranch consists of two lamellae: descending lamellae face each other and drop from the central axis into the mantle cavity where they bend upwards to form the ascending lamellae. Lamellae are composed of numerous gill filaments joined through ciliary interlamellar junctions (Fig.
1a, b, c
). The ventral bend of each demibranch forms a food groove, a longitudinal-oriented structure in which the food particle-mucus slurry is propelled towards the mouth by ventrally-directed water currents generated by ciliary beating (Fig.
1c
). Gill filaments are densely packed with mucus forming mucocyte cells (around 13 to 33 per 100 μm) [
21
]. The dorsal part of the ventral bends contains a large number of subepithelial mucus glands (SMGs) [as described by 21] (Fig.
1c
) which release mucus into the food groove to retain the collected food particles and transport them towards the labial palps and the mouth.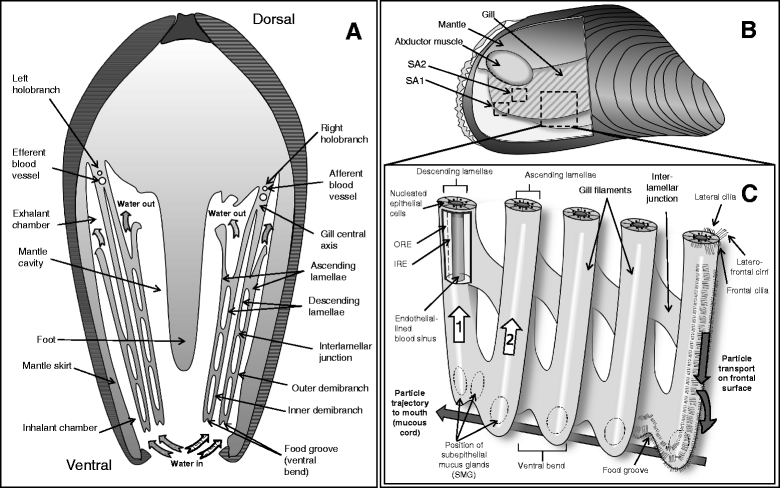 Here, we present a first spatially resolved analysis of ROS and RNS formation in different regions of the gill filaments of the common blue mussel Mytilus edulis, using multiphoton and confocal laser microscopy. We relate small scale patterns of ROS formation in unstressed bivalve gills to the regions of highest mitochondrial density and to the spatial pattern in mitochondrial activity state (membrane potential, Δψm). Non-invasive fluorescence imaging was applied to map different ROS/RNS in unstressed, intact sections of bivalve gill filaments to understand the dynamics and compartmentalization of basal ROS production in a complex tissue. Our aim was to better understand the multiple roles that ROS may have in gill physiology as deduced from their site of production, especially with respect to ciliary beat activity, blood vessel constriction, and antimicrobial protection of this multi-functional organ. Another interest was to investigate possible ROS involvement in mucus production within the SMGs.
Discussion
To our knowledge this study provides the first record of the mitochondrial spatial distribution and the basal production patterns of different ROS/RNS in bivalve gill tissues.
Conclusions
We used non-invasive fluorescence imaging to demonstrate that gill filament epithelial cells are composed of two spatially segregated groups of mitochondria which differ in ΔΨm. We also mapped different ROS/RNS in different sections of bivalve gill filaments to understand the dynamics and compartmentalization of basal ROS production in intact and unstressed tissue. Interpretation of these spatial ROS/RNS patterns can be used to specify the functional role of these radical species within the gill structures. Released with the mucus, M. edulis may be using the antibacterial power of O2 •- to avoid the development of a biofilm on the gill surface and oxidize engulfed food particles. The high DCF fluorescence present in the hemolymph indicates defense against invading pathogens in the gill blood vessels. The free radical NO may have multiple functions with respect to cellular homeostasis in gill tissue. NO is produced in the internal region of the epithelial cells and may provide an additional mechanism for the polarized membrane potential in the mitochondria surrounding the blood vessels. Furthermore, the presence of significant NO concentrations around and within blood vessels suggest its involvement in muscle contraction and thus hemolymph pressure regulation, which may be of key importance when dealing with the low environmental oxygen concentrations that these bivalves can face in their benthic habitat. Finally, the presence of NO within the blood vessel may add to pathogen defense exerted by circulating immunocyte cells.
Abbreviations
CAT:

catalase
MTK:

mitotracker
NH-FSW:

Na-HEPES-supplemented filtered seawater
NO:

nitric oxide
PC:

protein carbonyls
pO2 :

Oxygen partial pressure
RNS:

reactive nitrogen species
ROS:

reactive oxygen species
SMG:

subepithelial mucus gland
SOD:

superoxide dismutase
ΔΨm:

mitochondrial membrane potential
Declarations
Acknowledgements
The authors would like to specially thank Prof. Peter Beninger (University of Nantes, France) for his help in the identification of the subepithelial mucus glands. Thanks also go to Birgit Hussel (AWI, Sylt) for collecting the mussels used in the present study and the anonymous referees for their useful comments on the original manuscript. This study was partially funded by a postdoctoral grant of Fundación Ramón Areces (Spain) to G. Rivera-Ingraham and by the Georg Forster Stipend of the Humboldt Foundation (Germany) awarded to I. Rocchetta.
Open AccessThis article is distributed under the terms of the Creative Commons Attribution 4.0 International License (http://creativecommons.org/licenses/by/4.0/), which permits unrestricted use, distribution, and reproduction in any medium, provided you give appropriate credit to the original author(s) and the source, provide a link to the Creative Commons license, and indicate if changes were made. The Creative Commons Public Domain Dedication waiver (http://creativecommons.org/publicdomain/zero/1.0/) applies to the data made available in this article, unless otherwise stated.
Authors' Affiliations
(1)
Alfred-Wegener-Institut Helmholtz-Zentrum für Polar- und Meeresforschung, Department of Biosciences, Bremerhaven, Germany
(2)
Present address: UMR 9190 MARBEC, Groupe fonctionnel AEO, Bat. 24. CC092, Université de Montpellier, Montpellier, France
(3)
Present address: Laboratorio de Ecotoxicología Acuática, INIBIOMA, Consejo Nacional de Investigaciones Científicas y Técnicas (CONICET-COMAHUE), CEAN, Neuquén, Argentina
Copyright
© Rivera-Ingraham et al. 2016