Observing copepods through a genomic lens
Frontiers in Zoology
2011
8:22
Received: 8 February 2011
Accepted: 20 September 2011
Published: 20 September 2011
Abstract
Background
Copepods outnumber every other multicellular animal group. They are critical components of the world's freshwater and marine ecosystems, sensitive indicators of local and global climate change, key ecosystem service providers, parasites and predators of economically important aquatic animals and potential vectors of waterborne disease. Copepods sustain the world fisheries that nourish and support human populations. Although genomic tools have transformed many areas of biological and biomedical research, their power to elucidate aspects of the biology, behavior and ecology of copepods has only recently begun to be exploited.
Discussion
The extraordinary biological and ecological diversity of the subclass Copepoda provides both unique advantages for addressing key problems in aquatic systems and formidable challenges for developing a focused genomics strategy. This article provides an overview of genomic studies of copepods and discusses strategies for using genomics tools to address key questions at levels extending from individuals to ecosystems. Genomics can, for instance, help to decipher patterns of genome evolution such as those that occur during transitions from free living to symbiotic and parasitic lifestyles and can assist in the identification of genetic mechanisms and accompanying physiological changes associated with adaptation to new or physiologically challenging environments. The adaptive significance of the diversity in genome size and unique mechanisms of genome reorganization during development could similarly be explored. Genome-wide and EST studies of parasitic copepods of salmon and large EST studies of selected free-living copepods have demonstrated the potential utility of modern genomics approaches for the study of copepods and have generated resources such as EST libraries, shotgun genome sequences, BAC libraries, genome maps and inbred lines that will be invaluable in assisting further efforts to provide genomics tools for copepods.
Summary
Genomics research on copepods is needed to extend our exploration and characterization of their fundamental biological traits, so that we can better understand how copepods function and interact in diverse environments. Availability of large scale genomics resources will also open doors to a wide range of systems biology type studies that view the organism as the fundamental system in which to address key questions in ecology and evolution.
Keywords
genome organization
ecogenomics
parasitism and symbiosis
biological invasion
diapause
response to environmental change
Background
The copepods are an extremely ancient group, likely having diverged from other arthropod taxa between 388-522 million years ago [1]. They are also an extraordinarily diverse group with respect to their morphologies, physiologies, life-strategies and habitat preferences, with adult sizes ranging from < 0.1 mm-23 cm. Genomics, defined as the study of genome structure and composition as well as the study of gene expression and function (transcriptomics), has been underutilized in studies of copepods. Although over 12000 validated species of copepods have been recognised to date, there are only modest sequence resources for copepods in public databases. To date, sequencing efforts and the application of genomic techniques have been limited to a small number of species in the orders: Harpacticoida, Calanoida, Cyclopoida, and Siphonostomatoida with estimated species numbers of 7288, 4937, 3241 and 3348, respectively [2]. In this article we discuss why new investments in copepod genomic research are warranted and illustrate how the development of genomics resources for copepods will enable researchers to address key questions related to environmental and ecosystem health, the sustainability of fisheries, evolution, symbiosis and parasitism, biological invasion, and speciation.
The global importance of copepods
Copepods are more abundant than any other group of multicellular animals, including the hyper-abundant insects and nematodes [
3
]. They pervade the majority of natural and man-made aquatic systems, inhabiting a domain that extends from the nutrient-rich black oozes of abyssal ocean depths to the nutrient-poor waters of the highest mountain tarns. Swarms of copepods can reach densities of up to 92,000 individuals L
-1
[
4
]. Some species have escaped traditional aquatic habitats, and live in rain forest canopies, leaf-litter, hot springs, between sand grains, in hyper-saline waters (~200 ppt) and in caves, as well as in symbiotic associations with other animal and plant species. Deeply divergent morphologies are found in relation to free-living or parasitic lifestyles, with some groups appearing classically "arthropodan", and others unrecognizable as such (Figure
1
).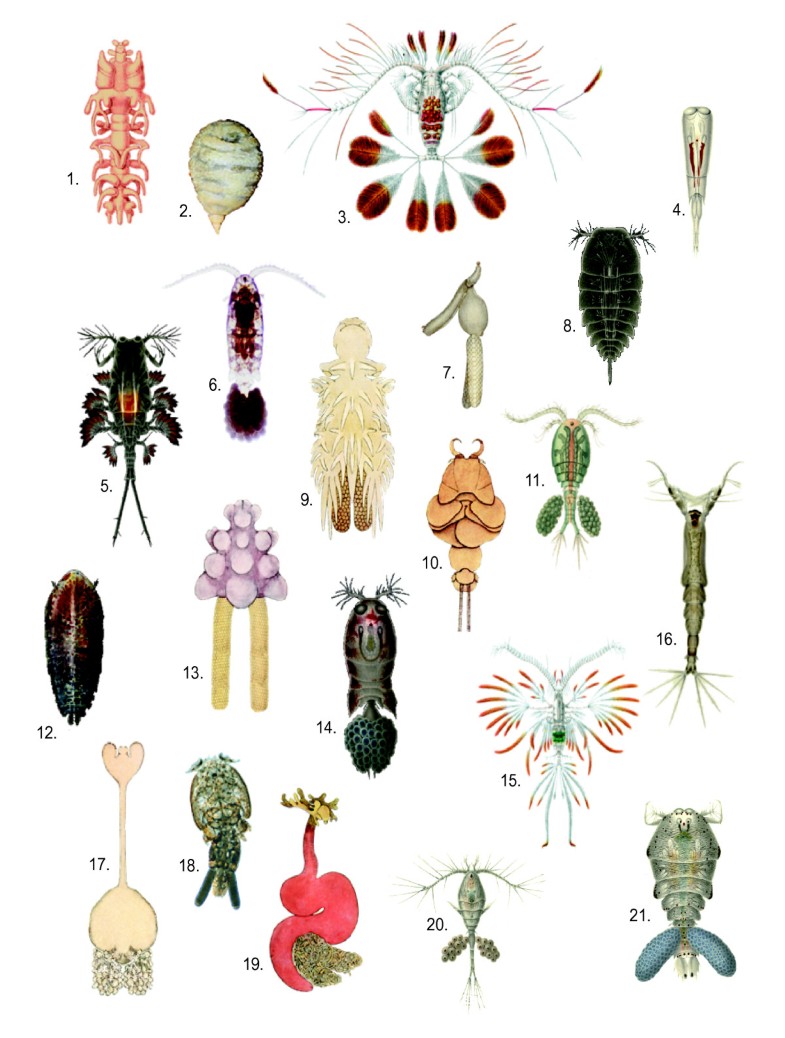 As the dominant secondary producers of the sea, copepods are the linchpin of aquatic food-webs. They consume microorganisms and are preyed upon by higher trophic levels, including fish and whales. In particular, they serve as primary prey for early life history stages of many fish species of economic importance [5], such as cod, herring, anchovy, flounder, and salmon. Copepods contribute significantly to many marine and freshwater ecosystem services, which have an estimated value of 22.6 trillion USD per annum [6]. For example, fish provide more than 2.9 billion people with more than 15% of their daily animal protein, and fisheries generate a net export value of $24.6 billion per annum for developing countries [FAO Newsroom (2006) http://www.fao.org/Newsroom/en/news/2006/1000301/index.html]. Copepods critically support this marine fish production, and therefore play an important role in the nutrition, health and well-being of people who have little access to other sources of animal protein. Through their vertical migrations between surface and deeper waters, copepods also play a major role in carbon transfer into the deep sea and thus to the global carbon budget (reviewed in [7]). Copepods are sensitive indicators of climate change, with warming ocean temperatures affecting copepod community structure, abundance, distribution and seasonal timing (e.g., [8]). In turn, changing copepod distributions have resulted in reduced recruitment and productivity of regional fisheries, such as the North Sea cod stocks (e.g. [5]).
Copepods harbor a wide range of human and fish pathogens. Pathogenic bacteria, such as Salmonella spp., Enterococcus faecalis, Aeromonas spp., and Arcobacter spp., as well as several pathogenic species of Vibrio, including Vibrio cholerae have been isolated from copepods [9–12], however, their role as vectors of waterborne bacterial pathogens of humans remains poorly understood.. Copepods are intermediate hosts for the Guinea worm, Dracunculus mediensis, which causes the debilitating disease dracunculiasis [13], as well as fish tapeworms (e.g. Diphyllobothrium latum) and anisakid nematodes that can also infect humans [14]. In addition to the status of copepods as carriers of pathogens, many parasitic and predatory copepods are in themselves pathogenic and have considerable impacts upon global freshwater and marine fisheries, with major economic consequences recognized primarily in aquaculture [15–17].
Copepods: a resource for investigating fundamental biological processes
The extraordinary diversity of forms and life-strategies of copepods makes them very suitable for studies of a variety of fundamental biological processes that are of broad interest to the scientific community. As yet, however, little has been elucidated concerning the genomic architectures, transcriptional profiles or mechanisms controlling transcription that drive and underpin this diversity. Copepods could be used to examine questions of how genomic architecture differs among taxa and whether this limits or drives the observed morphological and ecological divergence, thereby influencing speciation events [18]. A related question is whether apparent change or simplification of form or function is reflected in the genome. For example, what is the driving force in the adaptation of copepods to a parasitic mode? Do copepod parasites necessarily possess "degenerate" genomes or are transitions in lifestyle accomplished by both gene losses and gains, or more simply by changing patterns of transcription?
Similarly, genomic data can provide answers as to what phenotypic and genomic characteristics have enabled major habitat transitions in free-living species, such as the move from the benthos to the pelagic environment, or from marine to freshwater biomes. There are a wide range of examples in both free-living and symbiotic copepods of closely related species that show distinct niche breadths in both their distribution and tolerance to environmental conditions. What then, can genomic and transcriptional data tell us about organismal and population responses to the environment in these cases? Since tolerance of environmental change, or lack of it, is ultimately genome-driven, one might ask whether genomic studies on the physiological responses to stress, could also provide tools for monitoring or predicting organismal or population responses to climate change in terms of genome structure.
The broad size range of eukaryotic genomes has been long recognized, but its causes and biological significance are still debated [19]. Some copepod species possess a large range in genome size within individuals as a result of excision of large amounts of DNA from the presomatic cell lineage during development [20]. The streamlined somatic genomes and dramatically augmented germline genomes observed in such species may provide a useful study system for understanding genome organization and mechanisms for altering genome size.
The monophyly of some orders is doubted, and the number of orders is defined to be between eight and eleven [21]. Thus, it is difficult to confidently choose orders whose phylogenetic position is near the root of the copepod lineage when constructing phylogenetic hypotheses across the major arthropodan lineages. Phylogenetic studies are increasingly employing large data sets of nuclear protein or transcript sequences [22, 23], to resolve relationships among major arthropodan and ecdysozoan lineages, but to date have not elucidated the phylogenetic position of copepods [22]. Improved resolution of relationships in the future may require the use of phylogenomic approaches that compare large portions of genome or transcriptome sequences. For these reasons it seems necessary to make investments in the provision of large scale genomic resources for several taxa, and the choice of these taxa should be informed by their phylogenetic position relative to other copepods.
Genomic studies of copepods are relevant to many areas of fundamental and applied research. In particular, knowledge of the mechanisms underlying host-parasite relationships and features such as drug resistance can help to increase the sustainability of wild and cultured fisheries through development of improved chemotherapeutants, vaccines, and integrated pest management strategies. Historically, much of the fundamental research on plankton composition, population dynamics and response to environmental factors was driven largely by the need to characterize the impact of plankton on fisheries. Until recently such work was undertaken in the absence of molecular tools, however, genomic technologies are now providing new kinds of information as well as substantially decreasing the time interval between sample collection and analysis.
Aspects of symbiosis and parasitism, biological invasion, diapause, and genome size and reorganization deserve special mention in the context of copepod genomics. We discuss these topics below, and provide examples of how genomic tools might be harnessed to study these problems.
Summary
Copepods comprise an extremely abundant, diverse and ecologically significant group, for which few studies have fully exploited the power of genomic technologies. Provision of multiple genomes or large-scale resources for a number of species could provide unparalleled insights into biodiversity and evolution. This single taxon has evolved into a diverse group with multiple convergent instances of the evolution of parasitic associations, a transition from benthic to pelagic life-styles, and invasions into extreme habitats (deep ocean, caverns, polar regions). Even the sequencing of a single copepod genome would provide a basis for evolutionary comparisons, such as resolving relationships among major pan-crustacean taxa. Availability of large scale genomic resources also opens the door to a wide range of other "omics" studies. In addition, such resources will: 1) allow research groups that have limited resources to begin applying molecular methods in their research, 2) greatly extend the number of traits we can study to better understand copepod biology and interactions with their environment, 3) enable researchers to develop tools to address many questions where more traditional methods have limitations, 4) enable development of standardized molecular techniques, providing a measure of uniformity and consistency to the measurement of biological properties of copepods, and 5) attract new researchers from diverse disciplines into the field. Development of copepod genomics resources must be supported by the education of present and future generations of scientists in genomics and bioinformatics, in order to ensure successful exploitation of these tools and resources. Current strategies must anticipate step-changes in approach, as well as providing resources to carry out further types of 'omics' studies on copepods.
Authors' information
James Bron is a marine biologist working in the area of cultured fish health and welfare and has particular expertise in host-parasite interactions between salmonid fish and their copepod parasites. He also has long-standing experience in the application of genomic methods, particularly transcriptomic analysis. He is currently a senior lecturer in the Parasitology Research Laboratory, Institute of Aquaculture, University of Stirling, Scotland.
Dagmar Frisch is an aquatic ecologist with special interest in the ecological genetics and the evolutionary ecology of crustacean zooplankton. She is a postdoctoral researcher at the University of Oklahoma Biological Station, USA.
Erica Goetze's areas of expertise cover the evolution and ecology of marine calanoid copepods, with her current research focused on understanding dispersal and gene flow in marine zooplankton populations. She is an assistant professor at the University of Hawaii at Manoa, Hawaii.
Stewart Johnson's research areas include aquaculture, aquatic animal health and biotechnology/genomics with special interest in the development of genomics resources for key aquaculture species. He is Head of Aquatic Animal Health at Fisheries and Oceans Canada, Pacific Biological Station, Nanaimo, British Columbia.
Carol Lee is an evolutionary geneticist focusing on the quantitative genetics, population genetics, and genomics of invasive populations, including copepods. She is a professor in the Center of Rapid Evolution (CORE) and the Department of Zoology at University of Wisconsin, Madison.
Grace Wyngaard's research focuses on copepod evolution, genome size, chromatin diminution and the phylogenetic relationship of copepods based on molecular and morphological characters. She is a professor in the Department of Biology at James Madison University, Virginia.
Declarations
Acknowledgements
The ideas in this article were generated, in part, through discussions among participants at the Copepod Genomics Workshop (see http://www.monoculus.org/ for white paper) held during the World Association of Copepodologists Conference in Pattaya, Thailand, July 2008. We thank the numerous others who offered ideas and/or made improvements on the manuscript, especially Jeffrey Boore, Geoff Boxshall, Ronald Burton, Rita Colwell, Joana Carneiro Da Silva, Björn Hansen and Petra Lenz. The workshop was funded by the World Association of Copepodologists and NSF grant DEB 0820866 to GAW.
Authors' Affiliations
(1)
Institute of Aquaculture, University of Stirling, Stirling, UK
(2)
University of Oklahoma Biological Station, Kingston, USA
(3)
Department of Oceanography, School of Ocean and Earth Science and Technology, University of Hawaii at Manoa, Honolulu, USA
(4)
Fisheries and Oceans Canada, Pacific Biological Station, Nanaimo, Canada
(5)
Center of Rapid Evolution (CORE), University of Wisconsin, Madison, USA
(6)
Department of Biology, James Madison University, Harrisonburg, USA
Copyright
© Bron et al; licensee BioMed Central Ltd. 2011
This article is published under license to BioMed Central Ltd. This is an Open Access article distributed under the terms of the Creative Commons Attribution License (http://creativecommons.org/licenses/by/2.0), which permits unrestricted use, distribution, and reproduction in any medium, provided the original work is properly cited.