Tiny but complex - interactive 3D visualization of the interstitial acochlidian gastropod Pseudunela cornuta (Challis, 1970)
Frontiers in Zoology
2009
6:20
Received: 12 March 2009
Accepted: 11 September 2009
Published: 11 September 2009
Abstract
Background
Mesopsammic acochlidians are small, and organ complexity may be strongly reduced (regressive evolution by progenesis), especially in microhedylacean species. The marine interstitial hedylopsacean Pseudunela cornuta (Challis, 1970), however, was suggested as having a complex reproductive system resembling that of much larger, limnic and benthic species. The present study aims to reconstruct the detailed anatomy and true complexity of P. cornuta from serial, semithin histological sections by using modern computer-based 3D visualization with Amira software, and to explain it in an evolutionary context.
Results
Our results demonstrate considerable discordance with the original species description, which was based solely on paraffin sections. Here, we show that the nervous system of P. cornuta has paired rhinophoral, optic and gastro-oesophageal ganglia, three distinct ganglia on the visceral nerve cord, and a putative osphradial ganglion, while anterior accessory ganglia are absent. The presence of an anal genital cloaca is clearly rejected and the anus, nephropore and gonopore open separately to the exterior; the circulatory and excretory systems are well-differentiated, including a two-chambered heart and a complex kidney with a long, looped nephroduct; the special androdiaulic reproductive system shows two allosperm receptacles, three nidamental glands, a cavity with unknown function, as well as highly complex anterior copulatory organs with two separate glandular and impregnatory systems including a penial stylet that measures approximately a third of the whole length of the preserved specimen.
Conclusion
In spite of its small body size, the interstitial hermaphroditic P. cornuta shows high complexity regarding all major organ systems; the excretory system is as differentiated as in species of the sister clade, the limnic and much larger Acochlidiidae, and the reproductive system is by far the most elaborated one ever observed in a mesopsammic gastropod, though functionally not yet fully understood. Such organ complexity as shown herein by interactive 3D visualization is not plesiomorphically maintained from a larger, benthic ancestor, but newly evolved within small marine hedylopsacean ancestors of P. cornuta. The common picture of general organ regression within mesopsammic acochlidians thus is valid for microhedylacean species only.
Keywords
Cerebral Ganglion
Copulatory Organ
Sperm Transfer
Pedal Ganglion
Nidamental Gland
Background
The meiofauna of marine sands includes species of nearly all taxa of invertebrates, many of which show regressive characteristics in their anatomy or specialized features in their organ systems [1]. Compared to their supposed basal opisthobranch relatives [2, 3], mesopsammic acochlidian sea slugs display many of such reductions, e.g., they have a small and worm-like body, lack a shell, are unpigmented, cephalic tentacles and eyes are reduced in several lineages, many species are aphallic, and in general, the reproductive, excretory and circulatory systems have a very simple organization. Due to such reductions, which are especially pronounced in one subclade, the Microhedylacea, the Acochlidia were hypothesized to have undergone "regressive evolution" [4], as a result of progenesis [5]. However, several recent studies [6, 7] show that original, macroscopic or paraffin-based histological descriptions of small acochlidian species could hardly give a reliable picture even of simple organs. In contrast, computer-based 3D-reconstruction of serial semithin histological slices is highly efficient to obtain detailed and reliable knowledge even on tiny and complex structures, such as the considerably differentiated acochlidian central nervous system [8–10].
Species of the second acochlidian subclade, the Hedylopsacea, may show fewer tendencies for reductions; in contrast to the microhedylaceans, the circulatory and excretory systems, and reproductive and copulatory organs may be highly complex and are derived especially in members of the Acochlidiidae s.l., a clade of larger-sized, benthic, limnic members [3]. According to a phylogenetic analysis [3], the genus Pseudunela is the sistergroup to such derived acochlidians, despite species of Pseudunela being small, marine, interstitial forms. Only two Pseudunela species are known, P. eirene Wawra, 1988 [11] and P. cornuta[12]. The description of P. eirene is brief and based on a single specimen with ganglia of the nervous system and stylets of copulatory organs studied on a whole-mount by light microscopy only. No histological sections were made, and the radula was studied light-microscopically after dissolving the soft parts and stylets. Information on other organ systems is absent, and no further specimens are available for study. In contrast, the original description of P. cornuta, the type species, is based on paraffin sections, and quite detailed data about the central nervous and the digestive systems is included. However, information about the excretory system is fragmentary and improper, and data about the reproductive system is confusing. Well-preserved specimens of P. cornuta were made available for detailed 3D-reconstruction. The present study thus explores the complex anatomy and potential role of a member of the stemgroup of a radiation that accounted for major evolutionary changes, i.e. a habitat switch to freshwater systems and an evolution towards highly complex copulatory systems that culminated in a giant, trap-like "rapto-penis".
Methods
Sampling and specimen preparation
During an expedition to Guadalcanal, Solomon Islands in October 2007, two specimens of Pseudunela cornuta were collected at the beach of Komimbo Bay near Tambea Village (09°15.843'S, 159°40.097'E). They were extracted from sand samples (fine sand of the lower intertidal) according to Schrödl [13] and relaxed using 7% MgCl2 solution. Both specimens were preserved in 75% ethanol.
Later in the laboratory, the visceral sac of one specimen was removed for further molecular analysis. The remaining anterior body and the other entire specimen were decalcified with Bouin's solution overnight. For better visibility of the translucent specimens and an appropriate orientation during the embedding procedure, the material was stained with Safranin (0.5% Safranin in 80% ethanol) for a few minutes and rinsed with 80% ethanol. Finally, the two specimens (in one case only anterior part) were dehydrated in a graded series of acetone in distilled water (80, 90 and 100%) and embedded in Spurr's low viscosity resin [14]. Two series of ribboned serial semithin sections of 1.5 μm thickness were prepared using a diamond knife (Histo Jumbo, Diatome, Biel, Switzerland) and contact cement at the lower cutting edge [15], and finally stained with methylene blue-azure II according to Richardson et al.[16]. The sections were deposited at the Zoologische Staatssammlung München, Mollusca Section (entire specimen: ZSM N° 20071911 and anterior body: ZSM N° 20071809).
3D reconstruction
Digital photographs of every slice (420 images in total) were taken with a CCD microscope camera (Spot Insight, Diagnostic Instruments, Sterling Heights, USA) mounted on a DMB-RBE microscope (Leica Microsystems, Wetzlar, Germany). The image resolution was reduced to 1120 × 840 pixels (resulting pixel size: 0.8 μm) and images were contrast enhanced, unsharp masked and converted to 8bit greyscale format with standard image editing software. A detailed computer-based 3D-reconstruction of all major organ systems was conducted with the software AMIRA 4.1 and 5.2 (TGS Europe, Mercury Computer Systems, Merignac Cedex, France) following basically the procedure explained by Ruthensteiner [
15
]. The interactive 3D model for the electronic 3D PDF version were prepared using the 3D tools of Adobe Acrobat Professional Extended 9.0 (Adobe Systems Incorporated) according to Ruthensteiner & Heß [
17
]. The 3D model (accessible by clicking onto Fig.
1
in the 3D PDF version of this article; see also additional files
1
and
2
) permits standard operations as zoom and rotation, the selection of the reconstructed structures and switching between prefabricated views.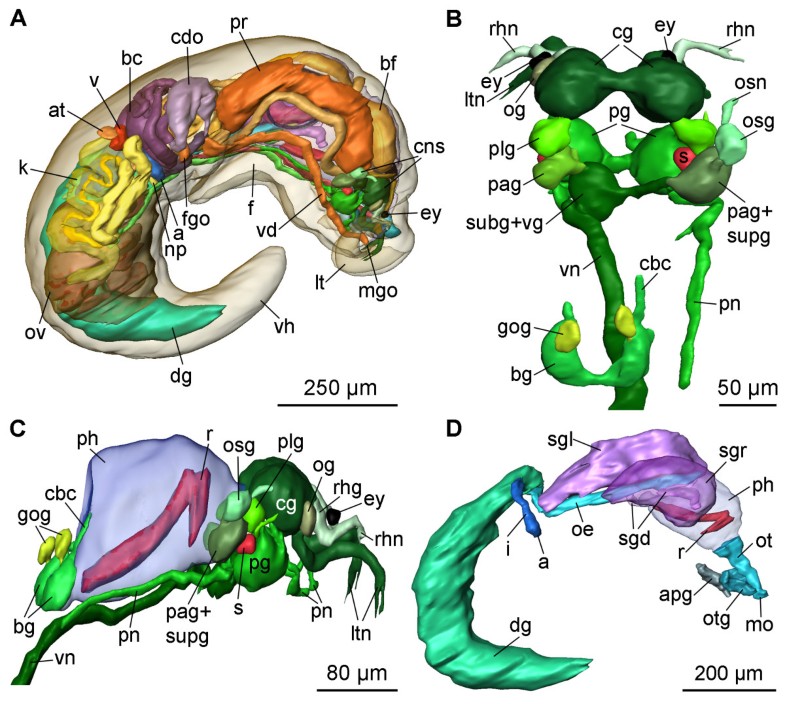 Original material and neotype
According to Challis [12], the holotype of Pseudunela cornuta, 20 paratypes and a slide with the radula of a further paratype were deposited in The Natural History Museum, London; furthermore, 10 paratypes and a slide with another radula were deposited in the Museum of New Zealand Te Papa Tongarewa, Wellington; the remaining paratypes and the sectioned material were stored in the private collection. We contacted both museums above mentioned - there is no trace of the material or any evidence that it ever arrived there. Obviously, no type material of P. cornuta was ever deposited in any public institution.
We consider our recently collected specimens as the species Pseudunela cornuta described by Challis [12] due to 1) the same collecting site as part of the material that was used for the original description, 2) the undoubted placement into the genus Pseudunela and 3) the same external morphology as described by Challis [12]. The section series ZSM N° 20071911 is designed herein as neotype due to the apparent non-existence of the original type material, and to avoid taxonomic confusion with congeners and a number of similar but still unnamed species found by the authors and mentioned in the literature [18–20].
Results
The following description is based on the entire specimen, which shows mature reproductive organs.
External morphology
Pseudunela cornuta
shows an anterior head-foot complex and a posterior elongated visceral hump (vh) (Figs.
1A
;
2
) in which the animal can partly retract when disturbed. The paired labial tentacles (lt) (Figs.
1A
;
2
) are broad at the base, tapering to the end and usually held at 45°-90° to the longitudinal axis of the specimen. The paired rhinophores (rh) (Fig.
2
) are tapered and usually point forward like horns in crawling animals. Eyes (ey) are present (Fig.
1A-C
), but not visible externally. The densely ciliated foot (f) is as broad as the anterior head-foot complex and extends about one third of the visceral hump in the crawling animal. The free end of the foot is pointed (Fig.
2
).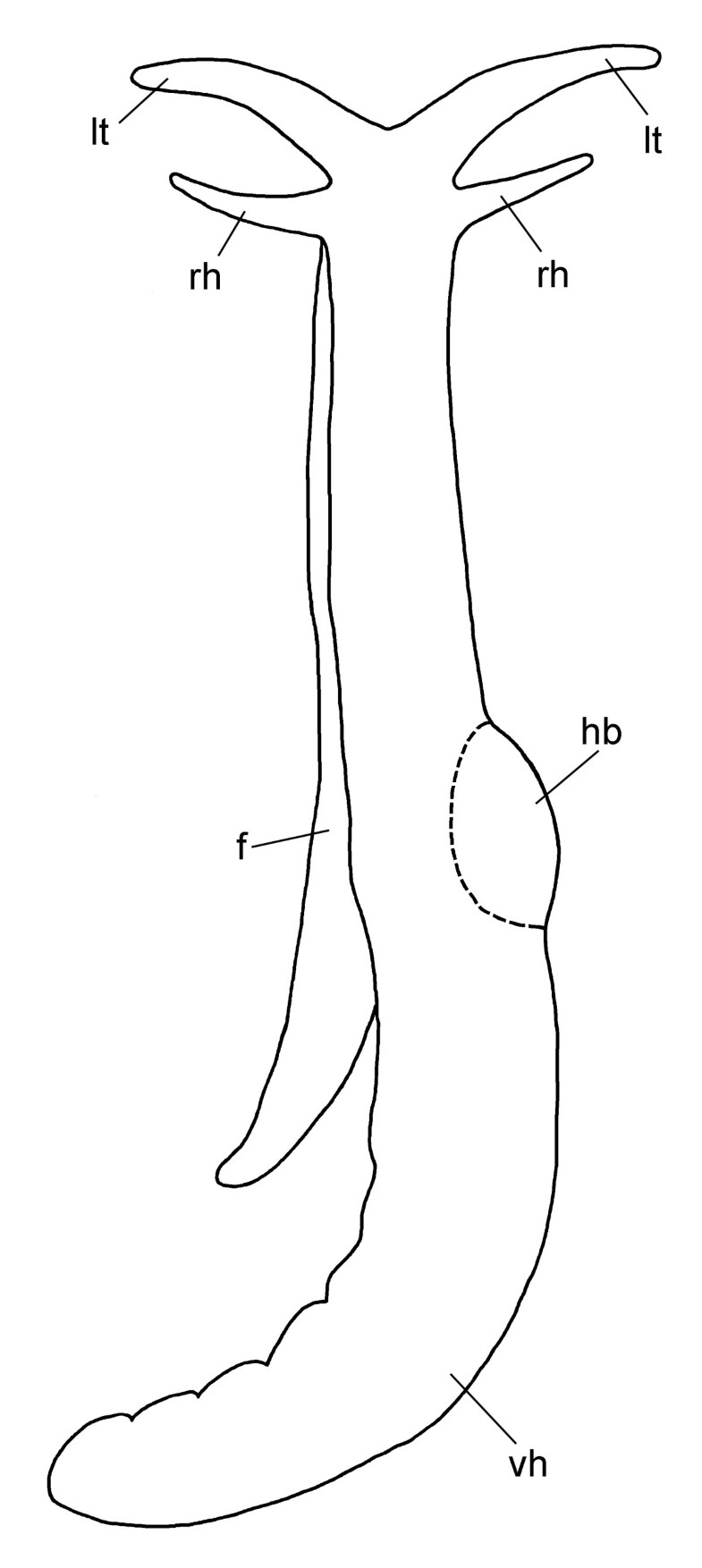 The body size of living specimens is about 3 mm and the body colour is whitish translucent. In the anterior part of the visceral hump the heart bulb (hb) (Fig. 2) is visible externally on the right body side. A few elongate, subepidermal spicules of up to 40 μm in length can be found in the posterior part of the visceral hump.
Discussion
External morphology
The body of Pseudunela cornuta is divided into an anterior head-foot complex and the elongated visceral hump, as characteristic for Acochlidia [3]. The digitiform shape and the position of the cephalic tentacles identify this species as belonging to the genus Pseudunela, according to Salvini-Plawen [26], Rankin [27] and Wawra [28]. Our results of the external morphology match with the original description of Challis [12], except for the presence of subepidermal spicules in living specimens. Most probably Challis overlooked the sparsely arranged spicules in the visceral hump of P. cornuta or they were already dissolved in preserved specimens.
Conclusion
Although miniaturization and reductions of organs are characteristic for many interstitial acochlidian species [4], P. cornuta shows a complex and complete set of organ systems in spite of the small body size. Remarkable is the high complexity of reproductive organs that resembles that of species of the much larger, limnic Acochlidiidae, and especially the genus Strubellia. Unexpectedly, the elaborated excretory system of the marine P. cornuta also resembles that of limnic hedylopsacean acochlidians, such as Tantulum and Acochlidiidae; the looped kidney and nephroduct are interpreted as evolutionary preadaptations that contributed to successful invasions of limnic systems within the otherwise generally marine Opisthobranchia. Structurally, Pseudunela cornuta thus links basal marine with basal and derived limnic clades, reflecting its recently proposed position on the acochlidian tree [3]. Importantly, organ complexity as seen in P. cornuta (regarding excretory and reproductive features, at least) is not plesiomorphically retained from a larger, benthic ancestor, but represents innovations that evolved in small, mesopsammic marine acochlidians. Earlier general statements on regressive, progenetic evolution in acochlidians may be relevant for explaining the origin of Acochlidia or that of microhedylacean lineages; P. cornuta, however, definitely is an example for evolution of a wealth of sophisticated structures within hedylopsaceans, the exact function of some of which, such as the extremely long spiral penial stylet, still cannot be explained.
Challis' achievement of a quite detailed description has to be acknowledged, since it was almost impossible to describe the complexity of the reproductive system of P. cornuta in detail without modern methods. This study once again shows that semithin-histology combined with computer-based 3D reconstruction is highly recommendable for studying the anatomy of micromolluscs, especially for obtaining reliable results that can be used for phylogenetic analyses. An interactive way of publishing 3D models even more impressively demonstrates the complexity of organs in tiny specimens - in the accurate dimensions, positions and relations.
Declarations
Acknowledgements
The Natural History Museum, London and the Museum of New Zealand Te Papa Tongarewa, Wellington, provided valuable information about the original material. Katharina Jörger (ZSM) is kindly thanked for collecting the specimens. 3D reconstruction was supported by the GeoBioCenter/LMU München. This study was financed by a grant of the German Research Foundation (DFG SCHR 667/4 to MS). We express thanks to Rick Hochberg (Univ. of Massachussets, USA) and two anonymous reviewers for valuable comments on the manuscript.
Authors' Affiliations
(1)
Zoologische Staatssammlung München, München, Germany
(2)
Department Biology I, Ludwig-Maximilians-Universität München, Planegg-Martinsried, Germany
Copyright
© Neusser et al; licensee BioMed Central Ltd. 2009
This article is published under license to BioMed Central Ltd. This is an Open Access article distributed under the terms of the Creative Commons Attribution License (http://creativecommons.org/licenses/by/2.0), which permits unrestricted use, distribution, and reproduction in any medium, provided the original work is properly cited.