Genomic and gene regulatory signatures of cryptozoic adaptation: Loss of blue sensitive photoreceptors through expansion of long wavelength-opsin expression in the red flour beetle Tribolium castaneum
Frontiers in Zoology
2007
4:24
Received: 19 September 2007
Accepted: 21 December 2007
Published: 21 December 2007
Abstract
Background
Recent genome sequence analysis in the red flour beetle Tribolium castaneum indicated that this highly crepuscular animal encodes only two single opsin paralogs: a UV-opsin and a long wavelength (LW)-opsin; however, these animals do not encode a blue (B)-opsin as most other insects. Here, we studied the spatial regulation of the Tribolium single LW- and UV-opsin gene paralogs in comparison to that of the five opsin paralogs in the retina of Drosophila melanogaster.
Results
In situ hybridization analysis reveals that the Tribolium retina, in contrast with other insect retinas, constitutes a homogenous field of ommatidia that have seven LW-opsin expressing photoreceptors and one UV-/LW-opsin co-expressing photoreceptor per eye unit. This pattern is consistent with the loss of photoreceptors sensitive to blue wavelengths. It also identifies Tribolium as the first example of a species in insects that co-expresses two different opsins across the entire retina in violation of the widely observed "one receptor rule" of sensory cells.
Conclusion
Broader studies of opsin evolution in darkling beetles and other coleopteran groups have the potential to pinpoint the permissive and adaptive forces that played a role in the evolution of vision in Tribolium castaneum.
Keywords
Opsin Gene
Opsin Expression
Darkling Beetle
Maleic Acid Buffer
Primary Pigment Cell
Introduction
Photon absorption by visual pigments is the primary event in the conversion of light to a neuronal signal in animal photoreceptor cells [
1
]. Visual pigments or rhodopsins form by an association of retinal-based chromophores with a special class of G-protein-coupled seven transmembrane receptor proteins (GPCRs). These GPCRs are encoded by a diverse group of opsin gene family paralogs. Most insects encode members of three different opsin subfamilies. Ultraviolet (UV) and blue (B) opsins correlate with maximal photoreceptor sensitivities in the 300–400 and 400–500 nm ranges respectively. Long wavelength (LW) opsin-expressing photoreceptors show sensitivities that range between 480 and 600 nm [
2
–
4
]. The differential expression of these diverged opsin paralogs in the photoreceptors of individual eye units (ommatidia) within the compound eye is a structural prerequisite for color discrimination by insects. Moreover, differential opsin expression can correlate with cellular specialization in color and brightness detection in insects. In
Drosophila
, brightness is measured from the input of six peripheral LW-opsin expressing photoreceptors (R1–R6), which project into the first optic neuropil, the lamina. Color vision is facilitated by the central photoreceptors R7 and R8 that express one of the UV-, B-, or LW-opsins and have long axonal projections that synapse into the second optic neuropil, the medulla (Fig.
1
) (for review see [
4
–
6
]).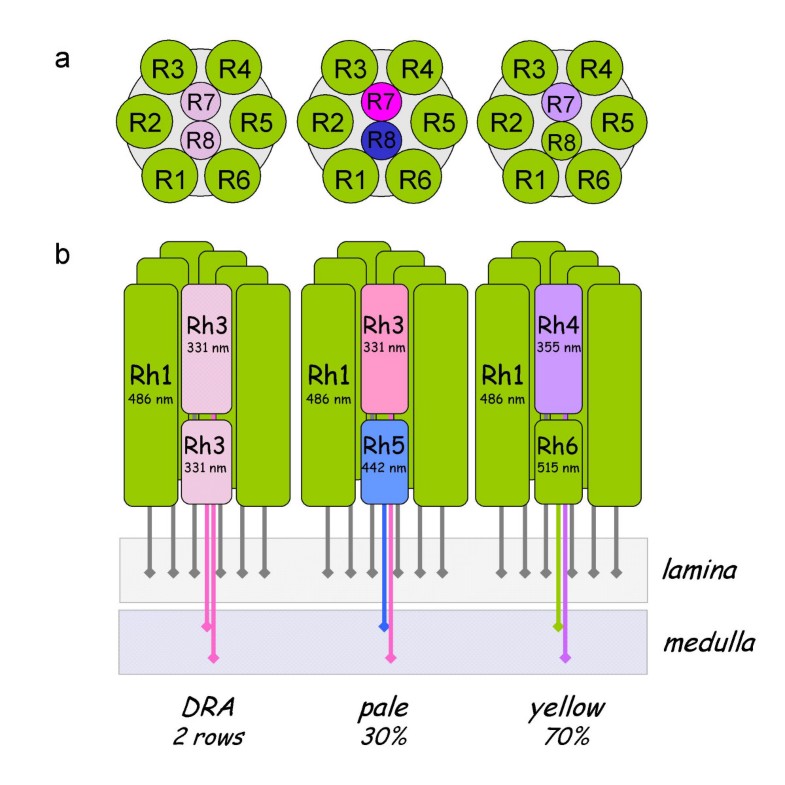 The existence of UV-, B- and LW-sensitive photoreceptors in primitive insects implies that trichromatic vision is ancient and highly conserved [2]. Consistent with this, recent genome sequencing projects identified UV-, B- and LW-opsin gene family paralogs in diverse endopterygote insects including silkmoth, mosquito and honeybee [7]. Remarkably, only two opsin gene orthologs representing members of the LW- and UV-opsin groups were detected in the genome of the red flour beetle Tribolium castaneum, suggesting the loss of B-opsin during the evolution of this species [7, 8] (Bao, Friedrich, in preparation). Like darkling beetles (Tenebrionidae) in general, the stored grain pest Tribolium castaneum is highly secretive and avoids broad daylight: all postembryonic life cycle stages hide in tunnels driven through the food substrate [9, 10]. The dramatic increase of chemoreceptor genes, compared to diurnal species like honeybee and Drosophila, suggests a strong adaptive effect of Tribolium's cryptozoic ecology on its genome and neurobiology [8]. Thus, it is conceivable that a relaxation of color discrimination requirements allowed for the loss of B-opsin in Tribolium. However, there are also examples of trichromatic dark active insect species like the tobacco hornworm moth Manduca sexta [11].
The highly regulated spatial expression of opsin paralogs in Drosophila (Fig. 1) and other endopterygote species allows specific predictions regarding the expression of the remaining two opsin paralogs in Tribolium if B-opsin is missing [5, 12]. That is, in the absence of B-opsin, the ancestral B-opsin expression niche in a fraction of the central R7 and R8 cells should be replenished by either UV- or LW-expression. By examining the expression patterns of the identified LW- and UV-opsin genes in the Tribolium retina, we sought to answer if the spatial regulation of these genes was consistent with a loss of B-opsin, and if so, which specific changes in the regulation of either LW- or UV-opsin expression would be associated with it.
Results
Each
Tribolium
ommatidium contains eight photoreceptors, each of which is unambiguously related to one of the photoreceptor subtypes R1–R8 of
Drosophila
by position, rhabdomere structure and ontogenetic origin [
13
]. We therefore compared the spatial distribution of
Drosophila
UV- and LW-opsins detected by immunohistochemistry with
Tribolium
UV- and LW-opsin as detected by
in situ
hybridization (Fig.
2
and data not shown).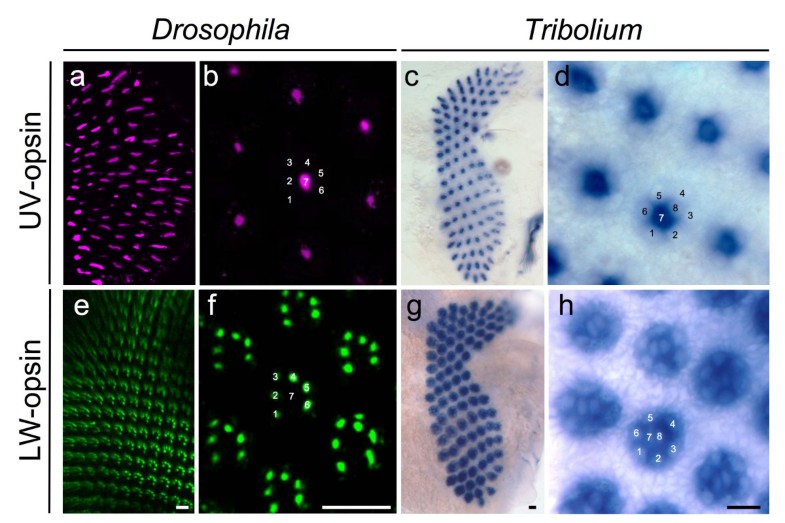 Spatial regulation of the expression of the Tribolium UV opsin gene
We first investigated the expression of Tribolium UV-opsin. To generate a Tribolium UV-opsin RNA probe for whole mount in situ hybridization, we cloned a 502 bp fragment of the predicted Tribolium UV-opsin gene. In Drosophila, the UV-opsin paralogs Rh3 and Rh4 are stochastically distributed in non-overlapping patterns in all central R7 photoreceptor cells (Fig. 1, Fig 2a and 2b) [14, 15]. Similarly, in situ hybridization experiments with an RNA antisense probe against Tribolium UV-opsin in mature pupal and early adult retina detected strong expression in a single photoreceptor cell per ommatidia throughout the entire retinal field (Fig. 2d). Differential interference contrast microscopy at high magnification confirmed that the Tribolium UV-opsin paralog was selectively expressed in all R7-type cells (Fig. 2e). The comparison with Drosophila thus revealed that Tribolium UV-opsin is expressed in a conserved R7-specific manner.
Spatial regulation of the expression of Tribolium LW-opsin gene
Next we investigated the expression of Tribolium LW-opsin. In Drosophila, the peripheral photoreceptors R1-6 express the LW-opsin paralog Rh1 (Fig. 2e and 2f), and 70% of central R8 cells express the LW-opsin Rh6 [16]. The remaining 30% of R8 cells express the Drosophila B-opsin paralog Rh5 [17, 18]. For whole mount in situ hybridization in Tribolium, we cloned a 972 bp long RT-PCR fragment that includes the entire predicted Tribolium LW-opsin ORF from head specific Tribolium total RNA. Analysis of the expression of the single Tribolium LW-opsin gene revealed uniform transcription in all photoreceptors of the retina (Fig. 2g). Importantly, expression was not only detected in the peripheral photoreceptors, but also in all central R7 and R8 photoreceptors (Fig. 2h). This finding reveals a strongly expanded expression domain of LW-opsin compared to Drosophila, and indicates that R7 cells in Tribolium co-express the LW and UV-opsin-encoding genes.
Like in most insects, ommatidia in the dorsal rim area (DRA) of the Drosophila compound eye exhibit modifications for the detection of polarized light including expression of UV-opsin in both R7 and R8 [19, 20]. However, no evidence of regional heterogeneity of opsin expression could be detected in the dorsal region of the Tribolium retina (Fig. 2c and 2g), consistent with the lack of morphological evidence of DR ommatidia in this species [13].
Discussion
Taken together, the new expression data described here reveal a number of unique aspects of the Tribolium compound eye retina: (1) lack of B-opsin encoding photoreceptors, (2) homogeneous expression of a single LW-opsin across the entire retina, and (3) co-expression of UV- and LW-opsin in all R7 cells. These findings generate questions regarding the evolutionary mechanisms, forces and pathways that gave rise to the exceptional Tribolium retinal mosaic.
Conclusion
With many questions awaiting to be addressed, it seems clear that the first look into the retinal mosaic of a cryptozoic coleopteran marks just the entry point for studying the dark side of insect vision. Besides serving as a model for development and pest biology, which provided the rationale for genome sequencing [45], Tribolium also holds promise to add illuminating data to the classic debate over the mechanisms of reductive phenotype evolution in cryptozoic animals [46].
Methods
Animal stocks
Pearl pBac(3xP3-EGFP)af T. castaneum were reared on 5% yeast supplemented whole wheat flour at 31°C in constant darkness. y 1 w 67 Drosophila melanogaster lines were maintained on standard cornmeal-molasses food at room temperature.
Bioinformatics
The putative coding regions of Tribolium castaneum LW-opsin and UV-opsin were identified by TBLASTX search with the Drosophila Rh1 and Rh3 gene sequences to the Tribolium castaneum Georgia GA2 genome assembly (release 8/17/2005), accessed through the Human Genome Sequencing Center server in the Department of Genetics at Baylor University [47]. Similar searches with the remaining Drosophila opsins, Rh2, Rh4-Rh6, failed to identify additional Tribolium opsin-encoding genes.
Molecular biology
A 502 bp fragment of the predicted Tribolium UV-opsin gene was amplified from Tribolium total genomic DNA by standard PCR using the specific primers 5'-CCCCAAAGACGAACTCATTC-3' and 5'-ATGGTGTACCCCCAAACAAA-3'. This primer combination produces a PCR amplicon that extends from the first putative open reading frame (ORF) containing exon of the Tribolium UV-opsin gene to the second ORF-containing exon bridging a 55 bp intron. 972 bp of the predicted Tribolium LW-opsin ORF were amplified by nested RT-PCR using outer primer pair TcRhR-3F (5'-TCACCGTCGTGGACAAAGTC-3') and TcRhR-3R (5'-TTCTCGTCGGTGGTAACGTTC-3'), and inner primer pair TcRhR-4F (5'-GCCCATTGGTACCAGTTCC-3') and TcRhR-4R (5'-AGCCGTGGAGGTGGTGTC-3'). Total RNA was extracted from adult Tribolium head with the RNAqueous kit (Ambion). The RETROscript kit (Ambion) was used to generate cDNA through reverse transcription initiated with random decamers. The resulting PCR fragments were cloned into pGEM®-T Vector (Promega). Multiple identical sequences were obtained for each paralog. The sequences are accessible under accession numbers [GenBank: DQ029113] and [GenBank: EU164547].
In situ hybridization, immunohistochemistry, and microscopy
95% pupal Drosophila whole-mounted retinas were dissected at room temperature (RT) in PBT (1 × PBS + 0.1% Triton X100, pH 7.2), fixed in PLP (1 × PBS, 4% paraformaldehyde, 0.075 M lysine, 0.01 M sodium periodate, 0.05% saponin) [48], and washed 3 × 10 min with PBT. Retinas were transferred to Signal-iT FX (Invitrogen) for 30 min, RT, before incubation with mouse anti-Rh1 (1:100, DHSB), mouse anti-Rh3 (1:5, gift from S.G. Britt), and rabbit anti-Rh4 (1:250, gift from C.S. Zuker) overnight at 4°C in BNTS (1 × PBT, 1.5 M NaCl, 0.1% BSA, 0.05% saponin). Samples were washed 3 × 20 min with PBT, incubated for 2 hrs at RT with AlexaFluor-488, -555, or -648-conjugated secondary antibodies (1:500, Molecular Probes), and washed thrice again with PBT. Retinas were mounted in Prolong Gold antifade-reagent (Invitrogen), and imaged 24 hr later using an Axioplan IIie equipped with the Zeiss ApoTome deconvolution module. Digital images were processed with Axiovision 4.5 (Zeiss) and AdobePhotoshop 7.0 software.
Whole mount in situ hybridization of Tribolium pupal retinae was carried out following previously published protocols with minor modifications [49, 50]. Digoxygenin-labeled antisense RNA probes were prepared with DIG-UTP RNA Labeling Mix (Roche). Pupal retinas were dissected in ice cold PBS, and fixed in 9.25% formaldehyde, 50 mM EGTA ph8, and 10% Triton X in PBT at RT for 1 h. Tissues were then washed one time in PBS, three times in PBT, and equilibrated for hybridization with a 10 min incubation in 50% PBT+50% Hyb-A-RNA (hybridization buffer A) at RT, and 1 h at 55°C in 100% Hyb-A-RNA (50% formamide, 4 × SSC, 250 μg/ml tRNA, 0.1% Tween-20, 1 × Denhardt's solution, 5% dextran sulfate) with 500 μg/ml freshly denatured herring sperm DNA. Hybridization was carried out for 72 h in Hyb-A-RNA with RNA probe at approximately 0.5 μg/ml concentration at 55°C. Subsequently, pupal retinas were washed 3 × 30 min in Hyb-B-RNA (50% formamide, 4 × SSC, 0.1% Tween-20) at 55°C followed by a 24 hrs final washing step. Next, tissues were equilibrated in 5 × SSC at RT for 5 min and another 5 min in maleic acid buffer (0.1 M maleic acid, 0.15 M NaCl, 0.1% Tween-20). Tissue was blocked for 2 hrs at RT in maleic acid buffer supplemented with Roche in situ blocking buffer at 1:10 dilution (Roche). Anti-DIG antibody (Roche) was added at a 1:5000 dilution and tissues were incubated 2 hrs at RT on a shaker. Following antibody incubation, pupal eye discs were washed 3 × 1 hrs. Tissues were then transferred into detection buffer (0.1 M Tris-HCl pH 9.5, 0.1 M NaCl, 50 mM MgCl2) for 5 min at RT. Color detection was initiated by adding 4.5 μl NBT (50 mg/ml) and 3.5 μl BCIP (50 mg/ml) as substrate. Color reactions were developed for 1 to 2 hrs and stopped by replacing staining buffer with PBT. Labeled retinas were washed with EtOH, rehydrated, and cleared in 70% glycerol in PBS before mounting. DIC brightfield images were recorded through a Zeiss Axioscop coupled to a SPORT RT camera (Diagnostic Instruments). Contrast and brightness were adjusted in Photoshop CS3.
Declarations
Acknowledgements
We are grateful to Elke K. Buschbeck, and Karen L. Myhr for valuable comments on the manuscript, to Charles S. Zuker, Steve G. Britt, and the Developmental Studies Hybridoma Bank developed under the auspices of the NICHD and maintained by the University of Iowa for antibodies, Dick W. Beeman for sharing ortholog search results with unpublished EST data, and two anonymous reviewers for thorough and helpful comments. TAC was supported by Cincinnati Children's Hospital Medical Center, Research Preventing Blindness and the E. Matilda Ziegler Foundation for the Blind, and ECM was supported by Ohio Preventing Blindness and NIH T32 HD046387.
Authors' Affiliations
(1)
Department of Biological Sciences, Wayne State University, Detroit, USA
(2)
Department of Molecular Biology and Pharmacology, Washington University in St Louis School of Medicine, Louis, USA
(3)
Division of Developmental Biology and Department of Pediatric Ophthalmology, Cincinnati Children's Hospital Medical Center, Cincinnati, USA
(4)
Department of Anatomy and Cell Biology, Wayne State University School of Medicine, Detroit, USA
Copyright
© Jackowska et al; licensee BioMed Central Ltd. 2007
This article is published under license to BioMed Central Ltd. This is an Open Access article distributed under the terms of the Creative Commons Attribution License (http://creativecommons.org/licenses/by/2.0), which permits unrestricted use, distribution, and reproduction in any medium, provided the original work is properly cited.