A novel and ancient group of type I keratins with members in bichir, sturgeon and gar
Frontiers in Zoology
2007
4:16
Received: 22 December 2006
Accepted: 06 June 2007
Published: 06 June 2007
Abstract
1. Background
Vertebrate epithelial cells typically express a specific set of keratins. In teleosts, keratins are also present in a variety of mesenchymal cells, which usually express vimentin. Significantly, our previous studies revealed that virtually all known teleost keratins evolved independently from those present in terrestrial vertebrates. To further elucidate the evolutionary scenario that led to the large variety of keratins and their complex expression patterns in present day teleosts, we have investigated their presence in bichir, sturgeon and gar.
2. Results
We have discovered a novel group of type I keratins with members in all three of these ancient ray-finned fish, but apparently no counterparts are present in any other vertebrate class so far investigated, including the modern teleost fish. From sturgeon and gar we sequenced one and from bichir two members of this novel keratin group. By complementary keratin blot-binding assays and peptide mass fingerprinting using MALDI-TOF mass spectrometry, in sturgeon we were able to assign the sequence to a prominent protein spot, present exclusively in a two-dimensionally separated cytoskeletal preparation of skin, thus identifying it as an epidermally expressed type I keratin. In contrast to the other keratins we have so far sequenced from bichir, sturgeon and gar, these new sequences occupy a rather basal position within the phylogenetic tree of type I keratins, in a close vicinity to the keratins we previously cloned from river lamprey.
3. Conclusion
Thus, this new K14 group seem to belong to a very ancient keratin branch, whose functional role has still to be further elucidated. Furthermore, the exclusive presence of this keratin group in bichir, sturgeon and gar points to the close phylogenetic relationship of these ray- finned fish, an issue still under debate among taxonomists.
Keywords
Intermediate FilamentNeighbor JoinPeptide Mass FingerprintingAncient GroupKeratin Gene
Background
In vertebrates the cytoskeleton of epithelial cell types is typically reinforced by a specific set of type I and type II keratins that assemble into 10 nm thick filaments formed from typeI/II heterodimers. The keratins are members of the large multigene family of intermediate filament proteins (IFproteins) of which they form by far the most complex group. In human, 53 of the hitherto nearly 70 identified IF protein genes code for keratins [1–4] that are expressed in tissue and developmental specific patterns. Without including human hair and nail forming keratins, the number of keratin genes found in teleost fish is comparably high, but in contrast to human and other tetrapods, teleost fish possess a large excess of type I keratin genes [5–7]. By analysing the molecular evolution of keratins, as well as the evolution of their expression patterns in lower vertebrates, we want to further elucidate the scenario and probable evolutionary forces that led to this extraordinary variety of keratins in vertebrates.
Our investigations of the keratin systems in lamprey, shark, trout, zebrafish, carp, goldfish and lungfish have so far revealed that type I and type II keratins are apparently present in all classes of vertebrates and that the various keratins can generally be subdivided into the "E" keratins, expressed in epidermal keratinocytes and other stratified epithelia, and those appearing in cells forming simple epithelia, thus named "S" keratins [8–19]. Nevertheless, our data based on cDNA sequence analysis, followed by thorough phylogenetic analyses [13–18] as well as the studies based on the recently available genome data from man and teleost fish [1, 2, 5–7], strongly support the view of largely independent origins of the keratin genes found in fish and man. According to our present data, solely the typical "S" keratin pair K8 and K18 can at least be found in all gnathostomian vertebrate groups, indicating the unique and general importance of these "ancient" keratins. In contrast to other vertebrates investigated so far, in modern teleost fish keratins, including K8 and K18, in addition to their typical IF epithelial appearance show a widespread IF occurrence in mesenchymally derived cells and tissues, such as fibroblasts, chondrocytes and blood vessel endothelia (for review see [11]). The latter in the non-teleost vertebrates usually do not express keratins but the type III IF protein vimentin [20–26]. To further trace the origin of the different "E" and "S" keratins as well as the evolution of the mesenchymal keratin expression in teleosts, we have investigated the keratin systems in a bichir, a sturgeon and a gar that are believed to represent the most ancient groups of the extant ray-finned fish. In the course of these studies, from all three species we obtained sequences that apparently belong to a novel branch of type I keratins, without counterparts in any other vertebrate group investigated so far, including the teleost fish. Here we present and discuss their sequences as well as their phylogenetically relationships to the other members of the type I keratin subfamily, which may also provide clues to the early evolution of ray-finned fish. The latter is still strongly debated among taxonomists, whether on the basis of molecular or morphological data (for an overview see [27]).
Results and discussion
Novel type I keratin sequences from bichir, sturgeon and gar
Only recently we have discovered that a rather ancient and distant group of keratin-related sequences, the extracellularly secreted thread keratins TKα and TKγ, are not only present in hagfish (the assumedly most ancient vertebrate group), but also in lamprey, teleosts and amphibians. This provided major clues relating to keratin evolution in vertebrates, but also pointed to a more general role of this previously considered highly specific IF protein group in vertebrates [
28
]. By combination of RT-PCR experiments and cDNA library screening (for details see Methods), from sturgeon and gar we have now isolated one and from bichir two cDNA sequences that, according to our phylogenetic analysis, code for members of another novel keratin group (Fig.
1
, Table
1
). The 1858 bp long cDNA clone we isolated from the sturgeon cDNA library (
abak14
; [EMBL: AJ493259]) contains the complete coding sequence for a type I keratin of 46759Da (431 amino acids) and a calculated pI of 5.1, which we now term AbaK14 (from
A
cipenser
ba
eri
k
eratin). However, the corresponding sequences we have so far obtained from bichir and gar are still incomplete. A 1369 bp long clone (
pseK14a
; [EMBL: AM419452]) isolated from the bichir cDNA library encodes a type I keratin that we term PseK14a (
P
olypterus
se
negalus
k
eratin). It still lacks a portion of its head encoding sequence in addition to its 5' UTR. By RT-PCR using degenerate primers, from bichir we additionally recovered a 908 bp long cDNA sequence (
pseK14b
; [EMBL: AM419453]), comprising almost the complete rod encoding segment of a second K14 counterpart in this species (PseK14b). In addition, we found five further incomplete cDNA clones that apparently encode different variants of PseK14a (not shown here). The latter only slightly vary in DNA sequence, from 0.1 – 3.1% (amino acid variance of 0.4 – 4.9%). In a similar way we were also able to amplify a cDNA fragment encoding the rod domain of a K14 counterpart in gar, which we term LocK14 (from
L
episosteus
oc
ulatus
k
eratin). By RACE-PCR we additionally recovered its tail encoding sequence and 3' UTR. Its assembled sequence (
lock14
; [EMBL: AM419454]) overall comprises 1207 bp, but still lacks the complete head encoding segment in addition to the section coding for the first seven residues of the rod domain.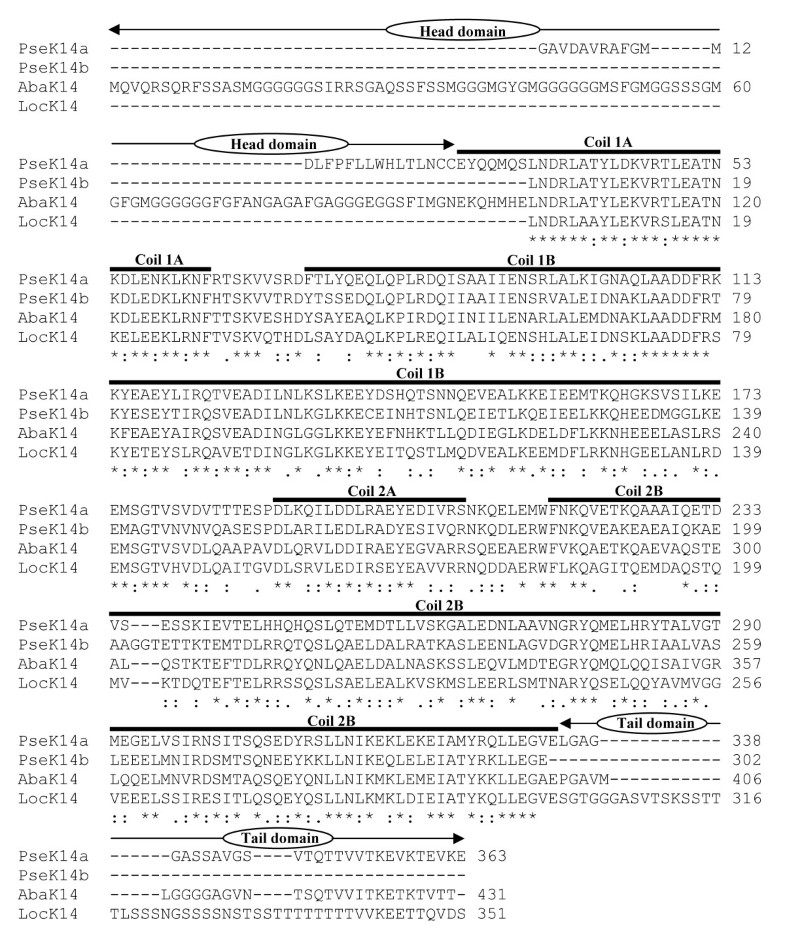 Table 1
Properties of the isolated cDNA clones encoding K14 from bichir, sturgeon and gar.
| cDNA clone | Keratin | EMBL accession number | Size of cDNA (bp) | Number of encoded amino acids | Mr (Da) | pI |
| --- | --- | --- | --- | --- | --- | --- |
| abaK14 | AbaK14 | AJ493259 | 1858 | 431 | 467594) | 5.14) |
| pseK14a | PseK14a | AM419452 | 1369 | 3631) | - | - |
| pseK14b | PseK14b | AM419453 | 908 | 3022) | - | - |
| locK14 | LocK14 | AM419454 | 1207 | 3513) | - | - |
Subsequent mining of the available genome and EST databases for K14 counterparts in other vertebrates such as teleosts, amphibians, birds and mammals, so far has not yet yielded any matches, suggesting that this keratin group may only be present in the ancient groups of ray- finned fish. We only found two matches encoding K14 of another sturgeon, notably Acipenser transmontanus (white sturgeon; [EMBL: DR975435, DR975694]), which both stem from a skin-derived cDNA library.
Biochemical identification of K14 in sturgeon
To analyse the general set of keratins expressed in sturgeon, we extracted the cytoskeletal proteins from different tissues, including skin, liver, intestine, stomach and gill, separated them by 2D-PAGE and subsequently analysed the patterns by CKBB assays and immunoblotting (results for skin, stomach and intestine are shown in Fig.
2
). The major spots were additionally analysed by peptide mass fingerprinting (PMF) to reveal similarities between identified keratin spots and to assign them to the sequences we obtained from the sturgeon by cDNA library screening. In the course of these investigations we were clearly able to assign a single protein spot to the amino acid sequence derived from the cloned
abak14
cDNA sequence. The matching spot was solely found as a major component in the cytoskeletal preparation of skin (Fig.
2a
), in which it was firmly identified as a type I keratin in the CKBB assay (Fig.
2a
"). It showed a positive reaction with the anti-trout-keratin antiserum GPpoly (data not shown), which we previously introduced as a general keratin marker in fish [
8
,
10
–
15
,
19
]. The two-dimensional position of this protein spot fits the theoretical values calculated from the sequence of AbaK14 (see above and Table
1
). Peptide mass fingerprint (PMF) analysis of this protein yielded 29 matching peptide masses for AbaK14, of which 26 were specific for AbaK14 in comparison to the other six type I keratins we so far sequenced from sturgeon. Overall amino acid sequence coverage for AbaK14 was 61%.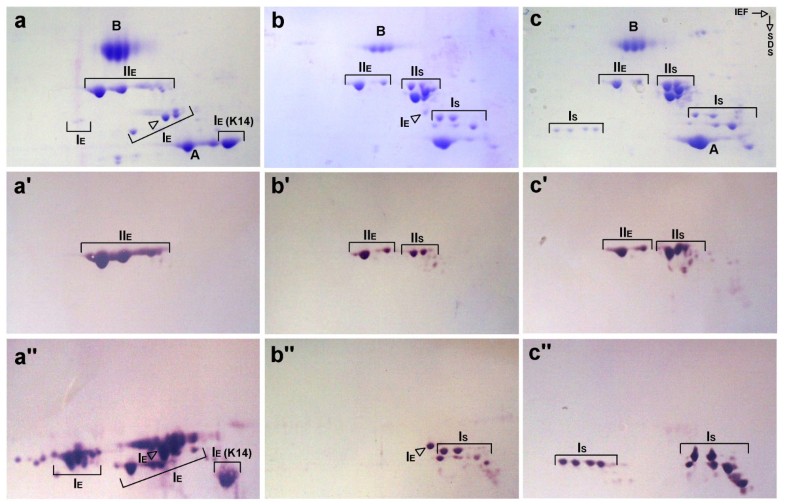 Molecular evolution of keratins – the ancient origin of K14
To infer the phylogenetic relationships of the novel K14 group to the other currently known type I keratins, by different methods we thoroughly analysed a comprehensive data set of 118 polypeptides, including the type I keratins from lancelet, lamprey, shark, bichir, sturgeon, gar, zebrafish, trout,
Xenopus
, lungfish and man (for further details see Methods; the available accession numbers of the employed sequences are listed in Fig.
3
). Most of the fish sequences stem from our own data, notably those from lamprey, shark, bichir, sturgeon, gar, trout and lungfish in addition to K8 and K18 from zebrafish [
13
–
18
,
23
,
29
,
30
]. We rooted the trees with the type I keratin sequences available from the lancelets, which are believed to represent the most ancient group of living chordates [
31
]. In general we received the same basal tree topology when applying Neighbor Joining (NJ), Maximum Likelihood (ML) or Bayesian (B) methods for our phylogenetic analysis. The phylogenetic tree shown in Fig.
4
is based on Bayesian inference and clearly shows that the K14 sequences form a separate and basal branch within the type I keratins, phylogenetically close to the sequences we obtained from the river lamprey. They even branch off prior to the twig formed by the gnathostomian K18 sequences, that apparently emerged before the separation of cartilaginous and bony fish [
13
–
15
]. This ancestral origin of the K14 twig together with the assumedly exclusive presence of K14 in ancient ray-finned fish (see above) raises the question as to the complementary binding partner(s) of this keratin group. So far, analysis of bichir and sturgeon has not revealed a group of type II keratins occupying a similar basal position equivalent to the K14 sequences in the type I keratin tree [
8
,
29
,
30
]. Moreover, the suggested restriction of K14 sequences to bichir, sturgeon and gar indicates the close phylogenetic relationship of these fish groups, an issue still under debate among taxonomists. Based on recent molecular data it can be concluded that sturgeons, gars and bowfin together may form a sister group to the teleost fish and that bichirs represent the most ancient group of ray-finned fish (for review see [
27
]). Since our current studies do not contribute to the resolution of this problem, the keratin system in bowfin should be investigated, which might shed more light on this issue.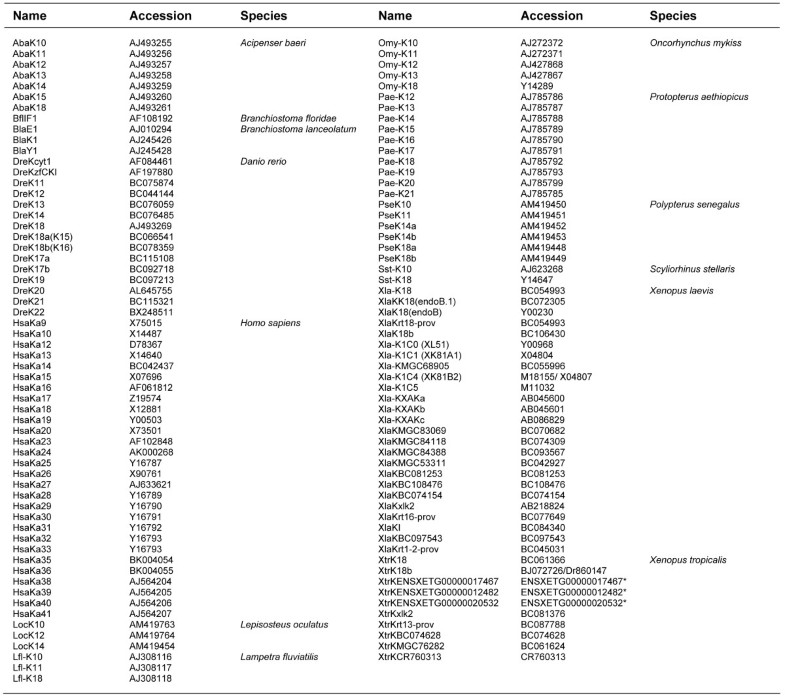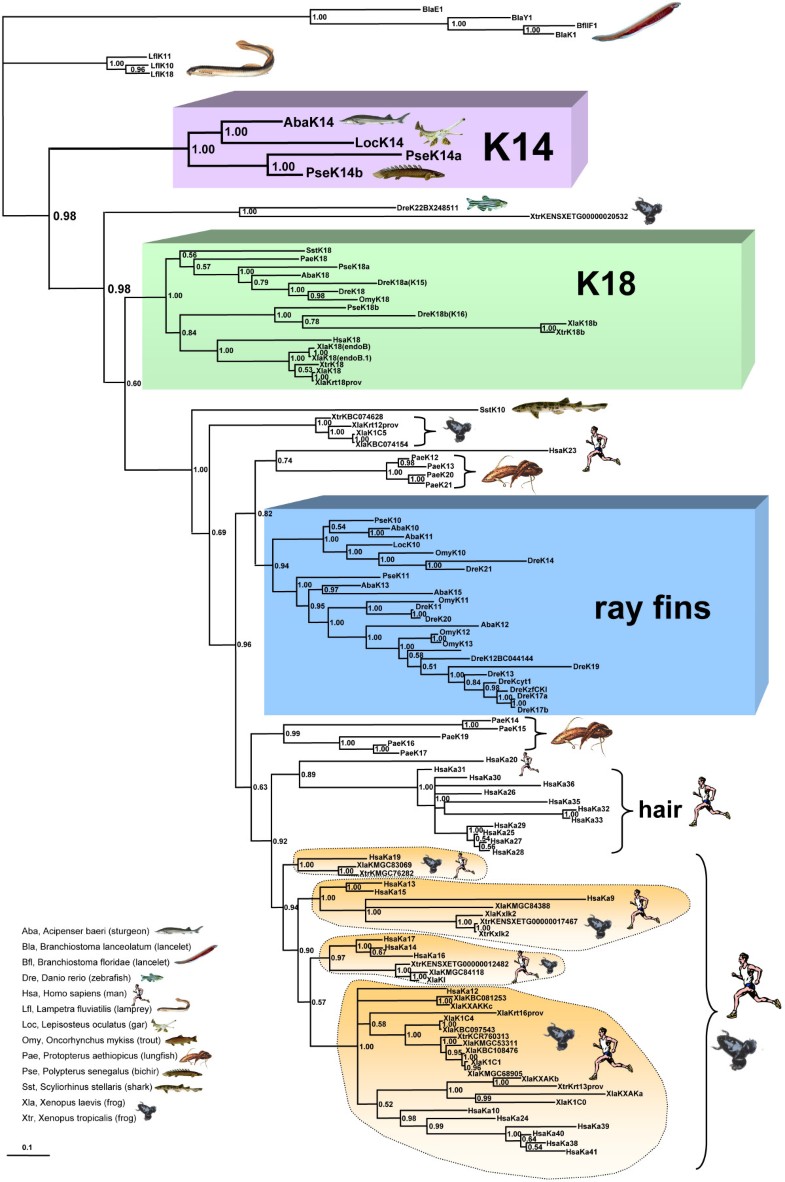 Furthermore, the phylogenetic tree illustrated in Fig. 4 suggests that most of the type I keratins from ray-finned fish evolved independently from those present in lungfish, frog or man and that very early in actinopterygian evolution a gene duplication gave rise to at least two different type I keratin branches, each with members in both ancient and modern ray- finned fish (see the boxed ray-fins twig in Fig. 4). Compared to our recent analyses [14–18, 28], we have now included additional type I keratin sequences from zebrafish and Xenopus; therefore, in this study the K18 branch shows a more complex branching pattern, not allowing a clear identification of the authentic K18 counterparts in the different vertebrates solely on the basis of their position in the tree. However, our previous identification of K18 in shark, bichir, sturgeon, trout and zebrafish was additionally based on its typical occurrence in simple epithelia, such as liver hepatocytes or intestinal mucosal epithelium, corresponding to the situation in man and other tetrapods [10, 12–16, 19, 29]. Nevertheless, these "functional K18 counterparts" identified in the different vertebrate groups have to be considered as paralogous protein sequences. The branching pattern of the K18 twig supports the suggestion that early as well as more recent duplication events led to the various K18 related genes. Future analysis of their expression patterns may provide further clues for possible functions of these K18 relatives.
Compared to the evolution of type II keratins, the phylogenetic tree of type I keratins appears rather complex and several nodes cannot be resolved. Moreover, in teleosts the number of detected type I keratin genes virtually triples the number of those coding for type II keratins [5–7], in contrast to the almost equal number of type I and type II keratin genes detected in the tetrapod genomes. However, when including the hair- and nail-forming keratins the total number of keratin genes in tetrapods is clearly higher than in teleost fish [1–4]. A group of two sequences, one from zebrafish, the other from Xenopus, also occupy a rather basal position in the type I keratin tree, directly branching off between the K14 and K18 twig. But it has to be taken into consideration that both sequences stem from genomic DNA sequencing and may only represent non-active "relics" of ancient keratin genes. From the current Bayesian phylogenetic analysis (but not from our NJ and ML analysis) another phenomenon emerged for the first time: There are now four highly supported keratin subgroups in the tetrapod twig, each with members in both, frog and man (in Fig. 4 encircled by dotted lines). Moreover, the tree topology indicates that the human hair keratins may have emerged prior to these radiation events.
Conclusion
The type I and type II keratins represent the two most complex and abundant groups of intermediate filament (IF) proteins among vertebrates and their structure, function and extraordinary variety cannot be completely understood without phylogenetic considerations. Therefore, we investigated the keratin systems in more ancient representatives of the vertebrate lineage. In particular, the keratins present in skin may play an important role in the transition of vertebrates from water- to land- living animals. Here we present a novel group of epidermal type I keratins, which we termed keratin 14 and so far have only found them in the basal groups of living ray-finned fish, notably bichir, sturgeon and gar. Our phylogenetic analysis revealed a rather basal position of this keratin group in the tree of type I keratin evolution. The keratin 14 group even emerged prior to the gnathostomian K18 sequences, which together with its binding partner K8 and with the exception of the recently discovered thread keratins in teleosts and amphibians, was hitherto considered as most ancient group of gnathostomian keratins. Future analyses will hopefully shed more light on the expression and functional role of K14 in the fish epidermis and clarify the identity of its type II keratin binding partner.
Abbreviations
CKBB :

Complementary keratin blot-binding
MALDI :

Matrix-assisted laser desorption/ionisation
TOF :

Time-of-flight
MS :

Mass spectrometry
PAGE :

Polyacrylamide gel electrophoresis
PMF :

Peptide mass fingerprint
2D :

Two-dimensional
Declarations
Acknowledgements
We thank Prof. Dr. Harald Herrmann for providing the recombinant human keratins 8 and 18, Simon Höffling for additional sequencing work, Nicole Tappe for additional biochemical experiments and Prof. Dr. J. Robin Harris for proof reading of the manuscript. We especially thank Prof. Dr. Jürgen Markl for initiating and continuously supporting this work and critical reading of the manuscript. Financially aided by a grant to J.M. from the Deutsche Forschungsgemeinschaft (MA 843/5-1).
Authors' Affiliations
(1)
Institute of Zoology, Johannes-von-Müller-Weg 6, Johannes Gutenberg University, Mainz, Germany
(2)
Dept. of Gastroenterology, Medical School Hannover, Hannover, Germany
(3)
Merck KGaA, Central Services Analytics, Central Product Analytics/Bioanalytics, Darmstadt, Germany
Copyright
© Schaffeld et al; licensee BioMed Central Ltd. 2007
This article is published under license to BioMed Central Ltd. This is an Open Access article distributed under the terms of the Creative Commons Attribution License (http://creativecommons.org/licenses/by/2.0), which permits unrestricted use, distribution, and reproduction in any medium, provided the original work is properly cited.