The development of the larval nervous system, musculature and ciliary bands of Pomatoceros lamarckii (Annelida): heterochrony in polychaetes
Frontiers in Zoology
2006
3:16
Received: 10 July 2006
Accepted: 10 October 2006
Published: 10 October 2006
Abstract
Background
To understand the evolution of animals it is essential to have taxon sampling across a representative spread of the animal kingdom. With the recent rearrangement of most of the Bilateria into three major clades (Ecdysozoa, Lophotrochozoa and Deuterostomia) it has become clear that the Lophotrochozoa are relatively poorly represented in our knowledge of animal development, compared to the Ecdysozoa and Deuterostomia. We aim to contribute towards redressing this balance with data on the development of the muscular, nervous and ciliary systems of the annelid Pomatoceros lamarckii (Serpulidae). We compare our data with other lophotrochozoans.
Results
P. lamarckii develops locomotory and feeding structures that enable it to become a swimming, planktotrophic larva within 24 hours. Formation of the trochophore includes development of a prototroch, metatroch and neurotroch, development of apical and posterior nervous elements at similar times, and development of musculature around the ciliary bands and digestive tract prior to development of any body wall muscles. The adult nervous and muscular systems are essentially preformed in the late larva. Interestingly, the muscular systems of the larvae and juvenile worms do not include the circular muscles of the body wall, which are considered to be plesiomorphic for annelids, although the possibility that circular muscles develop after these stages cannot be ruled out at this point.
Conclusion
A comparison between polychaetes shows variability in the timing (heterochrony) of development of body wall muscles and elements of the nervous system. These heterochronies are one route for evolution of different life history strategies, such as adaptations to feeding requirements.
Keywords
Circular MuscleVentral Nerve CordCerebral GanglionNerve RingFMRFamide
Background
Analysis of molecular data has changed our understanding of bilaterian phylogeny, and produced the clades known as Ecdysozoa, Lophotrochozoa and Deuterostomia. With this new view of bilaterian relationships, it is apparent that established model organisms, such as Drosophila melanogaster, Caenorhabditis elegans, Ciona intestinalis, and Mus musculus are restricted to only two out of the three major phylogenetic groups, the Ecdysozoa and Deuterostomia [1]. Therefore, the accumulation of developmental and morphological data for taxa within the Lophotrochozoa is required to help distinguish patterns of conservation or convergence within the Bilateria and address questions about the evolution of the three major clades. Recently, some lophotrochozoan model systems have begun to be developed (for example, Platynereis dumerilii [2] and Haliotis asinina [3, 4]), but studies on these organisms must be coupled with wider investigations in order to understand the diversity of developmental processes in the clade.
Within the Lophotrochozoa, many polychaete annelids display a classic vermiform and triploblastic body organisation [5] and possess relatively conserved gene sequences with respect to other bilaterians [6]. For these reasons they have been proposed by several authors to exhibit 'ancestral' bilaterian qualities and to be an excellent model system to study animal evolution and development [5, 6]. However polychaete annelids are a speciose and morphologically diverse group, and investigation of their evolution and development needs to be coupled with further exploration of two areas. First, the phylogenetic relationships within the annelids are largely unresolved, with conflicting topologies achieved from molecular and cladistic methods [7–10]. Second, comparative embryological, developmental and genomic work should encompass a diverse range of annelids, as this will enable a more robust reconstruction of their ancestral condition.
The use of modern microscopy and immunohistochemical techniques has greatly aided our understanding of lesser known taxa, such as sipunculans [11], acoels [12], cycliophorans [13], entoprocts [14], and phoronids [15]. The most informative of these studies examine the development of various structures throughout the different life stages of the animal, enabling comparisons of the developmental pathways of different taxa and the formation of evolutionary hypotheses. While work of this nature has begun for the polychaete annelids [16–19], further work needs to be carried out to get a clear picture of development from embryo to adult in a variety of polychaete groups.
Segrove [
20
] described the development of the serpulid
Pomatoceros triqueter
, and the majority of his study (with the exception of his description of metamorphosed animals) has been corroborated by other work [
21
,
22
]. In addition, the literature contains some reconstructions of the serpulid nervous system by light microscopy [
23
–
25
]. This study aims to build on these previous studies by examining myogenesis, neurogenesis and ciliation in the tube-building polychaete,
Pomatoceros lamarckii
(Serpulidae) (see Fig.
1
), using methods that are directly comparable to similar work being carried out on other invertebrate taxa. These events are investigated throughout embryogenesis, larval life and metamorphosis and the results represent a significant increase in the information available from the polychaete annelids.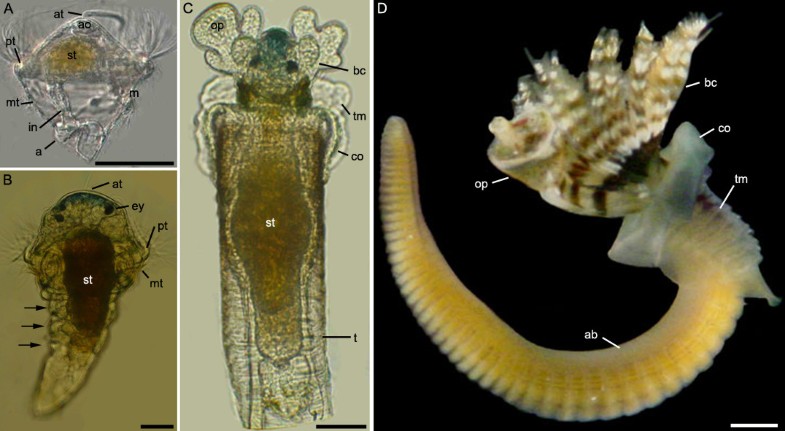 Conclusion
This study adds to the growing bank of morphological and developmental data that is accumulating for lophotrochozoan taxa. This data and comparisons between groups will help us to answer major questions about the evolution of the Bilateria. For example, this study is consistent with previous hypotheses that the prototroch nerve ring, apical organ, ventral nerve cords and medial nerve are basal characters for trochozoans [49, 53]. It also shows that the larval nervous system is interconnected rather than consisting of unconnected pre-trochal and oral systems, and is rearranged at metamorphosis to form the adult nervous system, observations that have bearings on the evolution of the biphasic life cycle.
The comparison of the results from this study with those of other polychaetes gives major insight into the diversification of annelid body plans. It highlights that the timing of developmental events such as anterior and posterior nervous system formation and gut and body wall myogenesis is variable between polychaete taxa. Heterochronies, such as changes in the timing of developmental events or switching of two processes in developmental time, can cause major changes in the gross morphology of animals (see [56] for review). These changes enable animals to develop different life history strategies, such as early feeding. Heterochrony can thus be a major adaptive route in evolution and further investigation into its molecular basis will reveal the mechanisms by which this evolution occurs.
Methods
Animal collection and larval culture
Adult P. lamarckii (Quatrefages, 1865) were collected from the littoral zone at Tinside, Plymouth, UK, and were maintained at 12°C in a recirculating aquarium system. Adult worms (Fig. 1D) were removed from tubes by breaking open the posterior section and forcing the animals backwards using a blunt probe. Fertile animals began releasing gametes at this stage. Male and female worms were immediately transferred to separate Petri dishes or six-well plates containing filtered, UV treated seawater (FSW). Eggs were rinsed through a 100 μm cell strainer (Falcon) to remove tube debris, and then collected in a 40 μm cell strainer (Falcon). The strainer was then transferred to a Petri dish containing a dilute sperm suspension, agitated, and left for 10 minutes to allow fertilisation to occur. Eggs were rinsed and gently washed into a 300 ml Pyrex crystallisation dish containing 250 ml FSW. These dishes were covered and incubated at 19°C. From 24 hours post fertilisation (hpf) onwards larvae were fed on the red alga Rhinomonas reticulata.
Fixation
Fixation and immunolabelling followed the methods of Wanninger and colleagues [11]. Larvae were fixed in 4% paraformaldehyde in 0.1 M phosphate buffered saline (PBS) at 4°C overnight, washed three times in PBS and then stored at 4°C. Metatrochophore larvae and juveniles were relaxed in 7% MgCl2 in FSW prior to fixation.
Immunolabelling
Calcareous tubes of juveniles were dissolved in 0.1 M EGTA for approximately 15 minutes at room temperature (RT), which was followed by four washes in PBS. Permeabilisation of tissue was performed in 0.1 M PBS, 0.1% Triton X-100 (PBT) for 15 minutes at RT, and was followed by blocking of non-specific binding sites overnight at 4°C in PBT with 2% bovine serum albumen (block-PBT). The following steps were all performed at 4°C. Animals were incubated in 1:1000 (monoclonal anti-acetylated tubulin, Sigma), 1:40000 (polyclonal serotonin 5-HT antiserum, Immunostar), or 1:200000 (polyclonal FMRF-Amide antiserum, Immunostar) dilutions of the primary antibodies in block-PBT for 24h. After four 1h washes in block-PBT specimens were incubated in 1:800 dilutions of Alexa fluor 488 goat anti-rabbit IgG (serotonin and FMRF-amide) or Alexa fluor 488 goat anti-mouse IgG (tubulin) (Molecular Probes) in block-PBT for 24h. Specimens were then washed four times in PBS for over 1h, immersed in 60% glycerol in PBS and mounted in Vectashield with DAPI (Vector Labs). Negative controls were obtained by omitting primary antibodies and showed no specific staining.
For F-actin staining all steps were performed at RT. Specimens were permeabilised in PBT for 1h. A 1:40 dilution of Oregon Green 488 phalloidin (Molecular Probes) in PBT was added to animals for 1h and was followed by three 15 minutes washes in PBS. Specimens were then immersed in 60% glycerol in PBS and mounted in Vectashield with DAPI. Negative controls were obtained by omitting phalloidin and showed no specific staining.
A minimum of 40 individuals of each larval stage (or 20 juveniles) were investigated per staining procedure. Fluorescence microscopy was performed on a Zeiss Axioskop 2 and images were captured using Axiovision 4. Several representative individuals from each developmental stage were studied further using confocal microscopy, which was performed on a Leica DMIRE2 microscope equipped with a Leica TCS SP2 confocal unit.
Scanning electron microscopy
Embryos/larvae were fixed in a mixture of 75 mM sodium cacodylate, 3% glutaraldehyde and 1% of calcium chloride for at least 2h. The fixative was replaced by two 5 minutes exchanges of 0.1 M sodium cacodylate and then 1% osmium tetroxide in 0.1 M sodium cacodylate for 1h. After the specimens were rinsed twice with 0.1 M sodium cacodylate for 5 minutes, dehydration was performed via an acetone series (50%, 70% and 90%; two 3 minutes washes for each concentration) to 100% (2 washes each 10 minutes). Specimens were then rinsed with 1:1 acetone:HMDS (hexamethyldisilizane) for 10 minutes, followed by two 10 minutes washes in 100% HMDS. Samples were air-dried for at least 2h before they were sputter-coated with gold.
Declarations
Acknowledgements
We are grateful to John Bishop and Chris Wood of the MBA, Plymouth for hosting CM and W-CC during sample collection, and providing algae. We also thank Stephen Poutney for help with microscopy and Peter Holland, Claus Nielsen, and an anonymous reviewer for helpful comments on the manuscript. This work was supported by the BBSRC and by the Commonwealth Scholarship Commission.
Authors' Affiliations
(1)
Department of Zoology, University of Oxford, Oxford, UK
Copyright
© McDougall et al; licensee BioMed Central Ltd. 2006
This article is published under license to BioMed Central Ltd. This is an Open Access article distributed under the terms of the Creative Commons Attribution License (http://creativecommons.org/licenses/by/2.0), which permits unrestricted use, distribution, and reproduction in any medium, provided the original work is properly cited.