Copulation or sensory cues from the female augment Fos expression in arginine vasopressin neurons of the posterodorsal medial amygdala of male rats
Frontiers in Zoology
2014
11:42
Received: 5 January 2014
Accepted: 22 May 2014
Published: 2 June 2014
Abstract
Background
The posterodorsal part of the medial amygdala is essential for processing reproductively salient sensory information in rodents. This is the initial brain structure where information from olfactory system and male hormones intersect. The neurochemical identity of the neurons participating in the sensory processing in medial amygdala remains presently undetermined. Many neurons in this brain structure express arginine vasopressin in a testosterone-dependent manner, suggesting that this neuropeptide is maintained by the androgenic milieu.
Method
Here we use Fos, a protein expressed by recently active neurons, to quantify activation of arginine vasopressin neurons after exposure to odor from physically inaccessible female. We compare it to mating with accessible female and to reproductively innocuous odor.
Results
We show that inaccessible female activate arginine vasopressin neurons in the male posterodorsal medial amygdala. The magnitude of activation is not further enhanced when physical access with resultant mating is granted, even though it remains undetermined if same population of AVP neurons is activated by both inaccessible female and copulation. We also show that arginine vasopressin activation cannot be fully accounted for by mere increase in the number of Fos and AVP neurons.
Conclusion
These observations posit a role for the medial amygdala arginine vasopressin in reproductive behaviors, suggesting that these neurons serve as integrative node between the hormonal status of the animal and the availability of reproductive opportunities.
Keywords
AffiliationMatingNeuropeptideNonapeptidePheromoneSexual behaviorSocial behaviorTestosteroneVasotocin
Introduction
The medial amygdala (MeA) plays an important role during male reproductive behavior in the rodents [1]. Lesions of the MeA reduce reproductive behavior in hamsters [2], rats [3] and gerbils [4]. In hamsters, the anterior MeA is involved in discrimination of conspecific odor from same-sex versus opposite-sex donors, while the posterodorsal MeA is selectively activated by opposite-sex conspecifics [5]. Fiber-sparing lesions of anterior MeA in this species reduce number of Fos immunoreactive cells in the posterodorsal MeA and efferent forebrain regions [6], suggesting a unidirectional flow of chemosensory information through anterior MeA to its downstream targets. In male rats, MeA lesions drastically reduce penile erections in response to an inaccessible estrous female [7]. Interestingly, such lesions do not affect reflexive erections in response to penile sheath retraction. These observations suggest that MeA involvement in male reproductive behavior is restricted to motivation and not to the downstream initiation of mating in this species.
MeA is a sexually dimorphic structure (reviewed in [8]), characterized by more neurons and larger neuronal soma in males compared to females [9, 10]. Important from the perspective of this report, male MeA also contains sunstantial number of extra-hypothalamic parvocellular population of arginine vasopressin (AVP) neurons [11]. Testosterone is required for sexual dimorphism of the MeA neurons [8] and also for AVP expression in the MeA [12, 13]. The essential nature of testosterone is further supported by the observations that antagonism of androgen receptors in the MeA inhibits penile erection in male rats in presence of estrus females [14]; an effect reversed by testosterone implants within the MeA of castrates [15, 16].
Further evidence suggests that the contribution of the MeA to reproductive behavior is anchored in its ability to integrate pheromonal information with hormonal milieu. Soiled bedding from females increases MeA-Fos in male mice with or without aromatase [17] and in testosterone-primed gonadectomized rats [18, 19]. Since Fos is regarded as a proxy for recent neuronal activity [20], this observation suggests that pheromones enhance the activity of MeA neurons. Similarly, female vaginal fluid increases Fos expression in the MeA of mandarin voles [21]. These observations provide correlational support for activation of the MeA in pheromonal processing. Experiments in Syrian hamster further strengthen this. Mating in this species requires intact ability to smell female pheromones and presence of testicular testosterone; absence of either countermands copulation. Interestingly, implantation of testosterone in the MeA of castrates can reinitiate copulatory behavior [22]. Yet, the ability of the testosterone to rescue effects of the castration is dependent on olfactory inputs, such that surgical removal of olfactory bulbs renders testosterone implants ineffective [22, 23]. Since both olfactory inputs afferent to MeA and testosterone within MeA are required for the rescue, it suggests that MeA integrates information from sensory environment and internal androgenic milieu.
Despite the role of the MeA in processing of reproductively salient sensory cues, the neurochemical identity of the pertinent cell groups is yet undetermined. As mentioned before, many MeA neurons also express AVP in a testosterone dependent manner. This is important because the AVP mediates several social and sexual behaviors, e.g. monogamy in voles [24] and social recognition of juveniles in male rats [25]. Moreover, AVP neurons are activated during copulation in bed nucleus of stria terminalis [26], a brain region with significant neuro-architectural similarity to the MeA.
In view of androgen-dependent expression of the MeA-AVP and the role of the testosterone in the pheromonal processing, we hypothesized that sensory cues from females selectively activate AVP producing neurons in the MeA. We tested this hypothesis by quantifying co-labeling of AVP and Fos, an immediate early gene product that marks recently activated neurons, post-exposure to rabbit odor or inaccessible estrus female or copulation. Posteroventral and posterodorsal sub-nuclei of MeA were quantified separately in view of their disparate neurochemistry and differential involvement in processing of olfactory signals [27].
Results and discussion
Figure
1
depicts a representative image acquired after histological staining for arginine vasopressin immunoreactive (AVP-ir) and Fos immunoreactive (Fos-ir) neurons in the MePD. Total number of DAPI cells imaged did not significantly differ between the brain regions or the experimental treatments (ANOVA:
p
 > 0.29).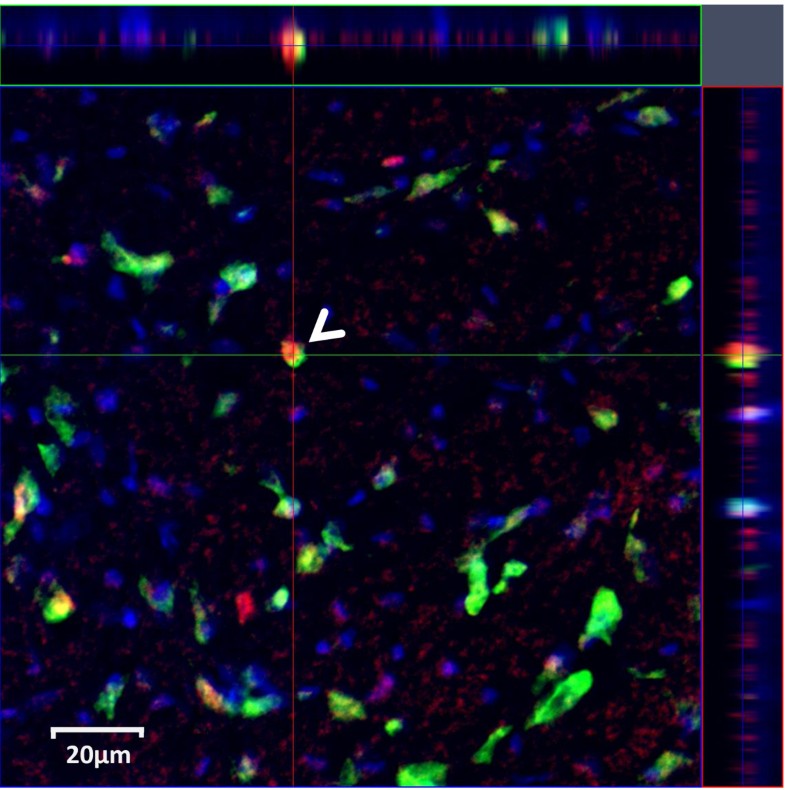 Conclusion
In conclusion, data presented here show that AVP neurons in MePD are activated during the processing of reproductive cues. It is likely that these neurons play critical role in the mediation of pheromone-directed reproductive behaviors. In addition this report provides support to the role of extra-hypothalamic AVP neurons in reproductive and affiliative behaviors.
Methods
Animals
Wistar rats (47–50 days old) were obtained from the vivarium at National University of Singapore. Animals (housed 2/cage) were maintained on 12 hour light–dark cycle with ad libitum food and water (lights on at 0700 hours). The Nanyang Technological University institutional animal care and use committee reviewed and approved all procedures. These procedures are compliant with the NIH guidelines. All the male and female subjects used in this paper were sexually naïve at the start of the experiment.
Exposure to reproductive stimuli
Males were habituated for ten successive days ((ten minutes each day, between 1100 and 1400 hours) in a rectangular arena, in which they would eventually receive the stimuli (46 × 9 cm; 15 cm high). On the day of exposure males were shifted into the procedure room just before the beginning of the light phase (7 AM). After a four hour rest period they were exposed to either a physically inaccessible estrus female behind translucent perforated plastic partition (N = 5) or allowed to mate with an accessible receptive female (N = 6). Females were allowed to explore the entire arena for two hours before the start of the trial, during which time they placed urine marks in the arena. To control for novelty of the odor, a third group of males was exposed to rabbit urine on an inaccessible towel (N = 6). All animals were sacrificed two hour after the onset of stimulus exposure.
Naturally cycling females were used as the stimulus. Estrus phase was determined using examination of vaginal lavage, obtained by gentle flushing of cells from vaginal lining using 20 μl buffered saline (between 1030 and 1100 hours). Unstained lavages were examined on a glass slide using 20× magnification. Females in estrus were identified by presence of cornified cells and absence of nucleated cells.
Histological staining
Animals were deeply anaesthetized and transcardially perfused with 4% paraformaldehyde. Free floating brain sections (40 μm thick) were incubated in a cocktail of primary antibodies for 72 hours at 4°C (guinea pig anti-AVP, 1:500, Bachem; and, rabbit anti-Fos, 1:100, Santa Cruz Biotenchology). This was followed by incubation with secondary antibodies at room temperature for 2 hours (biotinylated anti guinea pig; 1: 200 + anti rabbit-DyLight 549;1:200; obtained from Vector Laboratories). The biotinylated antibody signal was developed using Vectastain elite ABC kit (Vector Laboratories) and tyramide signal amplification system (Perkin Elmer). Sections were counter stained with DAPI for 1 minute.
Brain sections between Bregma levels −2.76 mm and −3.24 mm (Interaural 7.28 to 7.08) were selected for analysis. Sections were imaged at 40× magnification and 1.2× digital zoom using a confocal microscope (optically sliced at 4 μm, three set of stacks per animal, Carl Zeiss LSM 710). Neurons positive for DAPI, Fos and AVP were counted. Scores were cumulated per animal.
Calculation of observed and expected frequencies
We calculated the expected probability of encountering colabeled neurons by multiplying individual probabilities of AVP-ir and Fos-ir neurons. Individual probabilities for AVP-ir were calculated by division of number of AVP-ir neurons with total number of DAPI positive neurons counted (i.e. probability that a particular DAPI positive neuron will be also be AVP-ir). Individual probabilities for Fos-ir were also counted in the similar manner. A product of these probabilities defines the baseline expectation of colabeling by mere chance and assuming biological independence between Fos and AVP activation. The observed numbers of the colabeled cells were compared to the expected baseline, with null hypothesis of colabeling being a mere mathematical coincidence (adapted from [48]).
Statistics
Repeated measures analysis of variance (ANOVA) was used to quantify statistical significance for main effects and interactions. In case of within-subject comparisons, paired Student's t-test was employed for post-hoc significance testing. In case of between-subject comparisons, LSD test was used. Values reported are mean ± SEM.
Declarations
Acknowledgements
Funded by Nanyang Technological University and Ministry of Education, Singapore.
Authors' Affiliations
(1)
School of Biological Sciences, Nanyang Technological University, Nanyang, Republic of Singapore
Copyright
© Hari Dass and Vyas; licensee BioMed Central Ltd. 2014
This article is published under license to BioMed Central Ltd. This is an Open Access article distributed under the terms of the Creative Commons Attribution License (http://creativecommons.org/licenses/by/2.0), which permits unrestricted use, distribution, and reproduction in any medium, provided the original work is properly credited. The Creative Commons Public Domain Dedication waiver (http://creativecommons.org/publicdomain/zero/1.0/) applies to the data made available in this article, unless otherwise stated.