Evidence of cryptic and pseudocryptic speciation in the Paracalanus parvus species complex (Crustacea, Copepoda, Calanoida)
Frontiers in Zoology
2014
11:19
Received: 28 October 2013
Accepted: 20 February 2014
Published: 2 March 2014
Abstract
Introduction
Many marine planktonic crustaceans such as copepods have been considered as widespread organisms. However, the growing evidence for cryptic and pseudo-cryptic speciation has emphasized the need of re-evaluating the status of copepod species complexes in molecular and morphological studies to get a clearer picture about pelagic marine species as evolutionary units and their distributions. This study analyses the molecular diversity of the ecologically important Paracalanus parvus species complex. Its seven currently recognized species are abundant and also often dominant in marine coastal regions worldwide from temperate to tropical oceans.
Results
COI and Cytochrome b sequences of 160 specimens of the Paracalanus parvus complex from all oceans were obtained. Furthermore, 42 COI sequences from GenBank were added for the genetic analyses. Thirteen distinct molecular operational taxonomic units (MOTU) and two single sequences were revealed with cladistic analyses (Maximum Likelihood, Bayesian Inference), of which seven were identical with results from species delimitation methods (barcode gaps, ABDG, GMYC, Rosenberg's P(AB)). In total, 10 to 12 putative species were detected and could be placed in three categories: (1) temperate geographically isolated, (2) warm-temperate to tropical wider spread and (3) circumglobal warm-water species.
Conclusions
The present study provides evidence of cryptic or pseudocryptic speciation in the Paracalanus parvus complex. One major insight is that the species Paracalanus parvus s.s. is not panmictic, but may be restricted in its distribution to the northeastern Atlantic.
Keywords
Copepoda
Paracalanus parvus
Cryptic species
Pseudocryptic species
Phylogeography
Introduction
Species delimitation and DNA barcoding
Species delimitation is a necessary process to study the life history and ecology of marine planktonic organisms, but its preciseness is dependent on the prior taxonomic knowledge. Detailed taxonomic keys may not be available for a specific region making it difficult to evaluate whether the studied specimen belongs to an already described species or an unknown species. In copepods identification is often based on only a few diagnostic characters due to the high abundances and the necessity to classify thousands of organisms [1]. These characteristics are mostly developed only in adult organisms often making it nearly impossible to identify juveniles, which are regularly more abundant than adults. Furthermore, morphological differences between sibling species may only be inconspicuous or non-existent (pseudocryptic and cryptic speciation) and thus, species may be overlooked. This phenomenon has been observed in many marine organisms (e.g. [2–4]). Cryptic speciation may be more prevalent in the marine realm than in terrestrial habitats [5].
These observations imply that traditional species concepts based on morphologically identified marine taxa may have greatly underestimated species richness [6]. Also, genetically divergent yet morphologically similar species may differ in their ecological and behavioural adaptations [7]. In general, barriers to gene flow in marine pelagic systems can often not be clearly identified (e.g. [8, 9]). To overcome these obstacles, DNA barcoding with mitochondrial gene fragments has been successfully used for species discrimination in marine plankton (e.g. [10–12]). Initially, DNA analysis using "barcoding gaps" was based on genetic distances between a priori defined groups and did not take into account differences in divergence times between species or other taxa and thus is questioned to be useful for DNA taxonomy (e.g. [13, 14]). However, a number of methods to measure species delimitation including DNA barcoding without defining prior groups have been published (e.g. [15–18]) These methods will be applied in the present study.
Paracalanus parvus species complex
Species of the Paracalanus parvus complex are abundant in many marine ecosystems from temperate to tropical regions (e.g. [19–21]). Extensive research has provided valuable information on the feeding and reproduction biology of Paracalanus parvus (e.g. [22–24]). However, the taxonomy and species distribution of this species complex is not well understood. Currently the P. parvus complex consists of seven species: P. parvus, P. indicus, P. quasimodo, P. nanus, P. intermedius, P.tropicus, and P. serrulus. The latter may possibly belong to the Paracalanus aculeatus species complex [25], and P. intermedius may be a junior synonym of P. parvus[26]. The circumglobal distribution of P. parvus has also been questioned e.g. [24].
In the present study mitochondrial marker genes (cytochrome c oxidase subunit I (COI), cytochrome b (Cytb)) will be applied to investigate the genetic diversity of this species complex. Genetic markers are favourable as a tool to distinguish between species compared to microscopy considering that exact morphological identifications can be nearly impossible if morphological characteristics, such as antennules or exopods of swimming legs, are missing due to net sampling. We aim to define molecular operational taxonomic units (MOTUs; [27]) within the P. parvus species complex to establish a framework for future studies, and to elucidate their geographic boundaries.
Results
Molecular species identification
The single sequences (SEI, SWP1, PI04) will not be considered as MOTUs at present until further sampling at their location (northern Australia) will either confirm or contradict their existence. The sequence PI04 had a p-distance of 2.8% to all other PI haplotypes and was thus singled out in GMYC.
The cladistic analyses of the COI haplotypes yielded 13 monophyletic clades and two single sequences (Figure 4), which were conform to the results from the ABGD and GMYC analyses. Twelve clades were well supported (>80% BS, >0.9 BPP) and one (PT) was moderately well supported (74% BS, <0.9 BPP). The cladistic analyses of Cytb haplotypes yielded twelve clades, identical to the clades for COI (Additional files 4 and 5). However, NWA and PI were not retrieved as monophyletic, but p-distances within these MOTUs were much lower than to their sister-taxon (Additional file 5). NWP and SEI were not found in the Cytb tree since they were based on GenBank sequences, and SWP1 could not be sequenced.
Three thresholds between intra- and inter-specific distances were detected with the SPIDER package of R (0.0202 (2% jMOTU), 0.0441(4% jMOTU), 0.0648 (6%jMOTU)). These thresholds were used in jMOTU to separate clusters yielding between 11 (jMOTU, 6% pairwise intra-specific distance) and 15 MOTUs (jMOTU, 2% pairwise intra-specific distance). Two (SEI, SWP1) or three (SEI, SWP1, PI04) single sequences were found (Figure 3). At 2%jMOTU PN and PI were separated each in two groups. At 4%jMOTU and 6%MOTU SEA/NZ and NWA were fused and at 6%jMOTU also PT and PA. Rosenberg's P(AB) showed significant nodes that would result in 13 to 15 MOTUs (Figure 3).
Phylogeography
Three categories of MOTUs were discovered regarding their geographic distribution (Figure
7
): (1) Eight MOTUs occurred mainly in temperate waters and were restricted to one geographic region (NWA, NEA, SWA, NWP, NEP, SEP, SWP). Only SEA/NZ was found in two regions, Southeast Atlantic and Southwest Pacific waters, also sharing a haplotype (Figure
6
). (2) Three MOTUs had a wider geographic distribution and some also occurred sympatrically. PQ seemed to be refined to the Atlantic and adjacent waters. PA was only retrieved from Atlantic Ocean samples while single PT specimens were found in the Indopacific, Red Sea and Southeast Atlantic. (3) PI was found in all oceans, mainly in the Indian and Pacific Ocean but also in the Atlantic Ocean and Mediterranean Sea. The two single sequences (SEI, SWP1) were found in the Northwest and Northeast off Australia.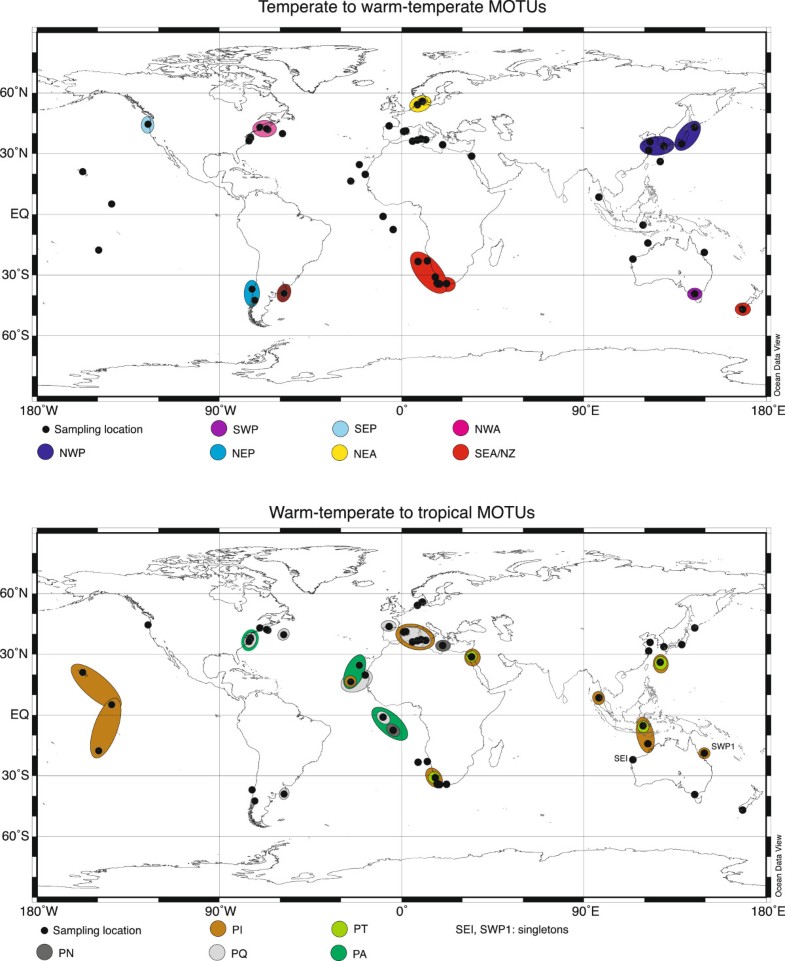 Two locations for PN were also included in the analyses but we did not search particularly for this species on a global scale and thus its distribution cannot be evaluated here.
Discussion
This study presents the first step to disentangling the genetic diversity of the ecologically important Paracalanus parvus species complex by using mitochondrial genes. Cleary this complex is composed of more MOTUs than morphologically described species and may thus be subject to cryptic and pseudocryptic speciation. The results provide a "global" framework for scientists identify individuals from the Paracalanus parvus complex according to their genetic affiliation (MOTU). It can also serve as a basis for future morphological taxonomy to test the validity of the found MOTUs.
Conclusions
The circumglobal distribution of many marine planktonic copepod species is currently under debate (e.g. Paracalanus parvus, Acartia tonsa, Oithona similis, Paracalanus parvus). For the Paracalanus parvus species complex the present study has provided clear evidence for cryptic and pseudocryptic speciation, revealing 10 to 12 putative species with differing biogeographic distribution. All species delimitation methods were largely congruent, which indicates that the species diversity was effectively assessed. One major insight was that Paracalanus parvus s.s. was only identified from samples the northeastern Atlantic, and not panmictic.
COI has proven to be a good indicator of specimen identification in Paracalanus and thus the present data set can serve as a database for future identification of Paracalanus specimens from other locations.
In conclusion, the Paracalanus parvus species complex can serve as a role model to investigate cryptic speciation in other widely distributed marine copepod species complexes and may help to better understand speciation processes within the pelagic marine environment in the future.
Declarations
Acknowledgements
This study would not have been possible without the help of colleagues who provided samples from various regions of the oceans: Holger Auel, Leocadio Blanco-Bercial, Ruth Böttger-Schnack, Ann Bucklin, Ruben Escribano, Janet Grieve, Monica Hoffmeyer, Carin Jantzen, Meriem Khelifi Touhami, Rainer Kiko, Dave McKinnon, Benjamin Kürten, Jürgen Laudien, Chaolun Li, Ilka Peeken, William T. Peterson, Gertraud Schmidt, Sigrid Schnack-Schiel, Maximilian Schulz, Hans Verheye, Lidia Yebra. Many thanks also to Joy Smith for the english revision of the manuscript. This manuscript has also been improved by two anonymous reviewers. We are grateful for the support of the Alfred P. Sloan Foundation. This study is a contribution from the Census of Marine Zooplankton (CMarZ), a Census of Marine Life project.
Authors' Affiliations
(1)
Alfred-Wegener-Institut, Helmholtz-Zentrum für Polar- und Meeresforschung, Bremerhaven, Germany
Copyright
© Cornils and Held; licensee BioMed Central Ltd. 2014
This article is published under license to BioMed Central Ltd. This is an Open Access article distributed under the terms of the Creative Commons Attribution License (http://creativecommons.org/licenses/by/2.0), which permits unrestricted use, distribution, and reproduction in any medium, provided the original work is properly credited. The Creative Commons Public Domain Dedication waiver (http://creativecommons.org/publicdomain/zero/1.0/) applies to the data made available in this article, unless otherwise stated.